City Hall Architecture
That's really what its all about right? We all love San Francisco city hall because of the beautiful architecture. So why not feature it in our wedding photography? I am always a bit surprised when I see a number of other San Francisco city hall wedding photographers mostly delivering close up photos of the bride and groom at this incredible building. Obviously a good professional needs to do both, but to mostly ignore the amazing backgrounds is not doing justice to the couple. No matter who you choose as your photographer, be sure and make it clear to them that you want lots of architecture included in your images. This French inspired architecture was influential in your decision to choose this wedding venue so its important to let the couple know that. In the photo above, you can see the beautiful North Gallery window with that brilliant arch. It really makes a statement so we love featuring it in our work. Yes, in this particular case, the bride and groom are pretty tiny in the picture, but I know the couple loved this image because it really shows off the building. Of course, we provided the newlyweds with plenty of close up photography of the 2 of them to go with this breathtaking view of city hall.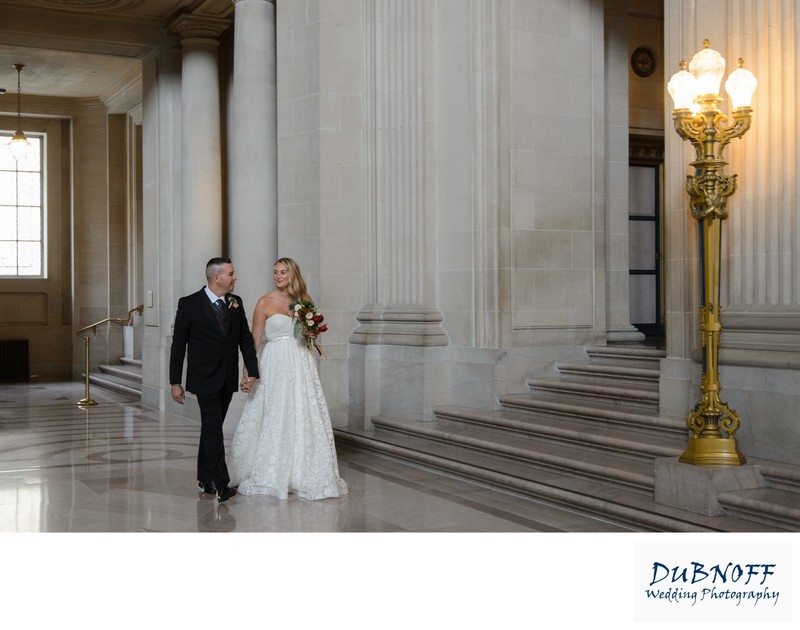 Natural Frames at San Francisco City Hall
As a San Francisco city hall wedding photographer, I am always looking for natural frames within the building. Fortunately, the architecture creates plenty of these types of frames to place the bride and groom in front of. In the above picture, we placed the bride on the 3rd floor and used the Rotunda arch as a nice way to surround this beautiful bride. In addition, I tilted the camera slightly to add some interest to the wedding photo. I have used this frame for other city hall weddings and always like the way it comes out. We just have to make sure that we either shoot an individual shot of the bride or have the newlyweds lean their heads together to fit into the frame. I also like this photo because of the nice colors and contrast, it really makes a statement and shows great detail. There are may other locations within the building that allow us to frame the couple, this is one of the beauties of City Hall for wedding photography.