Bride and Groom Grand Staircase
The image above is yet another example of what we can do with the Grand Staircase at San Francisco city hall. There are many options because the stairs have so much personality. We can create simple poses close up or even sitting on the stairs. We often take shots that show the entire staircase and the bride and groom appear smaller in the picture. In the photo above, we had our couple walk down the stairs and look at each other. Just as they neared the bottom of the stairs, I felt that it was time to start snapping off images. I like this one the best! It's funny because just today I was at San Francisco city hall and the couple wanted pictures of them walking down the stairs and this would have been a great one to use. Next time for sure I will remember.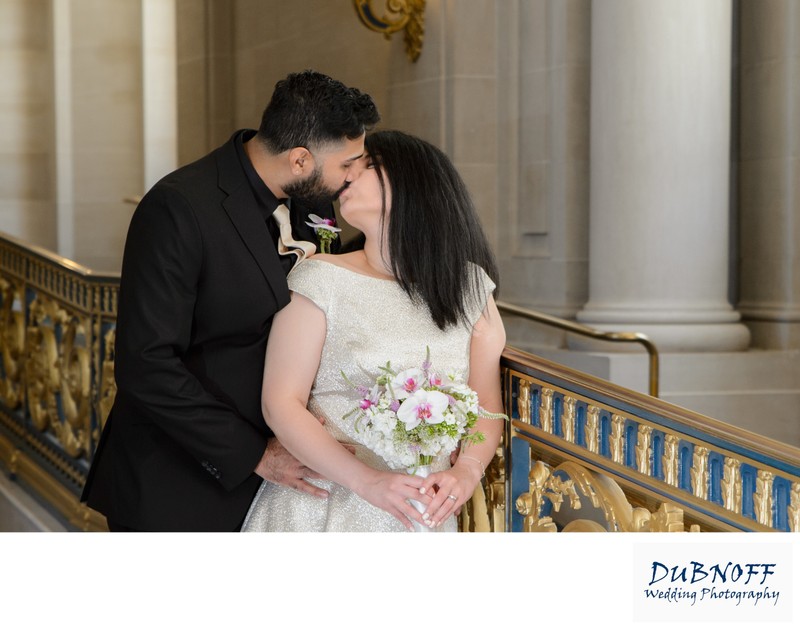 The Challenges of Taking Pictures on the Grand Staircase
I decided to share my thoughts regarding wedding photography on the Grand Staircase at San Francisco city hall. Because it is the central place and focal point in the building it attracts tourists and of course professional city hall wedding photographers. There is no formal procedure for taking turns or sharing the staircase so problems can sometimes arise. In my opinion, problems only occur when professional photographers decide to use the staircase for all of their photos and stay there for extended periods of time. When I am finally able to get on the Grand Staircase, I make my poses quickly and usually finish in about 4 minutes. If everyone did this, it would get much less crowded. Some of this is just lack of experience at SF City Hall and not realizing how many other options there are for great pictures. I actually find that the other floors hold more potential for creative and fun wedding photos. Some professional San Francisco city hall wedding photographers forget that there are 4 floors to this building with many opportunities for amazing captures. I added the photo below because I like the romance that the couple are showing for each other. I always enjoy when couples are wiling to show some affection for the camera!