LGBTQ Wedding Couple Enjoy Dance
The pure joy captured in this image really shows through as we asked this couple to have some fun with each other and pretend to dance. San Francisco city hall offers all kinds of fun opportunities for couples to enjoy their wedding photography session. We strongly encourage our newlyweds to not just do static and sometimes boring poses. We want them to have fun with it. This helps loosen the mood and causes people to be more like themselves. To me, this is what successful wedding photography is all about whether or not it takes place at SF City Hall. If the couple looks at their wedding pictures years from now and it helps them recall the fun they had and more importantly, the way they felt then we have done a good job. In this particular image, the woman on the right is obviously enjoying the moment and you can see the reaction from the other bride. I decided to display this wedding image in sepia tone because I felt like it would be less distracting and put more focus on the emotions present at the moment. Black and white would have accomplished the same thing, in my opinion.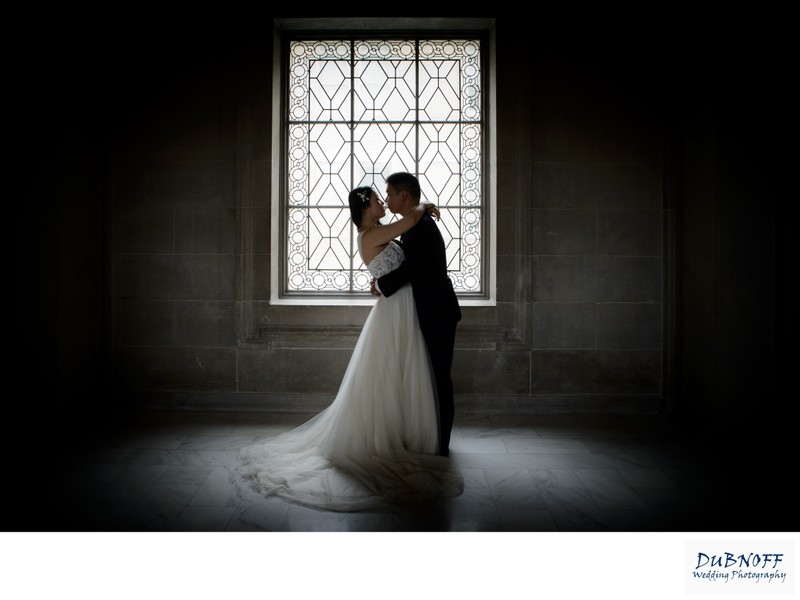 Sepia Tone Wedding Photography Images
Why sepia tone? Its the image style of the past and makes you think of old photos of our great grandparents. To be honest, I just personally like it. I don't use it in all of my wedding photography, but I DO use it at San Francisco city hall! Part of the reason I feel it is so appropriate is the historic nature of the building. After all, when city hall was built, sepia tone was pretty much all that was available. I feel like providing our newlyweds with some images such as the one above calls to mind the grand history of the amazing building.