Dance Dip with Back Lighting
Sometimes to add drama to our images we place a radio controlled flash behind the bride and groom. We especially like the effect when the bride has a veil because of the way it lights up from behind. It can sometimes give a beautiful glow, like the photo shown above. It takes some practice to balance the light just right, but the results are worth it! We always make sure to have the groom bend the bride back slightly because this allows the veil to move away from the body and thus becomes more evident in the image. However, that being said, I am pretty sure that in this picture, it was just natural light streaming in through the windows that provided the light for the bride's veil. This couple was amazing and fun to work with. As a military couple, they also were eligible to receive a discount of 5%. If either the bride or groom are service members, please ask us about a discount and how to be eligible. This discount also provides a lower price for military veterans as well. Just provide some sort of proof of eligibility, we are not picky. Even an old photo in uniform will do.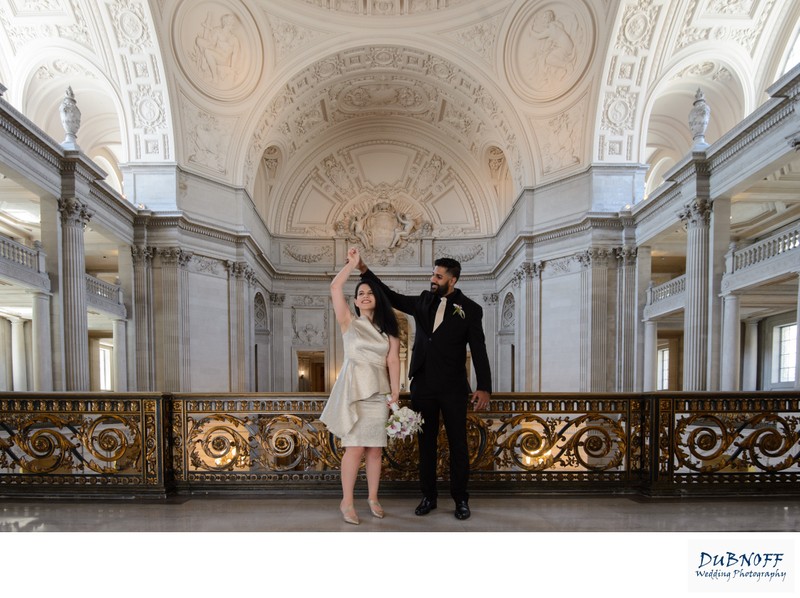 Military Weddings at San Francisco City Hall
We have photographed a large number of military weddings at city hall. We always love working with the couple and hearing their story. Often times the reason they are getting married in a civil ceremony is because one is being deployed soon and they want to get it done before. If memory serves, that was the situation with this particular couple. I remember how excited they were to tie the knot and so we tried to make it a great shoot. I think we succeeded.