Framing the Face in SF City Hall Photography
One of the things we love when a bride uses a veil with her wedding gown is the opportunity to create some natural frames for her face. The veil can be draped around bride in many different ways to create beautiful effects. In the image above, we used Black and White to further enhance the image while framing the bride's face with the edges of the veil. San Francisco city hall provides many opportunities to create images like this. The lighting is soft on the north side so we always take our city hall brides and grooms there when we can. For this particular photo we thought it would be nice to actually have part of the veil cover a small portion of the bride's face. Since you can see through the Veil the bride's eye isn't actually invisible. But the softness of the Veil covering part of the bride's face makes for a beautiful effect. As mentioned above it also creates a natural frame that focuses your attention on the beautiful San Francisco City Hall bride.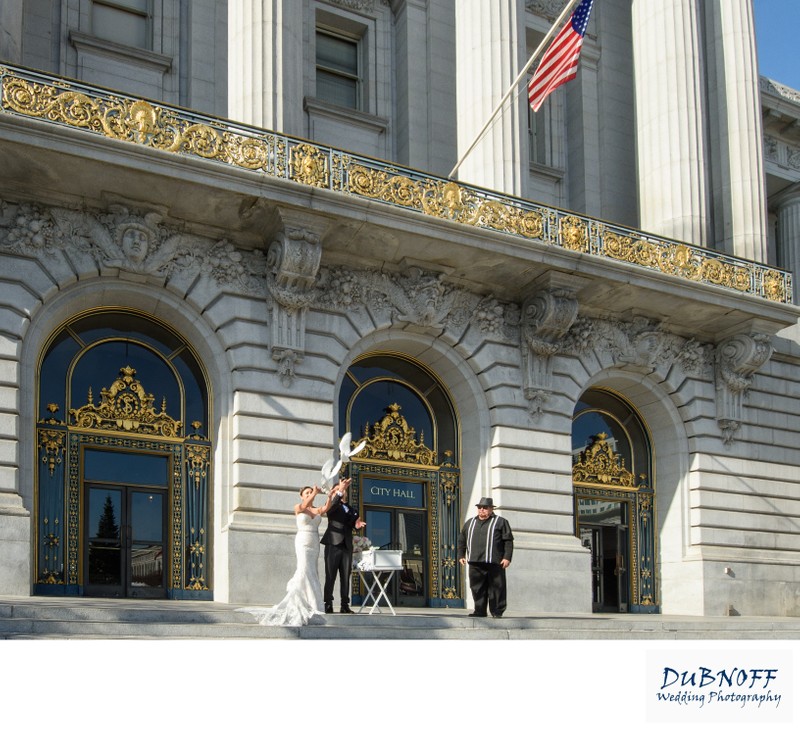 Challenges Presented at San Francisco City Hall
One of the challenges of shooting in this historic building is that the best San Francisco city hall wedding photographers also know about these great spots for making memorable images. So there can sometimes be a line for the best locations. This makes patience very important. One notable example is the Grand Staircase. At times there can be 3 or 4 brides and grooms waiting to get access to this amazing centerpiece of city hall. What we have learned over the years is to just stay in touch with what is going on there so when it clears, we can take our couple there for pictures. When it is really crowded, we just need to get in line and wait for our opportunity. Other wedding photographers that we know and respect that work in the building are all courteous to each other and will try be accommodating. But I preferred way of handling the grand staircase is just to keep our eye on it as we take our bride and groom around City Hall for a wedding pictures. Then once we see an opening on the grand staircase we get there as quickly as we can and start our photo session. We work quite quickly and are usually done with all of our grand staircase pictures within 10 minutes. We see other SF City Hall wedding photographers take up to half an hour and all that does is back up the line for other couples who want to have pictures at this beautiful centerpiece.