San Francisco Bay Area Wedding Photographers - City Hall
Welcome to our San Francisco Bay Area wedding photography website. Mike Dubnoff has been a top professional wedding photographer in the Northern California area since 2002. We also specialize in San Francisco city hall wedding photography, click the link to find out more. Mike's style provides you with an ideal blend of documentary photography combined with creative and romantic images. Most importantly, we help make your wedding day a fun experience. You will receive plenty of photojournalistic images (candid) as well as posed traditional pictures. It's important to hire a wedding photography professional you can trust, and we have been earning that trust with over 1,800 weddings photographed in the San Francisco Bay Area alone! If you would like to contact us to check our date availability for your San Francisco Bay Area wedding, click the link and provide us with just a few details about your upcoming nuptial event. We are happy to help advise you and discuss your wedding plans.
Affordable SF Bay Area Wedding Photographers
We offer all levels of affordable wedding photography packages to our San Francisco Bay Area Clients. From San Francisco City Hall Civil ceremonies to larger weekend weddings, we have the packages to fit your needs. We will work within your budget to create a custom package just for you. The key difference with Dubnoff Wedding Photography is that we listen to you! We won't waste your time during your professional consultation telling you that we are the best wedding photographer in the San Francisco Bay Area. We ask you what you are looking for and explain how our experience fits into your needs. SF City Hall wedding photography is a specialty, but we have done it all!
Local experience with San Francisco Bay Area Venues
We have photographed most of the popular wedding venues in the San Francisco Bay Area including San Francisco City Hall multiple times. Northern California cities where we have covered many weddings include San Ramon, Walnut Creek, Concord, Clayton, Livermore, Danville, Pleasanton, Fremont, Pleasant Hill, Oakland and other parts of the East Bay. These are just a few of the many locations we have photographed extensively throughout the Bay Area and East Bay in particular. We are quite proud of our reputation as a leading East Bay wedding photographer with hundreds of marriages photographed in these cities. We will also be happy to do a venue site visit with you to share our thoughts and ideas to make your marriage experience perfect. We feel like the best Bay Area wedding photographers should not charge for site visits and we never do! If we somehow have not photographed a wedding at your chosen venue, we are happy to check it out with you or on our own. Just let us know how you want to handle the visit. Sometimes it is helpful to accompany you to pre-wedding site visit so we can learn your thoughts about the venue and tell us why you like it. This will assist us on the wedding day to help choose great wedding photography spots. It also provides us a chance to talk to your venue coordinator.
Bay Area Wedding Photographer with Many Cultures
To be a San Francisco Bay Area wedding photographer means that you are constantly exposed to a very diverse client base. We love the experience we have had with so many different cultures and religions. This experience has allowed us to work with couples from many cultures, including Catholic, Filipino, Greek, Jewish, Russian and Asian to name a few! I feel like it really helps us to know what is coming with each of the different types of ceremonies and traditions. Many of these ceremonies require previous knowledge of customs of each religion in order to make sure important photos are not missed during the ceremony. I think this is especially true with Greek and Jewish weddings which are quite unique. Even Catholic weddings have some unique twists that you need to look out for as a wedding photographer. Proper camera positioning could by vital in some of these ceremonies to make sure we do not miss an important moment.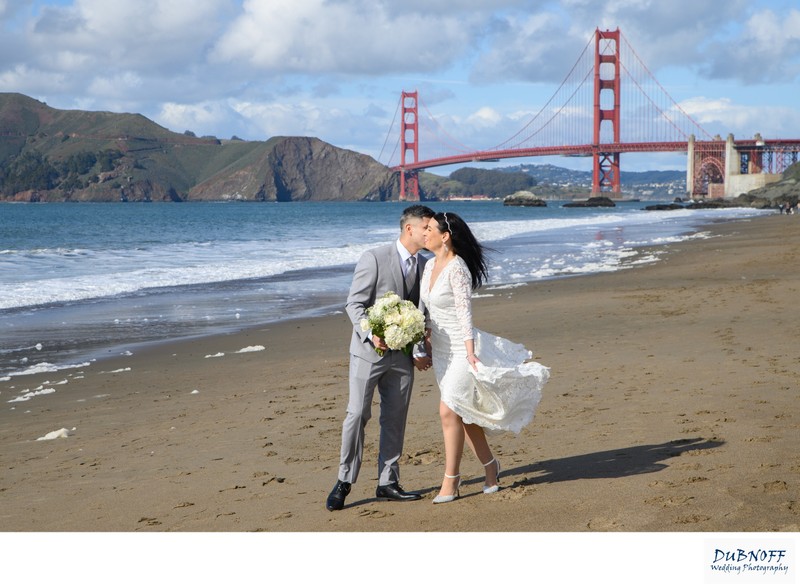 San Francisco Wedding Photography
When you think about looking for the best San Francisco Bay Area wedding photographers, you probably figured you would just search the internet for photos that appeal to you the most. You might ask yourself about which photos have the most impact and if they provide any kind of emotional connection. This is a good way to find a wedding photographer, but there are more things to consider. Besides selecting a photographer that displays appealing photos on their website, it's very important to understand the style of each potential candidate. Let's explore some of the current, most popular styles of wedding photography and the names they are frequently referred to as.
DOCUMENTARY This is probably the style that is most popular today. If you ask most modern SF Bay Area wedding photographers, they will most likely tell you that they shoot weddings in a documentary style. The idea here is to document the wedding as though it was an event you are covering as a reporter, but of course in a creative and artistic way. In its most basic form, the wedding photographer follows the couple around throughout the day and takes mostly candid photos of them. The hope is to catch special "moments". This includes hugs, laughter, tears and any of the other emotional moments that occur during a wedding. The photographer (or photojournalist) should be unobtrusive and barely needs to speak to the bride and groom throughout the day. Other names for this style include Photojournalism or Reportage. In my opinion, the best wedding photographers will provide this type of coverage but still mix in some traditional types of images also.


TRADITIONAL - Probably the style most of us are used to thinking of when we hear about wedding photography. In its purist form, traditional wedding photography sometimes involves shooting from a predetermined "shot list" which includes many of the poses and family photos the couple wants. In addition, unlike Documentary wedding photography, the photographer is very involved in the process. Choosing the best backgrounds, lighting techniques and posing the subjects are all part of a traditional wedding photographer's skill set. This style of photography will usually be more time consuming and require a larger time commitment from the bride and groom. Other names for this style include Conventional, Classic and Posed. San Francisco city hall weddings are often photographed a bit more in a traditional fashion because there are no actual events during the wedding with the exception of the ceremony itself.


CONTEMPORARY - In my opinion, many of today's best San Francisco wedding photographers fall into this category. The idea here is for the wedding photographer to create the photo by putting the couple in beautiful backgrounds and lighting, but then not being quite as rigid with posing. The best Contemporary photos appear candid but are really partially set up by the photographer. In other instances, the wedding photographer simply places the subjects in better light and backgrounds, but still shoots mostly candid photos. One good example is something we often do during bridal prep... We walk into the room where the bride is getting ready, but notice she is preparing by the garbage can with dim uneven lighting. In this situation, we would politely suggest that the bride move closer to the window with a cleaner background but allow the candid moments to occur and record them. Other ways to create amazing wedding photos using this style is to suggest the newlyweds walk hand-in-hand in a particularly beautiful setting. We give them a little bit of coaching, but mostly just let them enjoy each other. Photos are captured throughout this process. Other names for this style include Illustrative, Fashion or Modern. Dynamic posing techniques should also be a part of this style.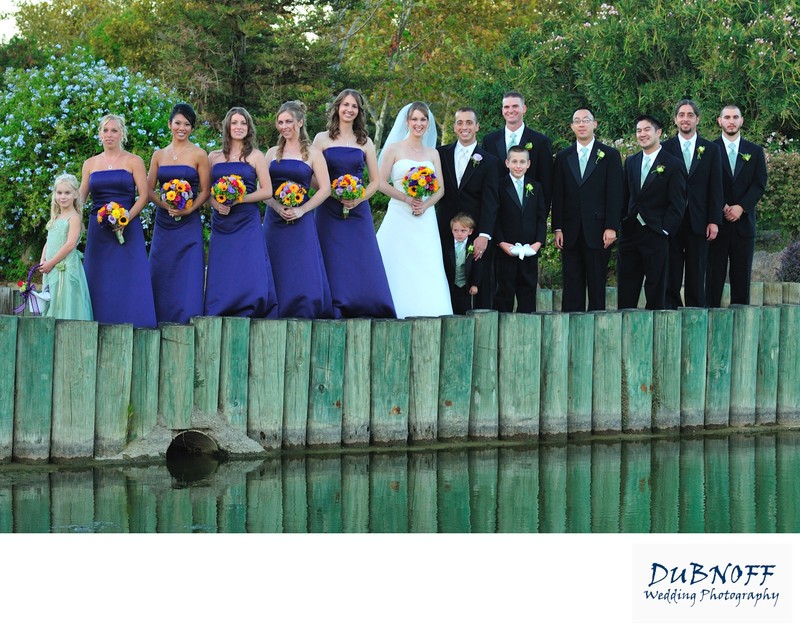 San Francisco City Hall Wedding Photography Specialty
One of our specialties at Dubnoff Wedding Photography is San Francisco city hall. Yes, San Francisco city hall is an amazing place to have your wedding photographed. A professional wedding photographer can escort you to any of the 4 floors (preferably all of them!) and capture some amazing images. SF City Hall's architecture and lighting has to be seen to be truly appreciated. The building is laced with natural frames for great photo composition. In addition, there are huge windows that let in amazing natural light to make your photos even more memorable. There are a number of San Francisco City Hall Wedding Photographers who understand this and will do an excellent job for you. Before choosing one, be sure to check out their web pages to make sure they have lots of examples of photography in the interior of the building. It takes some experience to capture the beauty here without being fooled by the lighting.
Architecture photos improperly captured can have all kinds of distortion. Don't trust your precious memories to a friend or relative, hire a pro! More importantly, the most experienced city hall wedding photographers understand that the Grand Staircase is not the only place to obtain great images in the building. They will take you there, but also to the many other great places available for beautiful photos. Each of the 4 floors offer something different in terms of unique wedding pictures. We have an entire section of this website dedicated to San Francisco town hall wedding photography, click the link to see our full
City Hall Menu
. This menu will lead you to SF City Hall pricing, packages, galleries and helpful information about hot to get married there.
San Francisco Wedding Photography with a Smile
We feel our positive attitude and friendly demeanor sets us apart. We will have fun with you on your wedding day and make sure the photo session is not too complicated or precise. We possess an easy-going style which will help you relax while your photos are being taken. This makes you feel much more at ease and produces better and more natural wedding photos. This is the ultimate goal, to provide the bride and groom with memories to last a lifetime. We have found that if we smile and converse with our couples, they smile back. We are looking for natural reactions and emotion in our wedding photography, not posed and stiff. This approach has served us well over the past 15 years and has helped make us one of the leading San Francisco Bay Area wedding photographers. We hope to continue to provide this friendly service for many years! Please let us know if your experience does not match up to this ideal, we promise to make it right.
General Thoughts on Bay Area Wedding Photography
I wanted to share some general thoughts about photographing weddings in the Bay Area. I have been one of the leading Bay Area wedding photographers for over 20 years and feel that this is a premier region of the country to have your wedding. I say this because the weather here is so beautiful and predictable but also there are so many amazing places and venues available to a bride and groom. If you go through this website, you will find many examples of full Weddings that we photographed at some of these Bay Area venues. This also includes weddings that were photographed specifically in the city of San Francisco, but also Concord, Walnut Creek, San Ramon, Berkeley, Oakland, Danville, Pleasanton, Livermore to just name a few. In fact, another specialty of ours is Livermore Winery weddings.
We have a page dedicated to these Wine Country weddings so feel free to click the link for more information and a list of all of the wineries we have photographed weddings at. You can view some recent weddings by checking out our Gallery Pages from our main menu. All weddings will have 2 professional photographers present to serve you and your guests. I always shoot each wedding personally assisted by one of my exceptional photographers. I use the same assistant wedding photographers that have been on our team for many years. I never use outside photography contractors like so many others do. Our San Francisco city hall wedding photography team is one of the most experienced in the Bay Area. Would you hire a Temp Agency to photograph your wedding? We never would!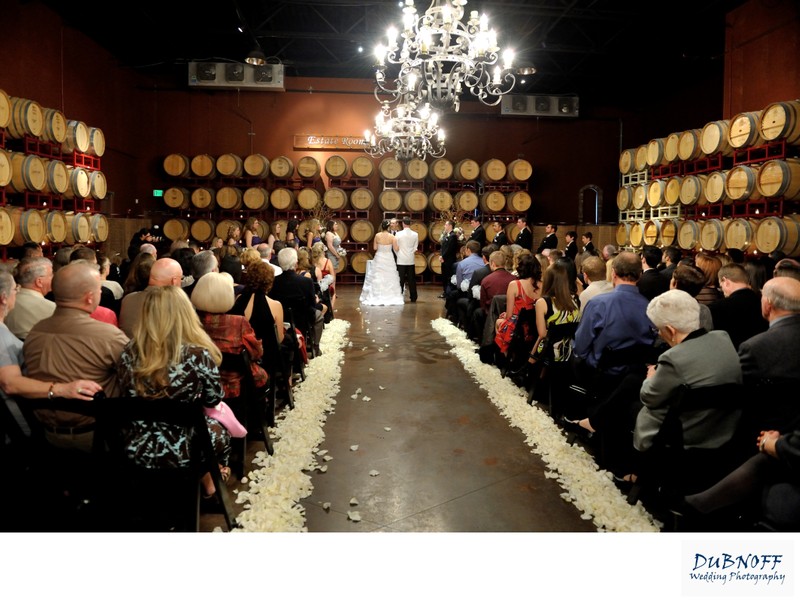 Complete Wedding Photography Portfolios
Unlike some of my professional photography friends, I have purposely set up my website galleries to show complete weddings at one location and with one couple. When I made this decision, I realized that perhaps my photo galleries would not be quite as impressive as a "greatest hits" type of portfolio. However, I think it's important to provide a realistic view of what your wedding will look like and not some idealized conglomeration of perfect photos from each wedding. The truth is just about anybody can take one or two great photos at a given wedding. Even with a cell phone!
What really sets apart the best professional San Francisco Bay Area wedding photographers is the ability to photograph the entire wedding and provide the couple with great photos throughout. I will also say that there is a place to show Greatest Hit types of images because it does give the potential client an opportunity to see just how great this photographer can deliver. I have not completely eliminated these types of portfolios from my site, but overall, most of what you see are 20-30 photos from one single wedding from start to finish. Our main gallery is a compilation of many of our weddings over the years and we hope those pictures will draw you in to our site. We then want you to look at individual weddings to get a better idea of our style. With each portfolio album we try to show you a complete progression from Bridal prep to the ceremony, family photos and the formals. What you will also see is reception photos showing you our ability to capture candid types of photos.
Our Own Personal Wedding Photography Style
We discussed above the various styles we see in San Francisco Bay Area wedding photography. Where do we fit in? We like to think of ourselves as a documentary type of San Francisco wedding photographer, but we also provide our clients with traditional photos as well. We will be involved in your Bay Area or City Hall wedding, but not overly so. Feel free to explore this site and have a look at all the different photo albums we have put up. In addition, we have the sections that discuss the different venues in the Bay Area. We have a huge listing. Virtually all of the listed wedding venues are places that we have photographed one or more weddings. In many cases we have been to some of these venues 10 times or more so we know them well and also understand the best way to approach them to make your wedding photography the best it can be.
Advantages of Bay Area Wedding Venues
Predictable weather 8 months per year
Beautiful and affordable wedding venues with many options
Huge selection of some of the best Wedding Vendors in the Country
Transportation convenience for you and your guests since this is a major hub
Affordable choices for the budget conscious
High End options as well at Fancy Country Clubs
Large variety of Venue options, from beach locations to Napa Vineyards
Civil Marriages at beautiful San Francisco city hall
Family History of Artistry in San Francisco
My mother was an accomplished artist and enjoyed painting our neighbor's Victorian houses in San Francisco. Growing up, you could look out my bedroom window and see these beautiful "painted ladies" and this helped inspire my mom to specialize in this type of art. My dad loved photography and gave me my first Nikon Camera to play around with. He had a great eye for photography and loved taking scenery photos with slide film. I often tried to grab the camera away from him when I was kid and I think that's where it all started for me as a professional photographer.
My parents encouraged me to explore photography as a profession because they knew that's what I was hoping to do. I photographed my first wedding in college while attending the University of San Francisco and I really enjoyed seeing the happiness my photos created. I immediately started shooting weddings especially in the Walnut Creek and Concord areas. This made me realize that this is something I want to do for a living, plus I actually got paid to do it! Eventually, I discovered the amazing city hall venue and decided to specialize in weddings here in San Francisco.
I still love to photograph weddings throughout the San Francisco Bay Area. I have lived in the Northern California area my whole life and feel very lucky to be able to use wedding photography as a means to explore so many beautiful venues and meet some great people. We work with brides and grooms from all types of cultures and get to visit all of the great tourist spots and even San Francisco City Hall on a regular basis. To be honest, I never dreamed I would be able to make a living doing something I love so much! To discover more information about the city hall wedding photographers check out our About Page on this site.
Please visit our Sitemap to view the many pages of our Dubnoff Photography website!
San Francisco Bay Area Wedding Photography