San Francisco City Hall Wedding Photography
Thank you for visiting our San Francisco City Hall Wedding Photography website. City Hall is our favorite place to photograph weddings and we would love to show you our affordable packages and pricing. With over 600 marriages photographed over the past 12 years, SF City Hall weddings have become our specialty. To learn more about having your nuptials at beautiful and historic San Francisco city hall, scroll down on this page to the Planning section or use the Main Menu to discover more about having your wedding here. We also provide our engaged couples with useful city hall tips and ideas on how to get married at this amazing venue. Most of our detailed information can be found on our San Francisco city hall wedding photographer page. If you want to explore the city after your nuptials, we would be happy to take you to some of the best San Francisco destinations for great photos.
Book us for SF City Hall Wedding Photography
Congratulations on your upcoming marriage! We know you are reading this because you are recently engaged and have heard about what a great wedding venue San Francisco city hall is. Yes, this historic building has been the place for thousands of marriages over the years and now maybe it is your turn! If you are not sure yet, check out our page on Helpful Hints for your city hall wedding. This page should help you understand how the whole city hall marriage process works and aid in your decision making process. To determine our availability for your San Francisco City Hall wedding, please go to our Event Calendar by clicking the Contact Page in the main menu and enter your actual date. We will usually contact you within 8 hours to let you know our availability and provide you with our standard pricing. You can also request a customized price quote for your specific wedding photography needs. We are happy to answer any questions you may have regarding our well established photography service. We possess over 20 years of Northern California professional wedding photography experience and would love to work with you! Please email us for a specific quote or use our Quote Request form and hear from us quickly about specific pricing and packages for San Francisco city hall wedding photography.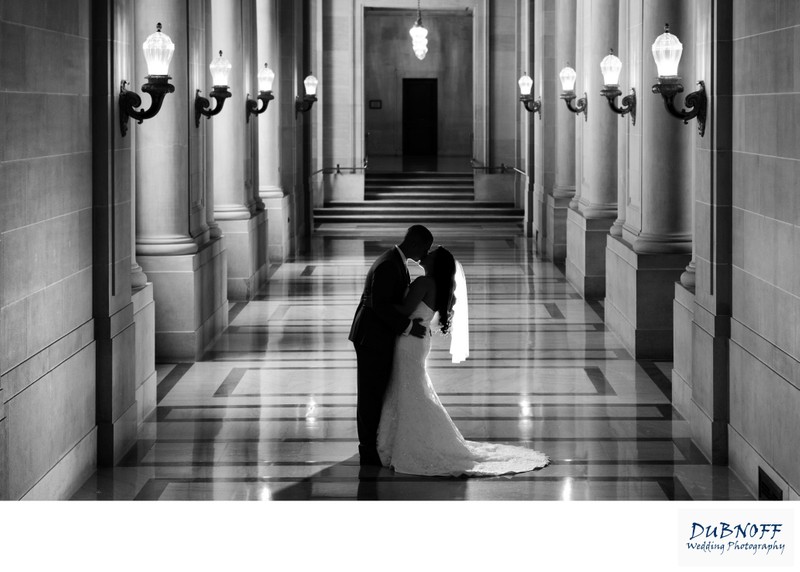 Best Venue in San Francisco for Affordable Weddings
Our main goal is to provide you with the best City Hall wedding photography experience possible. Beautiful, romantic, creative images of your wedding to last a lifetime combined with our fun, positive approach will make your special day memorable. Please visit our Prices and Packages page to see what we offer engaged couples. The beauty and elegance of San Francisco city hall is unmatched for the price anywhere. This website features our San Francisco city hall wedding photography specialty, but also contains information regarding our full-day Weekend coverage for medium and large marriages. We are also one of the premier Bay Area wedding photographers shooting weddings at City Hall and have many 5 star Yelp Reviews to prove it! To view additional SF City Hall sample albums and receive valuable information, click San Francisco City Hall Wedding Photography packages and prices. We photograph weddings at SF city hall at least 12 times per month, let us handle yours! We also have a City Hall Menu for people interesting in learning more about these specialized Services.
Plan Your Wedding at San Francisco City Hall
We are one of the most experienced and helpful professional San Francisco city hall wedding photographers and we are happy to assist you with any of your planning needs. We go beyond just being your photographer, we offer free planning and coordination services to help you navigate the entire civil marriage process. From obtaining your marriage license to actually getting marred, we are here for you. This website is more than just a simple wedding photography page. We provide detailed planning ideas that include important links, prices and useful contact phone numbers for the City Hall Events department and website. Of course, we also want you to see our photography galleries so please click those links to view our featured weddings. We probably have a gallery that comes close to fitting your wedding plans for this most important day. It's fun to see a wedding that closely mirrors you own plans. Read below and discover some of the best reasons to have your wedding at SF City Hall.
Why have Your Wedding at SF City Hall?
To Save Money! - Let's face it, getting married in San Francisco is expensive. We checked a number of sources and the average cost for a San Francisco wedding appeared to be right around $60,000. There was a broad range of surveyed responses, but nothing fell below $28,000 and of course it's quite easy to go above the average. Can most young couples just starting out afford those types of costs? In most cases, the answer is no! Especially given the high cost of living in the Bay Area these days. Yes, parents will help and couples figure out a way to get it done through loans, credit cards, etc. Do you really want to start your life together in debt? San Francisco City Hall costs around $100 for a simple ceremony (not including the Marriage License) and $1,000 for a private location that is roped off for your privacy with additional room for up to 60 invited guests (seated). This means you can have your wedding in one of the most beautiful venues on the west coast and it will only cost you pennies! Take your guests to a local restaurant and hire an affordable city hall wedding photographer and you will still be under $4,000 for your whole event! Another option is a 2 hour rental of city hall during the weekend. The cost for this is $5,000 but is subject to other fees and expenses not included in the price. Especially if you need security and other important items. Based upon my own experience with other San Francisco venues, this is still a great price. UPDATE: Due to current conditions post Covid-19, many local venues are still not operating yet. City Hall offers an alternative to these SF Venues.
Convenience - One of the best things about having your wedding at San Francisco City Hall is that so many things are provided for you. You can obtain your marriage license the same day as your wedding and you can do this right before the ceremony if you so desire. An experienced volunteer officiant is provided to perform your marriage ceremony at no extra cost (they are referred to as Marriage Commissioners and are not really judges despite the fact that they dress like it.) In addition, you have a safe, indoor, beautiful location to celebrate your wedding surrounded by your closest family and friends. No worries about rain ruining your wedding day! You can easily hire a city hall wedding photographer from the many available on the internet that also specialize in shooting at this magnificent venue. Many of the best San Francisco city hall wedding photographers have been doing this for many years (us included) so you know that they have experience and will do a great job of you. Another notable convenience is that after your ceremony you can walk to many fantastic restaurants nearby to celebrate with friends and family. Exceptional eateries such as Absinthe and Paxti's Pizza are just a few of the nearby locations close to San Francisco city hall. Both of these locations are less than a 15 minute walk and are highly rated. There are quite a few more restaurants located nearby. There are also many other exceptional places to eat within a short Uber ride from the building. If you opt for the reserved space (Mayor's Balcony or Fourth Floor Gallery) the SF City Hall Events Department will help you with whatever set up items you need. It's all right there! They will also provide you with a free officiant if you arrange for it in advance. Most of our clients prefer to bring in their own officiant for convenience and to allow for customized vows and/or sermons. We can recommend some officiants if needed. We know the best and all of them have substantial experience here! One of them even wears the same robes as the City Hall marriage commissioners so she totally looks the part.

Beauty and History - San Francisco City Hall is well known as one of the most sought after wedding venues in the United States. People come from all over the world to visit and have their marriage in this incredible building. Built in the early 1900's, city hall possesses old world charm with modern amenities. People often ask us about the history of this building and when it was constructed. What many people don't know is that the current city hall is actually the second one built with the first one coming down in the 1906 Earthquake. A few years ago, former Mayor Willie Brown took great pains to update and remodel the interior of the building to make it a great place for all types of events and not just weddings. Some parts of the updating included adding modern upgrades, but still retained the historic look of the building. Many of the rooms in the building had added false ceilings to help with sound obstruction, but had become run down and ugly. These ceilings were pulled out and the beauty of the building was allowed to show through. The architecture is incredible and you are free to wander through the halls and consider all of the history that has occurred here. Don't forget, Joe Di Maggio and Marilyn Monroe got married at San Francisco City Hall! So many other famous people have spent time here and yes even married here. Recently, I photographed a Bay Area Politician's wedding that was officiated by Willie Brown, so you never know who might have their marriage here next! If you arrive early, check out the self guided tour available on the South Court 1st floor (it is to the left of the Grand Staircase as you walk in). There is an incredible amount of SF city hall history to check out in the South Court and it is where the Official Docent tour usually begins. If you are planning on hiring a professional city hall wedding photographer, be sure they include some architecture photos in their work. We always do!
San Francisco open your Golden Gate - I remember as a kid, watching the Newlywed Game on TV and being surprised at how excited the couples were when they won a 1 week trip to San Francisco. big deal, I would think, I live here in the Bay Area, it's just San Francisco. Well, apparently I was wrong. As it turns out, San Francisco is one of the most popular wedding destinations in the whole world. It may not quite match Paris or Rome, but it's definitely in the conversation. There is so much for a newlywed couple to do here it boggles the mind. Some of the best restaurants in the world are right here in the "City by the Bay". Fisherman's Wharf, North Beach, Union Square, Coit Tower, Golden Gate Bridge and the Palace of Fine Arts are just a few of the places you can visit and enjoy during your stay. Hire a professional San Francisco wedding photographer and have them record your experience of visiting some of these iconic locations. If you do not plan on getting married here, you can still hire a wedding photographer and do an engagement portrait session. You will have fun and see some great sites travelling around San Francisco.

SF City Hall Wedding Photography - If you have read this far, you probably knew this was coming... Yes, San Francisco city hall is an amazing place to have your wedding photographed. A professional wedding photographer can escort you to any of the 4 floors (preferably all of them!) and capture some amazing images. SF City Hall's architecture and lighting has to be seen to be truly appreciated. The building is laced with natural frames for great photo composition. In addition, there are huge window that let in amazing natural light to make your photos even more memorable. There are a number of San Francisco City Hall Wedding Photographers who understand this and will do an excellent job for you. Before choosing one, be sure to check out their web pages to make sure they have lots of examples of photography in the interior of the building. It takes some experience to capture the beauty here without being fooled by the lighting. Don't trust your precious memories to a friend or relative, hire a pro! More importantly, the most experienced city hall wedding photographers understand that the Grand Staircase is not the only place to obtain great images in the building. They will take you there, but also to the many other great places available for beautiful photos. Each of the 4 floors offer something different in terms of unique wedding pictures.
Free Advice for your SF City Hall Wedding
We have provided invaluable information for navigating your way through the entire matrimonial process at SF city hall. This includes obtaining your marriage license and booking your ceremony date and time. with answers to many of the frequently asked questions that we hear from our brides and grooms. Our multiple years of experience shooting weddings at city hall has provided us with mountains of useful information that we would love to share with you. We like this venue so much that we are willing to provide you with free advice on how to have a successful wedding at San Francisco City Hall. You do not need to book our service to receive this information. Despite the comparative simplicity of a civil ceremony, there are still a number of issues that come up and we are happy to impart our knowledge to you. If you would like to book Dubnoff Wedding Photography for your City Hall marriage please go to our San Francisco City Hall Prices page. There you will find important information about reserving us and also package details.
City Hall Wedding Photography Style
No doubt you have explored many San Francisco City Hall photography websites and have noted the differences in style. The vast variety available among the top city hall photographers is pretty amazing. We are often asked how we would define our own style. Many of our clients tell us that they booked us because we stood out from the other photographers they had looked at. Our photos are super sharp and technically correct. They especially emphasize the beautiful architecture present in the building. Not that we are clearly better then the rest, just different. Our philosophy which has lead us to photographing well over 600 weddings in the past 12 years focuses on architecture. If you compare our photographic work to others you will note that our images tend to show off the details and the beauty of the building itself. Taking nothing away from the Bride and Groom, because we make sure they are prominently featured. However, you may notice more wide angle shots and images that display the patterns present in this type of French architecture. If you love the unique beauty of this grand old historic building, check out our images above. The other thing we bring to the table is image diversity. This means that there will not be a common theme or style within your final image set. You will enjoy many different types of final images including, close ups, blurred backgrounds, wide angle shots and candid photography. We feel that it is important to provide our customers a wide variety of wedding pictures to choose from. We also supply our couples with a pretty large number of proofs to look at. However, all of these shots are hand selected and carefully edited. We do not just throw every picture at you and hope some stick!
San Francisco City Hall Weddings with a Smile
We feel our positive attitude and friendly demeanor set us apart. We will have fun with you on your wedding day and make sure the photo session is not too complicated or precise. We possess an easy going style which will help you relax while your photos are being taken. This makes you feel much more at ease and produces better and more natural wedding photos. This is the ultimate goal, to provide the bride and groom with memories to last a lifetime. We have found that if we smile and converse with our couples, they smile back. We are looking for natural reactions and emotion in our city hall photography, not posed and stiff. This approach has served us well over the past 12 years and has helped make us one of the leading San Francisco City Hall wedding photographers. We hope to continue to provide this friendly service for many years! Please let us know if your experience does not match up to this ideal, we promise to make it right.


Family History of Artistry in San Francisco
My mother was an accomplished artist and enjoyed painting our neighbor's Victorian houses in San Francisco. Growing up, you could look out my bedroom window and see these beautiful "painted ladies" and this helped inspire my mom to specialize in this type of art. My dad loved photography and gave me my first Nikon Camera to play around with. He had a great eye for photography and loved taking scenery photos with slide film. I often tried to grab the camera away from him when I was kid and I think that's where it all started for me as a professional photographer. My parents encouraged me to explore photography as a profession because they knew that's what I was hoping to do. I photographed my first wedding in college while attending the University of San Francisco and I really enjoyed seeing the happiness my photos created. I immediately started shooting weddings especially in the Walnut Creek and Concord areas. This made me realize that this is something I want to do for a living, plus I actually got paid to do it! Eventually, I discovered the amazing city hall venue and decided to specialize in weddings here in San Francisco. I have lived in the Northern California area my whole life and feel very lucky to be able to use wedding photography as a means to explore so many beautiful venues and meet some great people. We work with brides and grooms from all types of cultures and get to visit all of the great tourist spots and even San Francisco City Hall on a regular basis. To be honest, I never dreamed I would be able to make a living doing something I love so much! To discover more information about the city hall wedding photographers check out our About Page on this site.
Please visit our Sitemap to view the many pages of our Dubnoff Photography website!
San Francisco City Hall Wedding Photography