Repeating Lines in Photo Image Composition
One of the great things about taking pictures at San Francisco City Hall is the beautiful architecture. The design of the building was French inspired in the Beaux-Arts style which includes repeating lines, arched windows and symmetry. This symmetry is what makes it such a fun place to do wedding photography. In the photo above you can see that we placed the subjects in front of 3 columns and lights. This gives the photo great depth and dimension. This couple was fantastic to photograph and loved the architecture. I love the way that the deep hallway is shown in the background. Your eye goes right to the couple and then you look at the lights in the background which are very pleasant. There are a number of other hallways and open areas at city hall that allow for this type of depth in the photography. The symmetry in the building is present everywhere. I also like the simplicity in certain places at San Francisco city hall. There are places where there is lots of detail work in the background, but also understated backgrounds that just provide depth.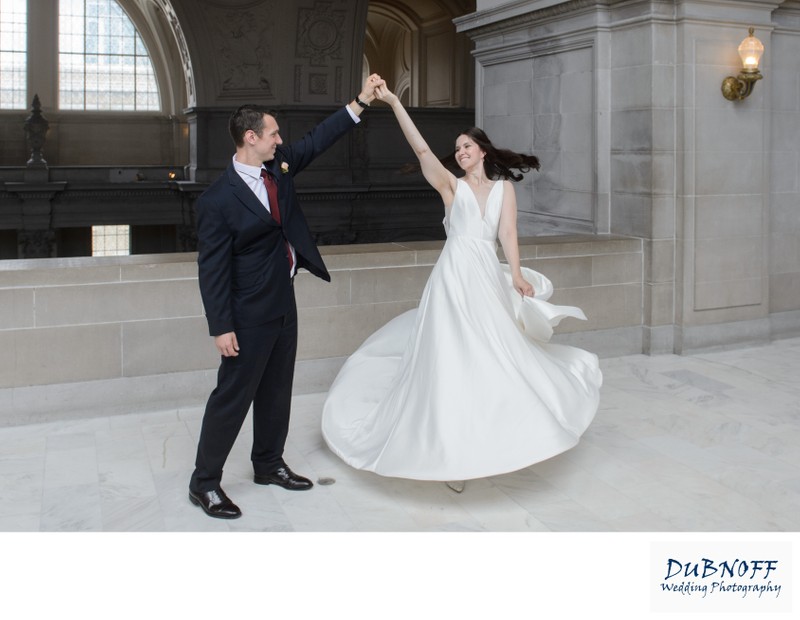 Best Wedding Photographers at San Francisco City Hall
So in our opinion, the best wedding photographers currently photographing at city hall understand that Architecture is important. Taking it a step further, we feel that building some of the symmetry into the wedding photos makes sense from a technical standpoint. Not all of the photos we capture display the architecture because we are also aware that close up photos are important to the bride and groom too. We provide our couples a nice mix of both, but ask them ahead of time what their preferences are. We want to make sure they receive the best photography possible and are happy with the results! We don't want to focus too much on any one aspect of the building or the couple. This approach has worked well for us in our 12 plus years of wedding coverage in this historic building. The couple's wishes and preferences are always paramount in our minds. Camera angle can also be very important at city hall. The background completely changes if you shooting from a higher perspective versus a lower angle. The interesting thing is that the whole wedding photo can change based upon the angle of view. I like to bring a small stool to stand on to help obtain these various angles. For reflection on the marbles floors, a low angle of view is appropriate and adds a great amount dram in the wedding picture.