Candid Moments at San Francisco City Hall
We placed our bride in a great spot in City Hall and made a nice pose. The light is perfect and the bride is beautiful. We are ready to take some amazing posed images and then suddenly the bride reaches back and makes an adjustment to her dress and that ends up being the best image of the day! This is one of my favorite spots to take photos for a city hall wedding. We get up on the 3rd floor and shoot clear across the building down to the second floor. The break that you see in the gold railing is actually the wheel chair access for the 2nd floor. It creates a perfect frame for our San Francisco city hall wedding photography sessions. I have to admit that I have since incorporated poses similar to this one in some of our wedding coverage now. Nothing matched the spontaneous moment when the bride does something beautiful and we are able to capture it.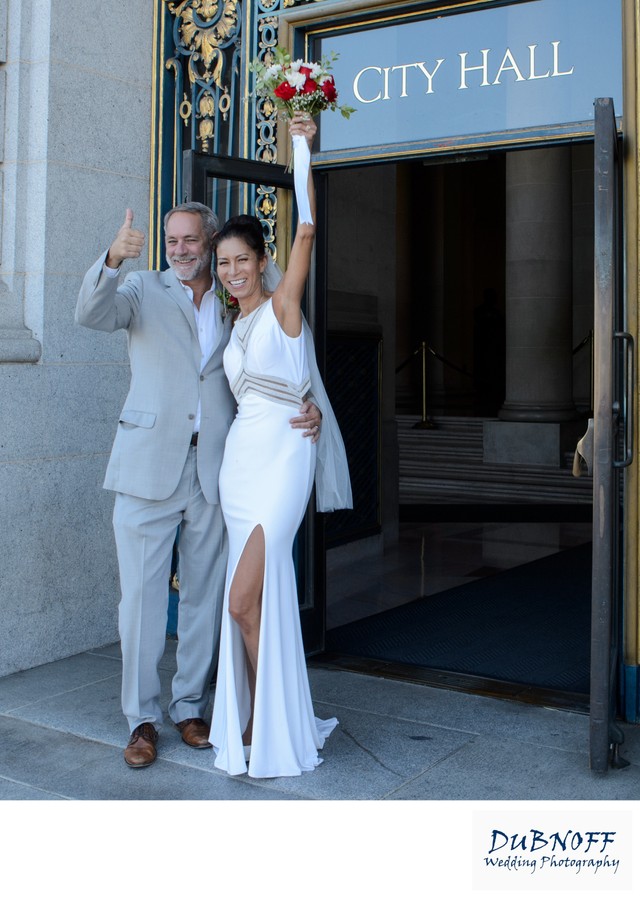 Recent City Hall Marriage and Family Coverage
The couple in the photo above was a recent client of ours. They brought most of their family with them to share in their special day. We always love it when brides and grooms bring family because it gives us the opportunity for candid pictures in between all the posed ones. For this particular wedding the couple had some small children, which are always fun to take candid pictures of. All you really need to do as a wedding photographer is train the camera on the children and wait for them to do something funny. One of the reasons I frequently work at San Francisco City Hall with a second shooter is to help capture those kinds of moments. If I know in advance that family members are coming I make sure to bring Lily or Tiana with me. We cannot guarantee that you will have two wedding photographers for your city hall marriage, but we promise to try. When you book with us you can also send a special request to have two photographers at your wedding. just drop us an email and let us know.