Best City Hall Sign Photo
All of our couples want a photo in front of the San Francisco city hall entrance. The door is very elegant with lots of gold and blue colors and of course it has the sign! What city hall wedding photography session would be complete without this perfect ending. We always finish our shoots by taking some fun images in front of the sign. Some couples prefer to just do a simple pose and others want some more exciting photos like the one above. Either way, we realize the importance of making sure this photo becomes part of the bride and groom's special memories.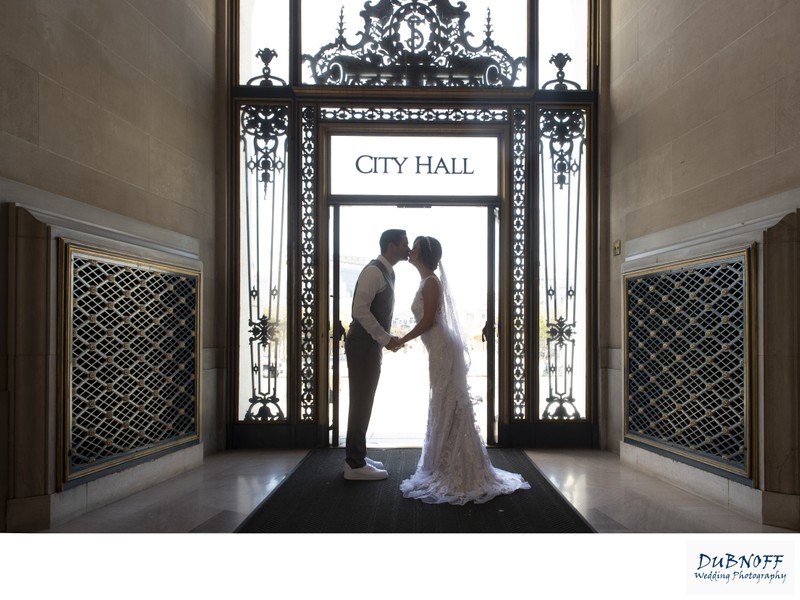 Invite the Bride and Groom's Guests to Pose
In most cases once we are done with the family pictures and ceremony, we take the bride and groom around the building on our City Hall photo tour. This tour involves hitting all 4 floors if time allows and taking amazing images at each location. We usually part with the guests for this part of the shoot so we can focus on getting great wedding photography images without the distraction of family and friends. Returning to the outside of the building for the city hall sign photo is a good chance to reunite with guests and get a couple of shots by the same place. This also makes the everyone happy because we involve the friends and family again after leaving them on their own for a bit of time.