Dancing Poses at SF City Hall
We are always looking for new and fun poses for the bride and groom at San Francisco city hall. We have found that dancing poses are always fun and unique and there are so many of them. We can have the couple go into a normal standard dance pose or we can get more daring and have the groom dip the bride or even the other way around! Why not? it's all in fun. For the photo above, we helped position the groom into an aggressive stance to make sure he could support the bride in a deep dip. Then once they went down, we asked the bride to bend her knee quite a bit to mirror some of the more popular dance moves. I think you will agree that the results are fantastic. More importantly, the couple was having fun with it and it shows in the pictures. We have found over the years that it is a good idea to counsel the couple on the proper technique to do this safely. The last thing we want is a dropped bride (or groom).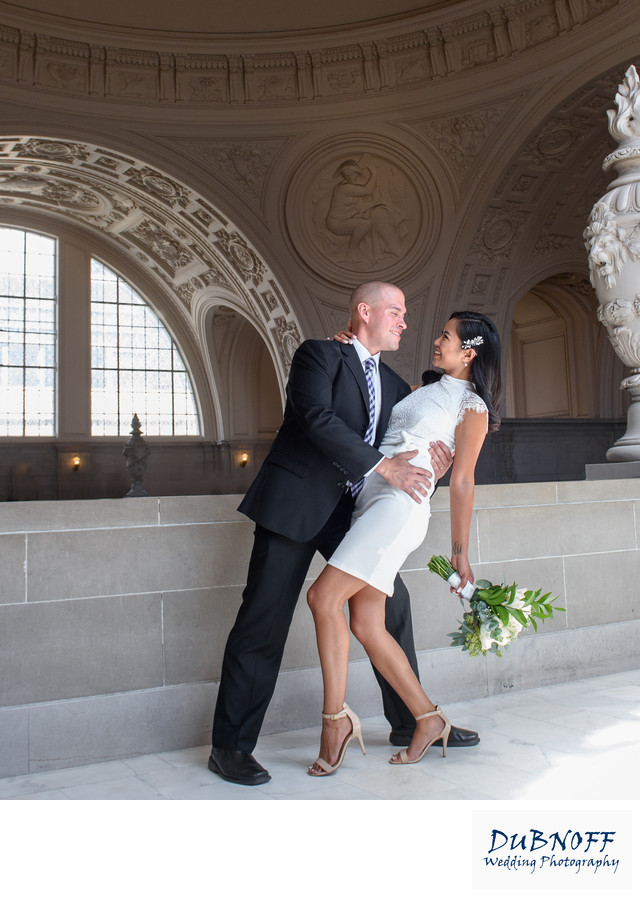 The photo above shows the couple in the same basic pose, but doing a less aggressive knee bend. This image also looks great, but for different reasons. Whenever we put our Newlyweds in dance related poses we always try different degrees of bend. We never really know what is going to work best with each couple until we see the final results. Altering the pose also gives the bride and groom the opportunity to improvise and add some of their own nuances to the Pose. We often discover that the adjustments made by the couple end up being the best shot out of that particular sequence. We encourage our newlyweds to improvise during the San Francisco city hall photo tour. This makes it more fun for everyone. Obviously, couples that are experienced dancers can pull off some of these moves even better. If a couple lets us know that they like to dance we will often do more aggressive and challenging poses, but it is always up to them to decide what they want to do or not to do. If they are REALLY experience dancers, they tell us!