Alternative Wedding Dresses at SF City Hall
One of the most rewarding things about being a city hall wedding photographer is the diversity of wedding dresses you come across. Because of the fact that SF City Hall is somewhat of an alternative wedding venue, it attracts many different types of dresses. Brides understand that a civil ceremony by nature can be quite casual, but the elegance of the building can also allow for formal wear. The end result is that as a San Francisco city hall wedding photographer you end up encountering virtually every type of dress ranging from completely casual to extremely formal. The wedding dress above was a formal dress but not typically thought of as for a wedding. However, it worked amazingly well in the couple's wedding pictures. It dazzled in the sunlight and also stood out in the San Francisco Fog. This particular image was created in the back area at Baker Beach away from the ocean. There is a heavily wooded area that we love there that is nearby and it's great for wedding pictures. This bride started out with a more traditional white wedding dress, but then changed into something closer to a cocktail dress. This is a great idea for outdoor photography because there are challenges associated with handling a full wedding dress in the woods.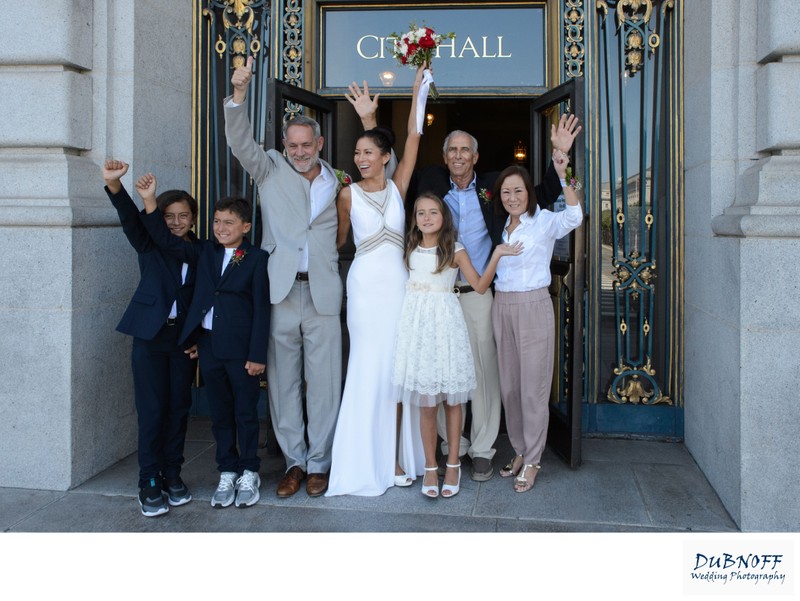 How Should you Dress for San Francisco City Hall
This is a question I am frequently asked by my city hall brides and grooms before the wedding. There is no single answer that fits because by the very nature of Civil Ceremonies there are lots of options. My primary suggestion to couples is to dress the way that suits them best. This is possible at San Francisco City Hall because there is such a wide range of attire being worn by couples getting married. We have seen everything from Blue Jeans to formal wedding gowns with 12 foot trains. We've seen extremely short dresses and long formal dresses. Even the color can vary at City Hall. Many people smartly wear something with color because it makes the dress stand out more in the mostly grey background of the building's interior. Red or burgundy are two colors we often see, but we recently worked with a green dress and a gold one. The general answer to the question is wear whatever you want, everything works at San Francisco City Hall.