Same-Sex Weddings at SF City Hall
We were one of the first City Hall Wedding Photographers to emphasize and openly seek out LGBTQ weddings to photograph once it became legal to do so. In the first year Same-Sex Marriages became legal, we photographed over 35 LGBTQ weddings! It was truly an amazing experience as we met couples who had been in committed relationships for decades, but never married. You can imagine the emotion and relief in many of them as they were finally granted their wish to wed. This particular couple was definitely one of our more fun experiences. They really enjoyed the shoot and it shows in the photos. We did a reasonable amount of posing, but as you can see, both of them reserved the right to improvise. Without question, our favorite images from this shoot were the ones where they were goofing around and having fun. We made sure to capture all of these special moments.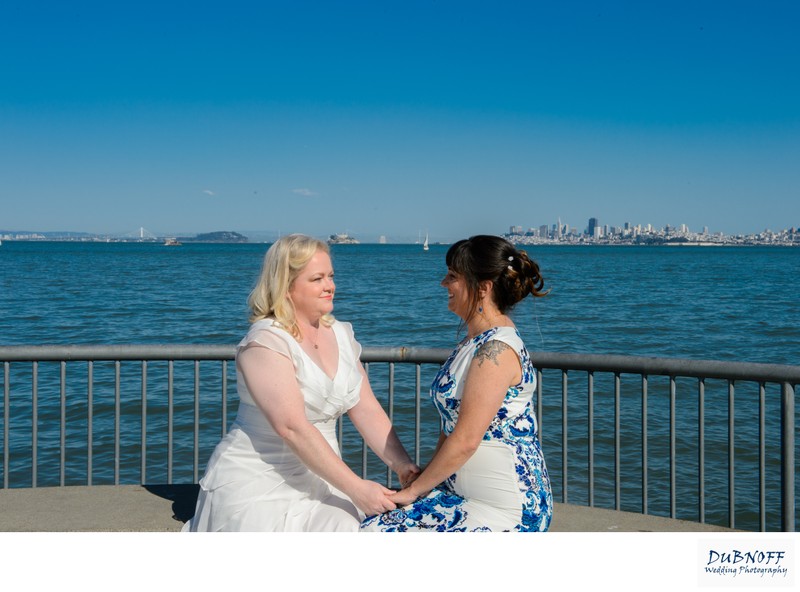 After speaking to one of the brides, I discovered that we had a shared interest. Both of us had been heavily involved in Women's basketball at the coaching level. We enjoyed sharing some of our experiences with each other about our common interest. As mentioned elsewhere on this website, I really enjoy connecting with our couples over common interests or experiences. It happens quite often. Being a San Francisco city hall wedding photographer can be so much more than taking good pictures. We love the whole experience. This couple later ordered one of our wedding albums, but it was surprise gift from one to the other. We enjoyed being part of that surprise and providing them with a wedding album with lifelong memories inside!