Mayor's Balcony at City Hall
This couple was very interested in having us capture the beautiful architecture at San Francisco city hall. With that in mind, we decided to take them to the Mayor's Balcony and used our Fish-Eye Lens. The great thing about this type of lens is that it gives you a very wide view of the background without having to be too far away from the subject. In this situation, we turned the camera vertical to capture the dramatic City Hall Dome. A slight tilt to the camera created this cool image. The use of super wide angles lenses can sometime cause a bit of distortion especially when turned vertical. We feel that it is OK as long as it not overly distorted to the point that people look unlike themselves.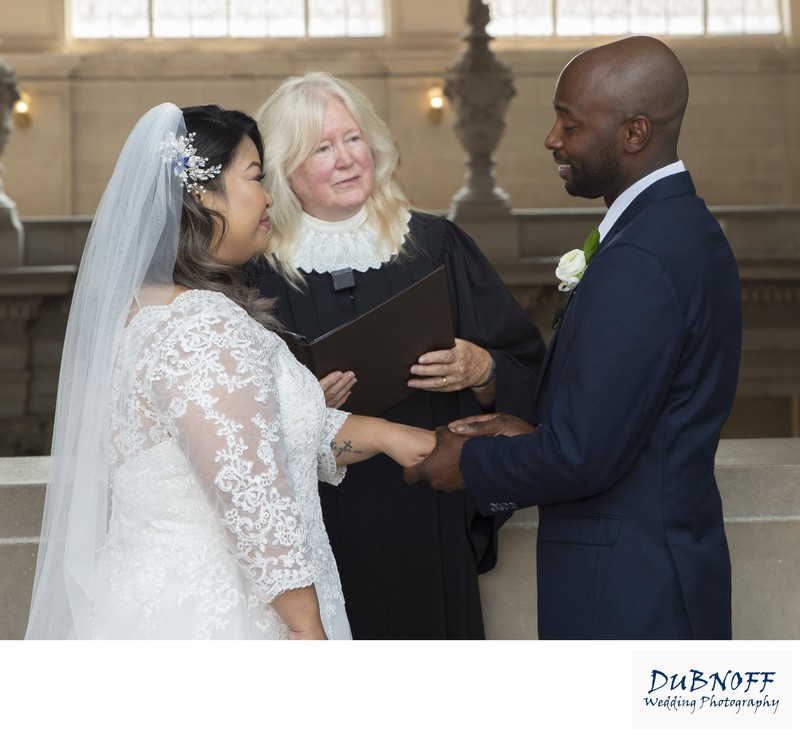 Creative Use of Camera Equipment at City Hall
I always say that too much emphasis on camera equipment may not be as important as it once was. Most of today's professional equipment is capable of producing great images no matter whether it is Nikon, Canon, Minolta or others. Wedding photography at San Francisco City Hall may be a little different. The lighting is difficult so it pays to bring in quality lighting equipment besides relying on a simple on-camera flash. Also, because of the emphasis on architecture it is important to have the right types of pro lenses that are capable of capturing the beauty all over the building with little distortion or blur.