Golden Gate Bridge Sunset Wedding
Out of all of the Golden Gate Bridge photos we have taken, the Sunset picture is one of the most difficult. This is due to the angle of the sun compared to the vantage points we have for wedding photography. The Trick is to not make the bridge a total silhouette, although that can be nice too! But my preference is to position the bride and groom in front and then try to let some of the golden color of this iconic San Francisco bridge come through. In the photo above, we managed to do it. It's definitely a matter of using some off camera flash to light the couple. I love this photo because we were able to do all of these things and still show some expression on this San Francisco couple. This photo was taken from Fort Mason in San Francisco which is probably about as far away from the Golden Gate bridge as we even shoot wedding photos from.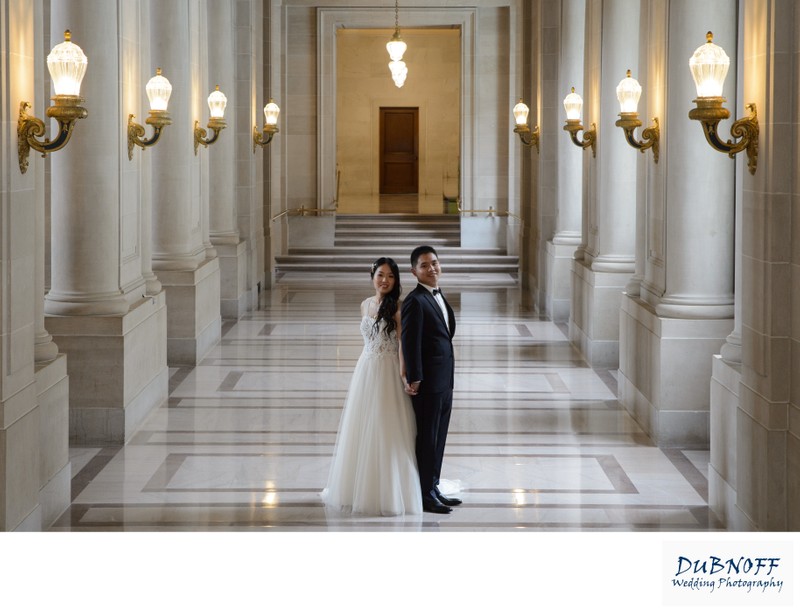 San Francisco City Hall Wedding Photography Image
San Francisco Wedding Photography
We have been shooting wedding in San Francisco since 1998 with over 1,000 wedding completed. This experience allows us to know all of the best wedding photography spots to take our couples. We also know how to get around in the city and choose the best places in terms of traffic patterns and parking issues at different times of the day. This type of knowledge can be invaluable to any San Francisco wedding photographer.