Officer and a Gentleman at City Hall
A fun shot to end the day depicting the famous movie with Debra Winger. We thought it would be fun to have our bride put on his grooms cap. One of our favorite San Francisco city hall entrance pics! This couple was so much fun and the groom had no problem lifting his bride for quite a few other shots as well. Just so you know, we never pressure our couples to do any lifting or dangerous poses. We may ask nicely and leave it at that. We figure it never hurts to ask, but we want to not make the newlyweds feel bad or stressed in any way. Our posing in general tends to be simple without complicated arm and leg positions. We will not get you tied up in knots just to take a SF city hall wedding picture. However, we also do not want to miss out on a great opportunity so we will make suggestions when appropriate to do so.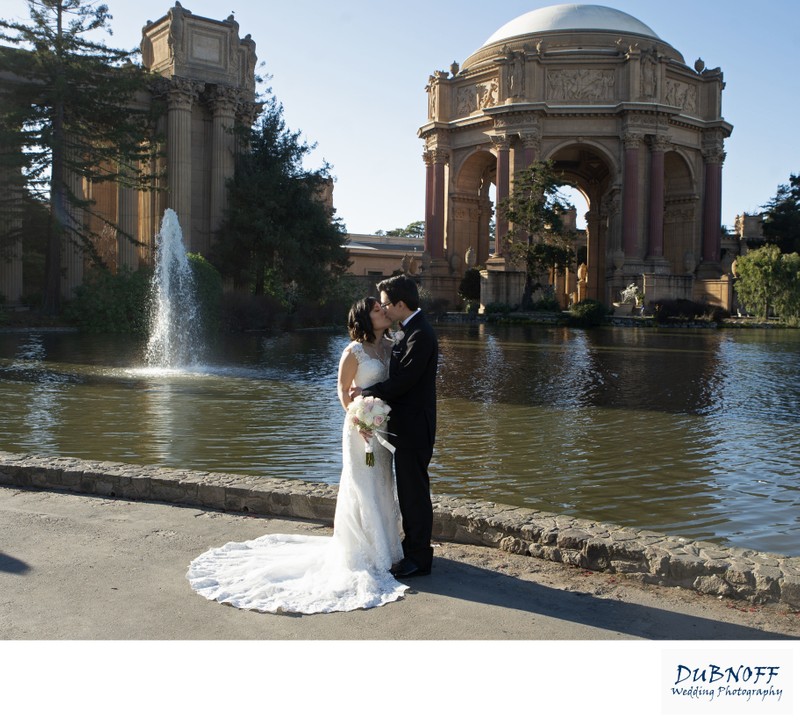 Feel Free to Suggest Wedding Photography Ideas
Honestly, some of the best and more memorable San Francisco city hall wedding images have come from ideas suggested to us by our newlyweds. We do what we can to encourage participation in your city hall shoot, but it is not required. Every couple is different with some not wanting to be too involved in the process with the exception of trying our suggested poses. Others want to fully involved and will make many suggestions of not only poses but locations in City Hall. This is fine with us as long as we can have a free, back and forth discussion. Good communication between your San Francisco city hall wedding photographer and yourselves is vital for a successful photo shoot.