Sutro Baths Wedding Photography Image
Black and white image of a city hall bride on the cliffs by San Francisco's famous Sutro Baths. We placed our bride out in the wind and waited for it to blow in the correct direction. It kind of makes the bride's veil look like a sail. This dramatic wedding photo was captured shortly after the couple celebrated their San Francisco City Hall wedding. We took the happy couple to other San Francisco locations and ended our photo tour at the Palace of Fine Arts in the Marina district. It was a beautiful day even if it was a little windy! Sutro Baths is definitely a favorite wedding photo destination for us, but you have to have sufficient time. The reason for this is that the hike going both down to the Baths and back up takes quite a bit of time. In addition, the drive out there takes a long time because it is in the farthest north region of San Francisco. On average it takes about 25 minutes to arrive at the Sutro Baths from San Francisco city hall. For more details about our affordable Bay Area wedding photography, click the link and return to the home page.
Sutro Bath Photos After City Hall are Worth the Time
I certainly believe it is well worth it, but the bride and groom need to be committed to making it work and taking the time on their wedding day. Consequently, we do not get out to Sutro too frequently. We sure love it when we do especially when we can obtain images such as these. One additional potential issue is that you have to be little careful balancing on the old concrete foundations. they can be a little narrow and some of them have a pretty big drop. So if you are afraid of heights, I would not recommend this location as part of your city hall wedding photography package. UPDATE: There are still some semi-dangerous places, but for the most part these previously narrow foundations have been eliminated.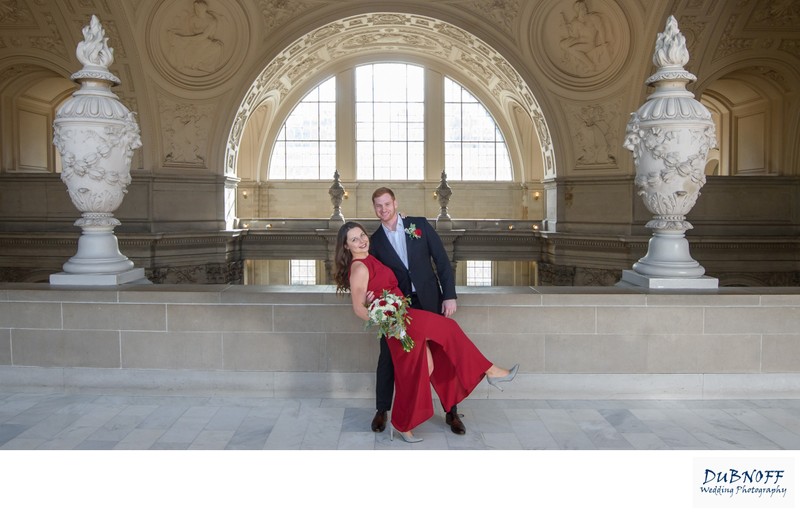 Relatively safe dance dip wedding image
Risky Posing at San Francisco City Hall
After discussing the above issue at Sutro Baths, I would thought I should briefly talk about wedding photography poses that are risky. We always keep in mind that our couples want to stay safe during their wedding photography shoot at city hall. Some of our poses can take some athleticism and strength. Just remember that you can always say no to any pose we suggest to you as a bride and groom. Many couples just tell us prior to their San Francisco city hall wedding. No challenging poses! Some of these poses include the following:
Dance Dip Poses
Jumping shots
Twirling photos
Deep bend back poses
Running poses
Groom lifting bride
Bride lifting Groom? It happens!