SF City Hall Photographer
This good looking couple were having fun for the camera on the 3rd floor at San Francisco city Hall. This location is one of our favorites and we love to take our couples here for a series of photos. These newlyweds were so easy to photograph and loved to pose for the camera. One important aspect of this photo shoot I would like to point out is the use of the bouquet in the image (and all of the images). Despite the fact that the bride did not wear a formal wedding dress, she still chose to have a nice floral bouquet. We see too many brides not bring flowers to San Francisco city hall and we feel that this is shame. Check out this photo above and notice that the only bright color in the image is the bouquet. Without it, the photo would lack something. A splash of color is all that is needed to really make this image sing! We strongly encourage all of brides and groom to consider using flowers for their city hall wedding, no matter how informal their wedding attire is. The pose was actually their idea, I just chose the location and background. We did a series of our own shots in the same place, but the couple's own idea turned out to be the best of the bunch. We love it when our couples help us with their own photo shoot.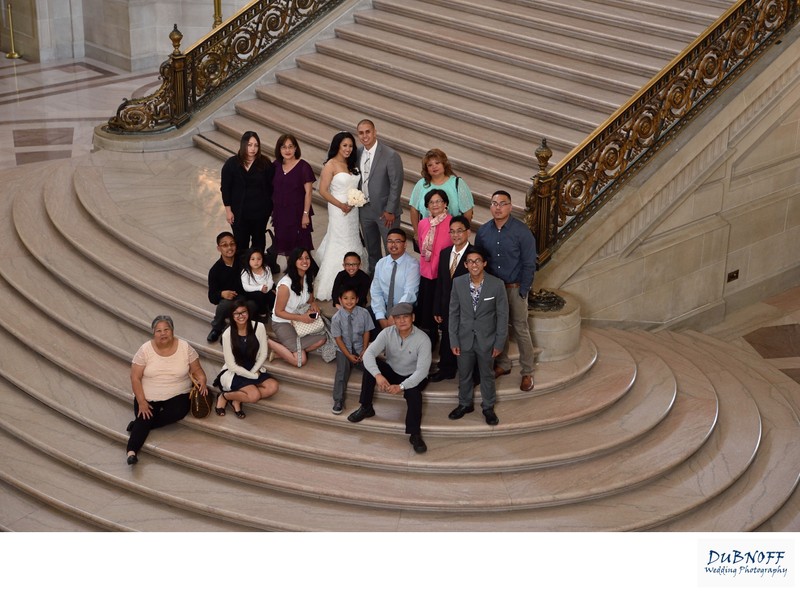 Group and Family Shots
We know how valuable these family shots are to each and every couple. We take this part of your San Francisco city hall wedding very seriously and make sure we get all of the shots you want. Our City Hall PLUS package is suggested for those couples who have large groups and want pictures of them. We have a few favorite places we like to take your group and family shots, but of course everyone loves the Grand Staircase for this purpose. This particular photo above was taken shooting down from the second floor. This makes for a great angle to capture large groups because everyone can be seen easily. The only issue with this type of photo for the group shot is that we have to make sure nobody else is visible in the picture. This can be a challenge when San Francisco city hall is crowded. Often times a little patience pays off and we can get the shot our couple's want with no other people in the background.