SF City Hall Photography FAQ's

1. If we book your service will you be our wedding photographer?
YES! I shoot all the weddings we book. We do not subcontract out our work and we promise you that a stranger will not show up to photograph your wedding. If we are unavailable for your wedding date, we can refer you to a few of our friends who are also top-notch San Francisco city hall wedding photographers. We cannot promise that both of us will be there, but we usually work together when possible. Tiana Hunter is also part of our team and she may be available if we are not. Please contact us and will let you know the best options for you. One thing we promise is that there will be no surprises. The photos on this website were all taken by our small team of professionals, but about 90% of them by me, Mike Dubnoff.
2. How long have you been doing this and what makes you qualified to be our San Francisco City Hall wedding photographer?
I have over 25 years of wedding photography experience with over 12 years specifically at SF City Hall. I am an expert wedding photographer with over 1,800 weddings photographed. We have photographed over 800 weddings specifically at San Francisco City Hall. In addition, we were one of a select few photography companies to make it on the City Hall Event Department's approved wedding vendor list. This allows us to photograph weekend events and certain special reserved weddings. We received this honor because of our long standing relationships with the people and San Francisco city hall and we met or exceeded the insurance requirements. The Event Department also used our photos for their brochure and their own City Hall Events Website. The Event Department also recommended to photograph a wedding of a former Bay Area Mayor with Willie Brown as the officiant. We offer great advice to all of our clients so you can benefit from our experience.
3. How would you describe your photography style?
For San Francisco City Hall weddings, we really like to focus on the amazing architecture that the building offers. You will notice that we display quite a bit of this on our web page. We figure that if people choose San Francisco City Hall to have their wedding, they should get great shots of the building. In addition, however, we also make sure to provide our clients with plenty of close up shots, candid photos, and great posed photos. We can also alter our focus based upon your needs. Some clients want more architecture and others prefer candid wedding photography. We are happy to discuss your preferences prior to the shoot.
4. How long until we receive our images after our City Hall wedding?
You will have access to view your photos on a secure photo sharing site within 3 weeks from your wedding date. We will then send you a Dropbox file transfer shortly after that or you can directly download your photos from your secure password protected website. All clients are offered the option of 24 hour sneak peak of up to 10 images.
5. Do we have rights to the photos, can we post them on Facebook or Instagram and make prints?
Yes, of course. We send our clients ALL of the photos taken at the wedding and you are granted full rights to the photos by contract. This allows you to reproduce them or post them on Social Media. Your contract provides you with the release that you can use in case someone questions your legal right to make prints. In addition, all of the image files are full resolution and not watermarked. No hidden fees or charges. We DO offer our own professional printing service if you would like to have us make you some beautiful 5X7 or 8X10 prints. One benefit of using our printing service is that all of your photos will receive additional editing including retouching and people removal if needed.
6. If we choose one of your San Francisco Tour Packages, where should we go?
San Francisco is such a beautiful city and there are so many choices. For wedding photography in particular, we like the Palace of Fine Arts, the Legion of Honor, Crissy Field and Baker Beach. We also love to venture down to some of the more famous spots like Ghirardelli Square, North Beach and Union Square. It's entirely your choice, but we are happy to help you decide. There are many other less known destination options as well. We make sure these packages are affordable options for each and every couple. To check out our San Francisco Photography Tour Package options please click the link.
7. How will we get to each location? We are not from San Francisco and don't know our way around.
We provide transportation to all of the locations as an option. We have extra insurance for this purpose and we are happy to be your tour guide. Please note that some SF city hall wedding photographers will not drive you around the city and will use Liability issues as the reason. What it comes down to is that WE are willing to spend the extra money to procure insurance for this purpose. We want to be your full service San Francisco City Hall wedding photographers! We can also meet you at any of these destinations if you prefer to provide your own transportation. Depending upon the circumstances we may also use Uber as transportation, but we will pay the fee.
8. Do you do large weddings too? What if we want you to cover our reception in San Francisco?
We have been photographing large weddings for many years. In fact, over 1,800 of them! We are very experienced in providing coverage for Wedding Receptions and large events either in San Francisco or in other parts of the Bay Area. Reception coverage can easily be incorporated into your city hour tour package, just let us know the amount of hours of coverage needed. We love a good party!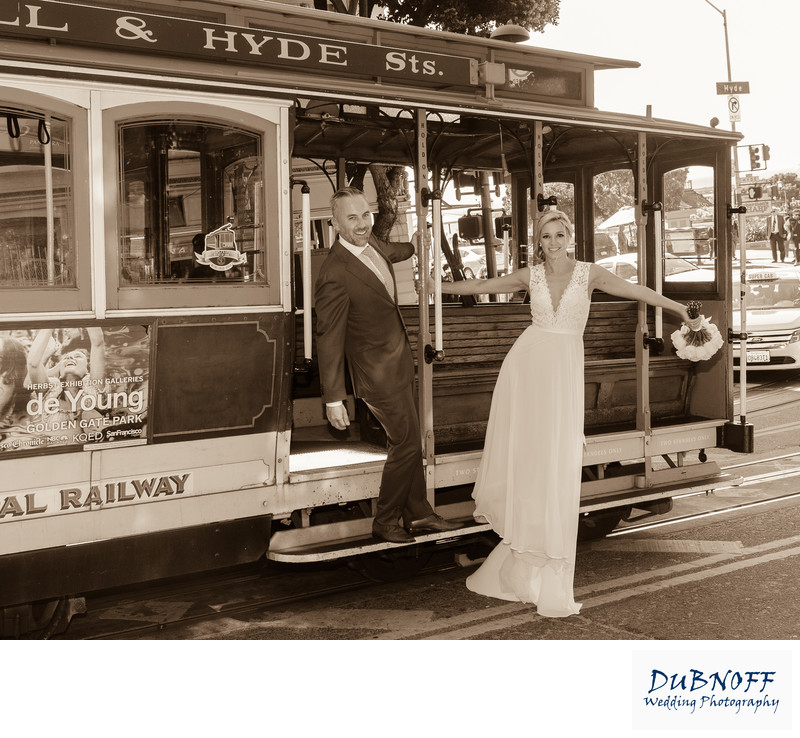 Please Contact Us and we will be happy to answer your questions! You can also view our City Hall Sitemap to find more information.