Experienced San Francisco City Hall Wedding Photographers
As a native San Franciscan with over 20 years of experience as a professional wedding photographer, Mike Dubnoff and his expert team are uniquely qualified to cover your City Hall nuptials and elopement. No matter what options you select, we will help make your wedding day at San Francisco city hall fun and memorable. We pride ourselves in offering one of the widest varieties of packages and options available for Courthouse weddings. Most of our clients choose our smaller packages that include San Francisco City Hall coverage only, but we can take you throughout "The City" and visit some of San Francisco's romantic and famous landmarks if you prefer! Just choose one of our 3 "Photo Tour" packages and enjoy the ride!
We know the best times of the day to photograph you at several of San Francisco's most famous destinations such as The Golden Gate Bridge, The Palace of Fine Arts, North Beach, The Legion of Honor, Pier 7, the SF Cable Cars, and Sutro Baths to name a few. Most importantly, we will provide you with amazing wedding pictures. Please check out this slide show video of one complete City Hall Marriage to see what we are talking about!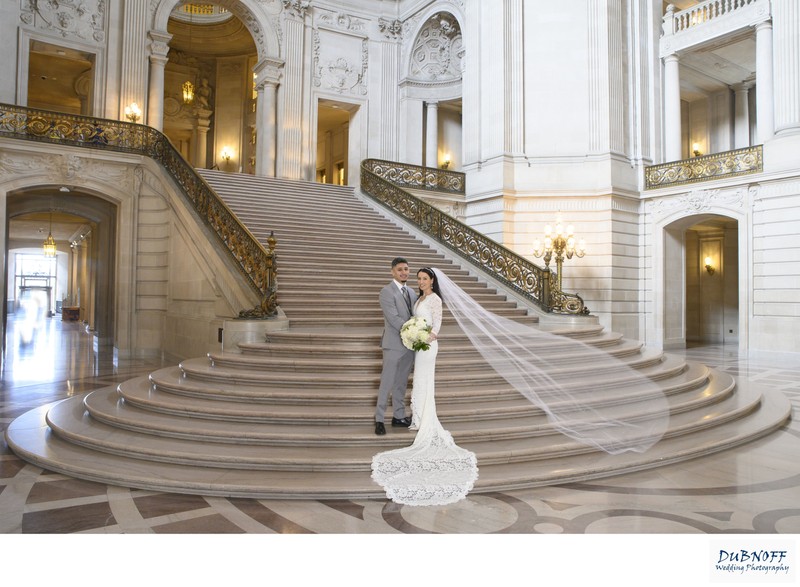 How Our SF City Hall Photography Packages Work
Our 7 most popular SF City Hall wedding packages are listed below with special pricing included. We can provide you with a custom individualized quote that includes the exact hours of photographic coverage you would prefer. You do not need to limit yourself to our listed standard wedding photography packages.
Also please understand that the coverage times below are approximate. We will never cut your wedding photography coverage short if we are still completing your photo session. In addition, we never charge our clients overtime. Even if your City Hall ceremony is running late (a frequent occurrence) we make sure you receive all that you paid for. We also offer military discounts for our service veterans or active members. Certain other discounts may be available on a seasonal basis including Cash, just ask! We are one of the true expert wedding photographers working at the Courthouse in San Francisco and have been doing so for over 12 years.
San Francisco City Hall Wedding Photography Packages
"Elopement Package"
1 Hour of Photographic Coverage
SF City Hall Interior and Exterior Photos
Edited Full Resolution Jpeg Images
Reproduction Rights of ALL Image Files
Designed for couples with no guests
Private Website for Viewing and Downloading Images
24 Hour "Sneak Peek" Photos upon request
Click here for PACKAGE DETAILS
$595

"Preferred Package"
1.5 Hours of Photographic Coverage
City Hall Interior and Exterior Photos
Edited Full Resolution Jpeg Images
Reproduction Rights of ALL Image files
Time for Family and Friend Photos
Private Website for Viewing and Downloading Images
24 Hour "Sneak Peek" Photos upon request
Click here for PACKAGE DETAILS
$695
"Maternity Wedding Package"
2 Hours of Photographic Coverage
City Hall Interior and Exterior Photos
Edited Full Resolution Jpeg Images
Reproduction Rights of ALL Image files
Additional Maternity Photo Session
Private Website for Viewing and Downloading Images
24 Hour "Sneak Peek" Photos upon request
$795

"San Francisco Tour 1"
2.5 Hours of Photographic Coverage
City Hall Interior and Exterior Photos
1 Additional San Francisco Location
Edited Full Resolution Jpeg Images
Full Reproduction Rights of ALL Image Files
Private Website for Viewing and Downloading Images
24 Hour "Sneak Peek" Photos upon request
Click here for PACKAGE DETAILS
$895

"San Francisco Tour 2"
3.25 Hours of Photographic Coverage
City Hall Interior and Exterior Photos
2 Additional San Francisco Locations
Edited Full Resolution Jpeg Images
Reproduction Rights of ALL Image Files
Private Website for Viewing and Downloading Images
24 Hour "Sneak Peek" Photos upon request
Click here for PACKAGE DETAILS
$1,095

"San Francisco Tour 3"
4 Hours of Photographic Coverage
SF City Hall Interior and Exterior Photos
3 Additional San Francisco Locations
Edited Full Resolution Jpeg Images
Reproduction Rights of ALL Image Files
Private Website for Viewing and Downloading Images
24 Hour "Sneak Peek" Photos upon request
Click here for PACKAGE DETAILS
$1,295

"Romance Wedding Album"
Flush Mount Wedding Album with 42 images
4 hours of Photographic Coverage
11X14 Mounted Wall Portrait
SF City Hall Interior and Exterior Photos
3 Additional San Francisco Locations
Edited Full Resolution Jpeg Images
Reproduction Rights of ALL Image Files
Private Website for Viewing and Downloading Images
24 Hour "Sneak Peek" Photos upon request
Click here for PACKAGE DETAILS
$1,695
Featured City Hall Wedding Gallery for May - 2023
Click on the Photo Below for our Featured Gallery of the month - April and Michael SF Photo Tour
San Francisco Wedding Photography Options
We also offer full-day affordable wedding photography coverage for your San Francisco City Hall wedding or elopement. Ask us about our weekend rates and full-day packages. Our "Full-Day Ultimate" package provides you with up to 8 hours of photographic coverage after your San Francisco Courthouse wedding ceremony for the price of $2,695 as seen above. If you do NOT want a wedding album, but still want the full-day coverage, the price comes down to $2,295 including digital images and full reproduction rights.
We will join you at any of the fantastic and highly rated picture locations in San Francisco and provide you with a multitude of creative bridal images. We will happily escort you to places like:
The Golden Gate Bridge
Russian Hill
The Palace of Fine Arts
The Japanese Tea Gardens
The Legion of Honor
Twin Peaks
Crissy Fields
SF Downtown
These are just a few of our favorites. After we cover your wedding and take you around San Francisco, we can then capture great moments at your reception in the city or other nearby locations. Reception coverage offers the best opportunities to obtain candid images that reveal the special moments at your celebration. For more information about full-day wedding coverage click the link.
Extend Your San Francisco City Hall Coverage
Wedding reception coverage generally adds another hour to the coverage but might cost more depending upon your plans. We pride ourselves in being incredibly flexible with our pricing and packages. If you need a professional SF City Hall wedding photographer for the full day on a weekend or weekday, we can provide that too. Weekend rates are slightly higher than what you see above but always includes 2 wedding photographers, all of the digital images, full reproduction rights (copyright release), and online viewing and downloading. Please contact us for details on any of the above pricing questions by emailing: mike@dubnoffphoto.com.
We also provide you the option to make prints through our high-end professional photographic printing service. Feel free to compare our photo packages to other city hall wedding photographers, but make sure that they are providing you with all of the digital images taken at your event and the full rights! We provide both! No Watermarks or other limitations on your proofs. We are committed to ensure that you receive the best San Francisco wedding photography experience at reasonable prices. All of our San Francisco City Hall photography packages include high resolution, fully edited digital files of ALL of the photos we take and legal reproduction rights. This allows you to share your photos on social media and have them printed on your own.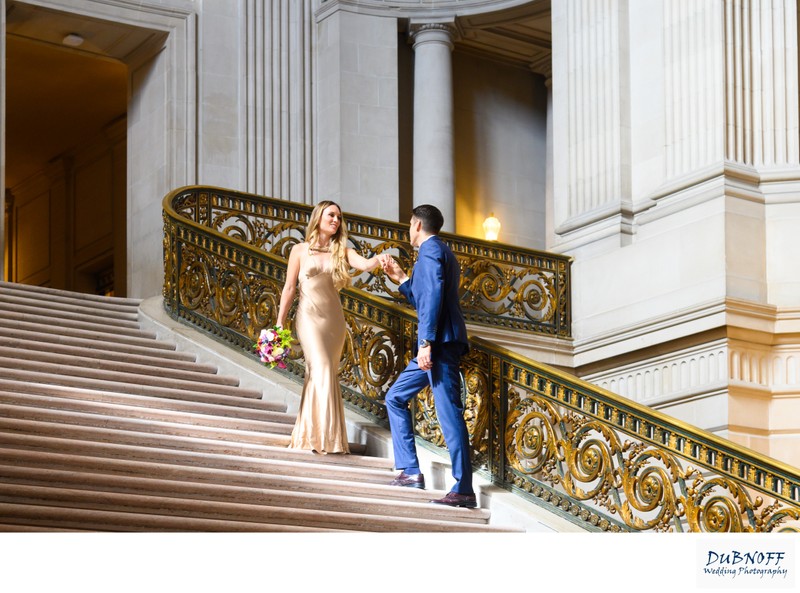 How to Choose the Best City Hall Wedding Photographers
The internet is full of articles with the intention of helping the bride and groom choose the best professional San Francisco city hall wedding photographers. We thought it would be helpful to look at it from a different perspective and help engaged couples avoid some of the most common mistakes people make when choosing a person for this very important task. It is one of the most important day of your lives so you need to get it right.
1. Relying on Vendor Referrals - In general, most wedding and event vendors will try to provide you with an honest photographer referral when asked. The problem is that in most cases, these well meaning vendors really don't possess enough personal knowledge of your service to make an informed and accurate recommendation. For example, I know a DJ who often refers me to his customers but has never even seen any of my images. He knows that I am pleasant to work with and polite to my customers, but hasn't personally seen one of my City Hall wedding albums or digital images. Even more disturbing is the fact that a very large number of event vendors trade referrals with no real knowledge of the other's work. This is a common ploy among wedding vendors to help each other out.
So for example, a florist will agree to send her clients to a particular professional wedding photographer, but only if they agree to send referrals back. No trade, no referral! We never do this by the way! This tells you nothing about the quality of the wedding vendor's work. You are much better off talking to actual San Francisco brides and grooms who have worked with professional wedding photographers. In most cases, the couples are happy to share their experiences with you in an honest and straightforward way. This will undoubtedly lead to a more accurate referral. You could also just come right out and ask the vendor specific reasons why they are referring the professional to you. Their answer will most likely tell you all you need to know and make it clear that this is an informed referral and not just a trade. If all they can say is that they liked working with the photographer, this is not enough! Ask them for specific reasons and details, if they cannot provide you with any, keep looking!
Another idea would be to check the photographer's Yelp Reviews. When researching professional city hall wedding photographers on Yelp, do not just rely on the number of stars they average. Take the time to read the actual reviews and obtain a feel for their style and approach. Just because a wedding photographer rates highly doesn't mean they are the right professional picture taker for your Courthouse nuptials.
2. Judging a Photographer Based Solely on a "Greatest Hits" Album. There is nothing more misleading than choosing a San Francisco city hall photographer based upon viewing a compilation of their best pictures from dozens of different weddings. At the very least, this may tell you how good a photo they are capable of producing under ideal circumstances, but it tells you nothing about what your final result will be. Insist on seeing one entire marriage and make sure they show you a large number of images. This will provide you with a much better idea of the style and quality of the best photographer's work.
The important thing is to discover how YOUR final wedding pictures will look. So seeing the best of 40 different weddings is not going to help with that in the least! This is especially important if choosing a photographer for a San Francisco city hall marriage. Make sure that all of the components that you want in your wedding photographs can be seen in the portfolio. Are there lots of candid shots? How is the lighting on the various city hall floors? Does it look "flashy"? Is the posing of the bride and groom creative? These are some of the things that are important to understand and will ensure that the wedding photographer is capable of producing a variety of images and not just a few "wow" shots. It is important to select a picture taker who can do it all from start to finish! To be honest, just about any wedding photographer can show you 1 or 2 great photos from each wedding. It could just be luck.
3. Ignoring the Wedding Photographer's Personality. This is a very important factor! You will spend the entire day with your San Francisco wedding photographers, if you don't like him or her, it could make your special day miserable. You are looking for a person who is courteous, not bossy and will get along well with your guests. Obviously, they need to be talented and experienced, but don't ignore their potential for bad or rude behavior. An ability to handle stress and yet stay pleasant is the key to a great wedding shooter. Some local SF city hall photographers will tell you that they are like a "fly on the wall" at your event and you will never even know they are there. This is probably not the best choice for a couple who wants to make sure they get all the important and memorable shots. In reality, you probably want a combination of both of these attributes.
Communication with your photographer is key, but of course you certainly do not want to spend the entire day talking to them! Some of the so-called fly on the wall photographers may be too shy to engage with you and talk to you about posing and obtaining important family shots. Or they may not even know how to set these shots up and would prefer to stay in the background. Great SF city hall wedding photographers possess the ability to balance all of these things. Your wedding photographer should be assertive enough to get the necessary images, but not obtrusive and overbearing. This is especially true at San Francisco City Hall because the bride and groom most likely will not know where to go to obtain the best images.
4. Paying Too Much Attention to the Sales Presentation. Just about any San Francisco city hall wedding photographer can go on and on about why they are the perfect choice for you. They can talk about their great equipment and show you beautiful images. They may even impress you with their sparkling personality and tell you about their "vision" for your wedding pictures. This is all important stuff, but how much does it really tell you about the person and what they are offering you in particular? A good business professional will ask you questions and find out what YOU want in your wedding photography. If they spend the entire sales presentation preaching to you, it could also be that they don't really care about your own needs and preferences. Seek out affordable city hall wedding photographers who ask you lots of questions with the goal of discovering what YOUR vision of the wedding is. A 2-way conversation is more likely to result in a good match between bride, groom and photographer!
I remember attending a San Francisco wedding photography workshop and was quite surprised when the presenter let us know that our brides and grooms don't really know what they want. It is up to the professional wedding photographer to tell them! While I kind of understood his point, it is not the way I approach my profession. He went on to discuss how the most important thing is to get great shots for your own portfolio. Do the bride and groom care about these things? Certainly not! I believe there is plenty of room for the artist to express his or her own vision while paying attention to the desires and specific requests of the bride and groom. Many wedding photographers refuse to photograph weddings where the couple doesn't want the photos published online or on Social Media. Again, not the point!
5. Confusion Over City Hall Wedding Packages and Pricing. If you can't understand the pricing, keep looking for other city hall wedding photographers. Package pricing, if it's flexible, is a solid way to go. It provides you a better idea of what the ultimate cost will be without any final invoice surprises. A la carte pricing can be misleading because you may assume certain "obvious" items are included when they really aren't (like a wedding album or black and white pictures!) However, a company that only offers strictly structured packages without some flexibility should also be avoided.
Ultimately, you want to find someone who will work within your budget guidelines and provide you exactly what you want and make it affordable. If you don't see an inexpensive package that fits your needs, ask if you can design your own. Probably about 30% of my customers ask me to modify one of my existing packages or prices to fit their personal preferences. We are happy to do this because our main goal is to make sure we are satisfying the needs of our San Francisco city hall brides and grooms. Forcing a client into choosing a package unsuitable for them accomplishes nothing. If your chosen City Hall wedding photographer refuses to offer custom packages, move on and keep looking. It might also be a clue to the type of person you are dealing with if they don't have some flexibility. Your wedding photographer needs to be flexible and understanding.
Golden Gate Bridge Photography Tips and Ideas
Photos with the Golden Gate Bridge in the background are almost a must if you book one of our San Francisco Tour packages. There are a number of different approaches to capturing wonderful shots of the bridge and we can discuss them in detail with you before your San Francisco City Hall nuptials. The weather and fog on your wedding day can also impact this choice. If the fog is rolling in from the ocean then it is better to shoot from the Bay side of the bridge. If it is late in the afternoon and clear, we love to shoot from the ocean side from Baker Beach.
Baker Beach Angle - Late afternoons were meant for Baker Beach. Bringing our brides and grooms at that time of the early evening allows them to see the Golden Gate bridge with a nice soft golden color from the sun setting over the Pacific ocean.


Crissy Field Side - Crissy field provide many different angles to photograph the bridge. We can also put the newlyweds on pretty grass hills or down by the water. I love this angle for early morning shoots because of the sun position.


Fort Point View - Fort Point provides the closest photography angle to the Golden Gate Bridge. If the fog happens to be in on your wedding day that's where we will take you. It is also a great angle if you want the bridge to be prominent in your wedding photos.


Lands End Trail Head - this angle comes in from the ocean side but puts the bridge farther off into the distance. If you want the bride and groom to be more prominent in the wedding photos this is a great location with with excellent privacy. It's actually important what angle and time of the day it is for the best possible Golden Gate bridge pictures.


Marin County Angles - there are many great views of the Golden Gate Bridge from the Marin County side. We would be happy to take you there, but may need a little more time allotted in your wedding photography package.


Our many years of professional wedding photography experience in San Francisco has provided us with many great ideas like this to make your photos the best they can be. Note: If you decide on the Golden Gate bridge as your location and it is completely fogged in, we are happy to take you to an alternative location. We are flexible and accommodating, but most of all want to make sure you have the best possible photo shoot. You might also consider still doing a Bridge picture despite the fog. It will look like a very typical San Francisco day as long as you can see at least a small piece of the bridge.
This angle often results in a very romantic and dramatic image that shows the Golden Gate bridge, but also helps you to visualize the fog rolling in from the ocean. For planning purposes, just keep in mind that the most foggy times of the year in San Francisco are from middle of May until Mid August. It is very unpredictable, but you know it is coming eventually. When we complete the San Francisco city hall portion of your wedding coverage, we will probably have a pretty good idea about the fog and weather conditions. We can then discuss your options for a Golden Gate Bridge picture.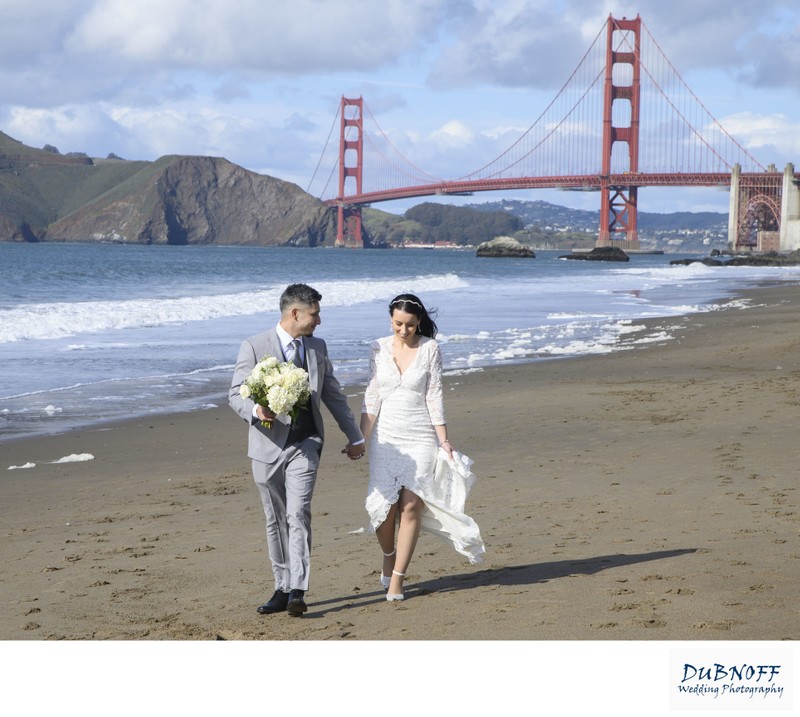 Full Day Plus Wedding Reception Coverage
After taking pictures of you at City Hall and then around San Francisco, we can also cover your wedding reception or dinner party celebration. Coverage of your dinner or lunch party is one of our more popular options. Check out the SOMA area in San Francisco for great wedding reception locations with exceptional pricing to match! There are also a few nice places in Hayes Valley, which are walking distance from San Francisco city hall. The Full-Day Ultimate package is for the couple that wants every aspect of their marriage recorded for long lasting detailed memories. We make sure you are covered from Bridal Prep all the way to the end of the Reception! We also offer optional wedding reception coverage with our smaller packages as well.
So many things occur at a wedding reception and we want to capture it all for you. Cutting the cake, First Dance, Toasts, Father-Daughter dance and throwing the bouquet, we cover each event! Do you like candid wedding photography? Lunch or dinner Reception coverage allows us to capture all of the memorable moments from laughter to tears and everything in between. The professional wedding album that comes with this package is of exceptional quality and our clients love it! If you are one of those many engaged couples that love candid images, then reception coverage is the way to go after your San Francisco city hall wedding. Just be certain not to schedule us to only be there for a dinner celebration if that is all that you are doing. It is very difficult to obtain award winning images of your guests eating dinner.
No Limit SF City Hall Wedding Photographers
We never limit the amount of photos taken at your City Hall wedding. All image files accurately captured will be delivered to our Newlyweds. You receive all the image files and we never stop shooting during your wedding and photo tour! Be sure to check with other professional city hall wedding photographers before booking to make sure they do not hold back some of your precious images. Clients frequently ask us how many images will be included with each package. Every wedding is different and so it is difficult to provide an exact number. We promise that we will cover everything that occurs throughout the day and provide every magical moment to you by giving you great images.
We also promise not to dominate your special day with wedding photography. Yes, it is our job to make sure you receive wonderful memories, but it is also important that you have a fun time on your special day. We understand that your marriage day is not just about wedding photography. It is vitally important that your day also be enjoyable and memorable for both of you! We will be actively involved in making sure you obtain amazing photos, but will do it in an unobtrusive manner. We also are happy to listen to your suggestions about the type of wedding photography styles you prefer. Please let us know if there are specific areas in San Francisco city hall you want us not to miss! We have no problem involving you preeminently in the process. Feel free to work with us to make this the best experience possible!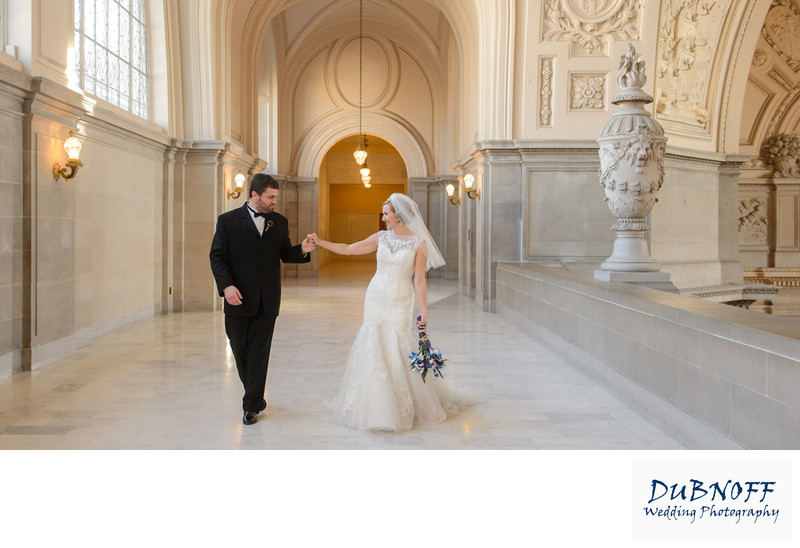 "San Francisco Wedding Experience"
One of our more popular options is the "San Francisco Tour 3" Package. A more descriptive name for this package is the "San Francisco Wedding Experience." It IS a great experience and a fun way to spend the day of your marriage. For the discounted price of $1,295 you will receive a complete wedding package that will provide you with incredible memories of your special day in the "City by the Bay". It's not only a great way to receive fantastic pictures, but also doubles as a wonderful vacation/tourist experience. We will meet you at your favorite SF iconic destinations and give you time to explore and learn the history of this great city. You can choose the destinations yourself or we are happy to help you decide. We provide you with visits of up to 3 San Francisco beautiful locations and 4 hours of professional wedding photography coverage. If we go over on time a little it is no big deal and overtime is never charged! Your "Wedding Experience" includes incredible pictures of the following:
City Hall ceremony coverage from start to finish including the ring exchange.
Family and Friend formal photos after the ceremony.
Photo tour of the entire city hall building with the Newlyweds.
Emphasis on City Hall building architecture (as always).
Photo tour of 3 SF Locations after City Hall (Cable Cars, Golden Gate Bridge, Etc)
Optional Wedding Reception Coverage (instead of the SF locations photo tour above)
4 total hours of professional wedding photographic coverage
Extra time to stop and "Smell the Roses!"
You keep ALL of the images we photograph on your special day.
Marriage license signing by your witness


The other two San Francisco Tour packages (The Tour 1 and Tour 2) provide you with all of the same features above, but with fewer locations and a little less coverage time. See above for details of the other tour packages or please feel free to make your own custom photography package and ask us for a price quote. We are very flexible with our pricing and packages and understand that whatever option you select needs to work with your plans for a civil union! In addition, your selected package needs to include provisions for whatever you have planned that day for your post wedding celebration. You want 4 San Francisco destinations? Just let us know and we will create a custom package to fit that desire. We know you will want to spend substantial time with friends and family.
To see a nice summary of all of our San Francisco Tour Packages available to you, click the link. We have provided additional information including a complete list of our favored SF destinations. The Tour 1 and Tour 2 packages also include comfortable transportation to the locations (provided by us!). Check out this Video to see a good example of this very popular wedding photography package. It should also be pointed out that the 4 hour package can be difficult to pull off from Mid December until about late January. This is because of the shorter days and variable weather. We suggest you opt for the Tour 1 or Tour 2 packages during this time of the season. Note: Transportation in our car is temporarily suspended because of Covid-19. We will meet you at each location for photography.
Optional SF City Hall Wedding Photography Services
Portrait Photography at City Hall
We are also delighted to photograph your pre-wedding shoot, engagement session, or bridal portraits at the San Francisco Courthouse. Please email us for details and pricing. We have even completed family portrait sessions in the interior of the building. Consider the SF courthouse as an ideal background for many of your photography needs! The nice thing is that the venue itself doesn't cost you a dime because it is a public building! The other advantage that makes portrait shoots different from weddings is that we can choose anytime we want to do these types of portrait shoots. This allows us to avoid the more crowded times at City Hall. If it is raining or foggy, not a big deal because we are indoors! We find this to be an ideal backdrop for many of your personal photography needs.
Maternity Photo Sessions at San Francisco City Hall
We know that some of our San Francisco City Hall brides and grooms are also expectant parents. If you are coming to San Francisco City Hall to get married why not take a little extra time and let us do a maternity photo shoot for you as well. Our new maternity wedding package combines are normal City Hall marriage coverage along with a little extra time set aside for maternity photos. We still provide you all of the attributes of our normal City Hall wedding photography coverage. This is a great option for couples who were hoping to do a maternity shoot at another time. Combining these two separate photo sessions into one saves you money. If you are already married and just want a maternity photo session, SF City Hall is a great place to do it. Contact us and we will quote you a price depending on the length of coverage you desire.
Professional Wedding Albums For SF City Hall
If you are interested in wedding albums we have a full line of professional books that can be custom built to your specifications. The cost for the basic book is $440, but other options are available. We have samples of the albums available to view online. Our most popular wedding album for city hall is this 8X11 book with 40 photos which you select! We offer this with each of our packages as a post wedding option and add 2 more photos. This gorgeous album is reasonably priced and a must-have memory of your marriage. We also provide large leather professional albums for those who want it all! These albums are extremely well liked when received by our clients. We hear so much positive feedback from our newlyweds once they show their album to friends! Don't let your memories reside on some forgotten hard drive never to be seen! There is nothing better than being able to display your beautiful wedding album on your coffee table for your house guests to pick up and look at.
Wedding Printing and Wall Portraits
Also consider our printing service. Yes, you pay a little more for us to make prints for you, but there are many advantages. One of the biggest advantages is the fact that all print requests, no matter if they are 4X6 or 20X24 receive another round of free Photoshop editing. This includes removing tourists and exit signs from the backgrounds at San Francisco city hall. We will also do personal enhancement retouching for those who request it on album images or prints. Best of all, you get to keep the edited image file! Original Prints that are 11X14 or larger will be mounted on Foam Board and Mat Sprayed for protection. Smaller prints will be shipped safely with adequate protection from wrinkles and moisture. Wall Portraits do not come framed, but we do sell optional frames for those who request it.
Free San Francisco City Hall Wedding Consulting
We offer our brides and grooms free wedding consulting and planning to help put your marriage celebration together in a timely and detailed fashion. Many of our out-of-town clients ask us to help with choosing other wedding vendors and reception sites in the San Francisco area. We are happy to help! For some international marriages, we are asked to become totally involved in planning and helping choose vendors and making arrangements. This includes where to find bridal gowns, florists, officiants, DJs and other important wedding vendors. We can recommend professional musicians, videographers, and Disc Jockeys and wedding photographers if we are not available. Our many years photographing weddings here has put us in touch with some of the best photographers in the area. In addition, our own 2 associate wedding photographers are frequently available for your wedding on an individual basis. There is no charge for this consulting service and we are happy to help you plan for your big day! Even if you do not intend on booking us for your city hall wedding we are happy to provide you some online advice! We want to keep your city hall wedding experience affordable and fun. Due to time constraints we only offer this free service through email and not by telephone or in person.
Community Wedding Service
We pride ourselves on being a culturally diverse, gay / lesbian / same-sex friendly service. We have been serving the LGBTQ community from the very beginning of legal same-sex marriages. To check our availability or to receive more information please click Availability or call us at 925-323-5397 email us at mike@dubnoffphoto.com. We have photographed over 1,600 weddings in 20 years of SF Bay Area photography plus over 600 marriages at City Hall! We would love to photograph yours. Our wedding packages are inexpensive and easy to understand with no hidden fees or charges. Please be sure when you book a SF city hall wedding photographer that they will provide you with ALL of the images and not just a few handpicked best ones. You will not be disappointed that you hired a professional!
Which City Hall Wedding Photography Package is Best for You?
"Elopement Package" - This package provides you with approximately 1 hour of photographic coverage inside and outside of the building. The Elopement Package is designed for when the couple only needs photos of themselves with no guests attending. We meet with you just before the ceremony to assist you with your County Clerk's office check-in and then follow you up to the Rotunda for your nuptials. We are happy to be your witness if needed at no extra charge. Then we take you on a picture tour of the building, stopping at the most beautiful spots in SF City Hall. We end the shoot by taking you out in front of the building and shooting a few quick photographs in front of the main doorway with the "City Hall" sign in the background. If time allows, we will take you across the street to get some nice exterior photos of the city hall building. The fee is only $595 for this very popular package. As with all of our packages, you receive ALL of the digital files, not a limited number. You are also provided with a very convenient viewing site which allows you to directly download your full resolution image files. Please note, we do not keep a stopwatch during your wedding coverage. There will be many instances where the County Clerk's office is running behind and all of us will have to do some waiting. We will not abandon you no matter how late they run. We are committed to providing you the best possible professional wedding photography service. Again, we never charge overtime and never will! The Elopement package is discounted and thus designed for couples with no guests.
"Preferred Package" - Bringing family and friends? This is the wedding photography package choice for you. With the "Preferred" package you receive everything that the Elopement package offers plus an additional 30 minutes to photograph your Check-in and your family and friends group pictures. We also recommend this package for couples who are really interested in full wedding photography coverage. The extra 1/2 hour also allows us to take you on all 4 floors to make sure you obtain your favorite shots at San Francisco city hall. 1.5 hours of total photographic coverage is included for the economical price of $695. As with all of our packages, you receive every image we shoot at your wedding in jpeg format with full resolution. You can receive the image files by Direct Download from our site or we can Dropbox them to you. Also included in all of these listed packages are full reproduction rights, allowing you to print or post any of the images files we provide you with. This is an important aspect of your wedding package, be sure you are being offered this by other professional wedding photographers at city hall. Our Preferred Package is by far our most popular wedding photography package. We strongly recommend this package for couples who have more than 1 guest or witnesses at their city hall wedding. We complete your photographic coverage by taking the bride and groom outside to take a few nice photos in front of the famous city hall sign.
"Maternity Wedding Package" - This new package was added because we realized that a high percentage of our city hall weddings included parents expecting a baby. We have received such great feedback from our past pregnant couples because we frequently include a few maternity photos during their City Hall photo tour. With that in mind we created this new maternity wedding package. It provides our San Francisco City Hall couples with an additional 30 minute maternity photo session. You still receive all the photos that we normally take for any City Hall marriage including family and friend pictures. If you have other children with you, we can include them in the maternity session also.
"San Francisco Tour 1 Package" - This package is for those couples who want a little more. In addition to all that is offered in the "Preferred" collection, we also let you choose one other San Francisco outside location. The Golden Gate Bridge, Palace of Fine Arts, Coit Tower and The Legion of Honor in San Francisco are just a few of the locations available to photograph the happy couple. Approximately 2.5 hours of total photographic coverage is included for the inexpensive fee of $895. The notable thing about the Tour Packages is that you will still have plenty of time to take photos of your family and friends (like the Preferred Package). As with all packages, you receive all of the images we shoot at your wedding in jpeg format. We can send you a Dropbox file share or you can download the full resolution (with slight compression) images yourself. Also included in all of these listed packages are full reproduction rights, allowing you to print or post to Social Media any of the images files we provide you with. Bring a copy of our contract to show other professional photo labs that you have these rights. This will allow you to have them print the images for you with no worry of Copyright issues. We can also do your printing if you prefer and when we do, we provide you with free retouching and Photoshop editing of your selected images. In addition, you actually receive the enhanced image files with full reproduction rights.

"San Francisco Tour 2 Package" - This package includes everything that the "Tour 1" provides (above) but with 2 locations and 3.25 hours of total coverage. It has become one of our packages for the value-minded, because it seems to fit most of our client's time constraints. We are always willing to work with you to make sure our packages fits your needs in every way. The cost of this package is $1,095. As is the case with all of our packages, we provide some preview images for those couples that request it. We can normally email you these previews within a couple of days after your event.

"San Francisco Tour 3 Package" - This package includes everything that the "Tour 2" provides (see above) plus a multi-location photo tour of San Francisco. We will take you to 3 of your favorite iconic SF landmarks and take beautiful pictures of you at each location. This is definitely one of our most popular City Hall wedding packages with approximately 4 hours of coverage! The Japanese Tea Gardens, The Presidio, Russian Hill, North Beach and so many more iconic San Francisco landmarks can be included in your romantic SF Photo Tour. Offered at the inexpensive price of $1,295 and this includes everything! Check for hidden charges with some wedding photographers, make sure your package includes all of things you need. As mentioned previously, this package is not recommended in the Winter between Mid December and the end of January to the short and cold days.
"Romance Album Package" - Everything included in the "San Francisco Tour 3" Collection above plus a beautiful custom made professional Wedding Album. You also receive an 11X14 Wall Portrait chosen by you to display on your wall. Don't hide your memories away on some forgotten computer hard drive. Display your images with this gorgeous pro-grade wedding album. You choose your favorite 42 photos and we will do the rest. It normally takes us only 3 weeks after the wedding to send you a proof of our album design for your approval and then your album is shipped directly to you. Our clients absolutely love this album and we always receive lots of positive reviews. So many brides and grooms display their pictures only on Facebook and Instagram and never do anything else with them. Don't let this be you! This is one of the ultimate packages offered by your San Francisco city hall wedding photographers. One of the other amazing advantages of this wedding album is that we provide you with extra Photoshop work and retouching on your selected images. Then we send you the final digital image files for you to use or print on your own! You can also share these retouched images on Social Media like Twitter, Facebook and Instagram.
We provide all of our clients the option to request "sneak peak" photos within 24 hours after the wedding date. These full resolution image files will be emailed directly to you, but must be requested because we photograph so many weddings and it is hard to keep track. This option is available for all of the above packages at no additional charge. Check out this YouTube Video of a couple who booked our Romance Album Package.
Best Venue in San Francisco for Affordable Weddings
Our main goal is to provide you with the best City Hall wedding photography experience possible. Beautiful, romantic, creative images of your wedding to last a lifetime combined with our fun, positive approach will make your special day memorable. Please visit our Prices and Packages page to see what we offer engaged couples. The beauty and elegance of San Francisco city hall is unmatched for the price anywhere. This website features our San Francisco city hall wedding photography specialty, but also contains information regarding our full-day Weekend coverage for medium and large marriages. We are also one of the premier Bay Area wedding photographers shooting weddings at City Hall and have many 5 star Yelp Reviews to prove it! To view additional SF City Hall sample albums and receive valuable information, click San Francisco City Hall Wedding Photography packages and prices. We photograph weddings at SF city hall at least 12 times per month, let us handle yours! We also have a City Hall Menu for people interesting in learning more about these specialized Services.
Why have Your Wedding at SF City Hall?
To Save Money! - Let's face it, getting married in San Francisco is expensive. We checked a number of sources and the average cost for a San Francisco wedding appeared to be right around $60,000. There was a broad range of surveyed responses, but nothing fell below $28,000 and of course it's quite easy to go above the average. Can most young couples just starting out afford those types of costs? In most cases, the answer is no! Especially given the high cost of living in the Bay Area these days. Yes, parents will help and couples figure out a way to get it done through loans, credit cards, etc. Do you really want to start your life together in debt? San Francisco City Hall costs around $100 for a simple ceremony (not including the Marriage License) and $1,000 for a private location that is roped off for your privacy with additional room for up to 60 invited guests (seated).
This means you can have your wedding in one of the most beautiful venues on the west coast and it will only cost you pennies! Take your guests to a local restaurant and hire an affordable city hall wedding photographer and you will still be under $4,000 for your whole event! Another option is a 2 hour rental of city hall during the weekend. The cost for this is $5,000 but is subject to other fees and expenses not included in the price. Especially if you need security and other important items. Based upon my own experience with other San Francisco venues, this is still a great price. UPDATE: Due to current conditions post Covid-19, many local venues are still not operating yet. City Hall offers an alternative to these SF Venues.
Convenience - One of the best things about having your wedding at San Francisco City Hall is that so many things are provided for you. You can obtain your marriage license the same day as your wedding and you can do this right before the ceremony if you so desire. An experienced volunteer officiant is provided to perform your marriage ceremony at no extra cost (they are referred to as Marriage Commissioners and are not really judges despite the fact that they dress like it.) In addition, you have a safe, indoor, beautiful location to celebrate your wedding surrounded by your closest family and friends. No worries about rain ruining your wedding day! You can easily hire a city hall wedding photographer from the many available on the internet that also specialize in shooting at this magnificent venue. Many of the best San Francisco city hall wedding photographers have been doing this for many years (us included) so you know that they have experience and will do a great job of you.
Another notable convenience is that after your ceremony you can walk to many fantastic restaurants nearby to celebrate with friends and family. Exceptional eateries such as Absinthe and Paxti's Pizza are just a few of the nearby locations close to San Francisco city hall. Both of these locations are less than a 15 minute walk and are highly rated. There are quite a few more restaurants located nearby. There are also many other exceptional places to eat within a short Uber ride from the building. If you opt for the reserved space (Mayor's Balcony or Fourth Floor Gallery) the SF City Hall Events Department will help you with whatever set up items you need. It's all right there! They will also provide you with a free officiant if you arrange for it in advance. Most of our clients prefer to bring in their own officiant for convenience and to allow for customized vows and/or sermons. We can recommend some officiants if needed. We know the best and all of them have substantial experience here! One of them even wears the same robes as the City Hall marriage commissioners so she totally looks the part.

Beauty and History - San Francisco City Hall is well known as one of the most sought after wedding venues in the United States. People come from all over the world to visit and have their marriage in this incredible building. Built in the early 1900's, city hall possesses old world charm with modern amenities. People often ask us about the history of this building and when it was constructed. What many people don't know is that the current city hall is actually the second one built with the first one coming down in the 1906 Earthquake. A few years ago, former Mayor Willie Brown took great pains to update and remodel the interior of the building to make it a great place for all types of events and not just weddings. Some parts of the updating included adding modern upgrades, but still retained the historic look of the building. Many of the rooms in the building had added false ceilings to help with sound obstruction, but had become run down and ugly. These ceilings were pulled out and the beauty of the building was allowed to show through.
The architecture is incredible and you are free to wander through the halls and consider all of the history that has occurred here. Don't forget, Joe Di Maggio and Marilyn Monroe got married at San Francisco City Hall! So many other famous people have spent time here and yes even married here. Recently, I photographed a Bay Area Politician's wedding that was officiated by Willie Brown, so you never know who might have their marriage here next! If you arrive early, check out the self guided tour available on the South Court 1st floor (it is to the left of the Grand Staircase as you walk in). There is an incredible amount of SF city hall history to check out in the South Court and it is where the Official Docent tour usually begins. If you are planning on hiring a professional city hall wedding photographer, be sure they include some architecture photos in their work. We always do!
San Francisco open your Golden Gate - I remember as a kid, watching the Newlywed Game on TV and being surprised at how excited the couples were when they won a 1 week trip to San Francisco. big deal, I would think, I live here in the Bay Area, it's just San Francisco. Well, apparently I was wrong. As it turns out, San Francisco is one of the most popular wedding destinations in the whole world. It may not quite match Paris or Rome, but it's definitely in the conversation. There is so much for a newlywed couple to do here it boggles the mind. Some of the best restaurants in the world are right here in the "City by the Bay". Fisherman's Wharf, North Beach, Union Square, Coit Tower, Golden Gate Bridge and the Palace of Fine Arts are just a few of the places you can visit and enjoy during your stay. Hire a professional San Francisco wedding photographer and have them record your experience of visiting some of these iconic locations. If you do not plan on getting married here, you can still hire a wedding photographer and do an engagement portrait session. You will have fun and see some great sites travelling around San Francisco.

SF City Hall Wedding Photography - If you have read this far, you probably knew this was coming... Yes, San Francisco city hall is an amazing place to have your wedding photographed. A professional wedding photographer can escort you to any of the 4 floors (preferably all of them!) and capture some amazing images. SF City Hall's architecture and lighting has to be seen to be truly appreciated. The building is laced with natural frames for great photo composition. In addition, there are huge window that let in amazing natural light to make your photos even more memorable. There are a number of San Francisco City Hall Wedding Photographers who understand this and will do an excellent job for you. Before choosing one, be sure to check out their web pages to make sure they have lots of examples of photography in the interior of the building. It takes some experience to capture the beauty here without being fooled by the lighting. Don't trust your precious memories to a friend or relative, hire a pro! More importantly, the most experienced city hall wedding photographers understand that the Grand Staircase is not the only place to obtain great images in the building. They will take you there, but also to the many other great places available for beautiful photos. Each of the 4 floors offer something different in terms of unique wedding pictures.
Free Advice for your SF City Hall Wedding
We have provided invaluable information for navigating your way through the entire matrimonial process at SF city hall. This includes obtaining your marriage license and booking your ceremony date and time. with answers to many of the frequently asked questions that we hear from our brides and grooms. Our multiple years of experience shooting weddings at city hall has provided us with mountains of useful information that we would love to share with you. We like this venue so much that we are willing to provide you with free advice on how to have a successful wedding at San Francisco City Hall. You do not need to book our service to receive this information. Despite the comparative simplicity of a civil ceremony, there are still a number of issues that come up and we are happy to impart our knowledge to you. If you would like to book Dubnoff Wedding Photography for your City Hall marriage please go to our San Francisco City Hall Prices page. There you will find important information about reserving us and also package details.
What is Our City Hall Wedding Photography Style
No doubt you have explored many San Francisco City Hall photography websites and have noted the differences in style. The vast variety available among the top city hall photographers is pretty amazing. We are often asked how we would define our own style. Many of our clients tell us that they booked us because we stood out from the other photographers they had looked at. Our photos are super sharp and technically correct. They especially emphasize the beautiful architecture present in the building. Not that we are clearly better then the rest, just different. Our philosophy which has lead us to photographing well over 600 weddings in the past 12 years focuses on architecture.
If you compare our photographic work to others you will note that our images tend to show off the details and the beauty of the building itself. Taking nothing away from the Bride and Groom, because we make sure they are prominently featured. However, you may notice more wide angle shots and images that display the patterns present in this type of French architecture. If you love the unique beauty of this grand old historic building, check out our images above. The other thing we bring to the table is image diversity. This means that there will not be a common theme or style within your final image set. You will enjoy many different types of final images including, close ups, blurred backgrounds, wide angle shots and candid photography.
We feel that it is important to provide our customers a wide variety of wedding pictures to choose from. We also supply our couples with a pretty large number of proofs to look at. However, all of these shots are hand selected and carefully edited. We do not just throw every picture at you and hope some stick!
How do I Plan my San Francisco City Hall Wedding?
San Francisco City Hall is a beautiful destination for planning your wedding ceremony. It's affordable, convenient, and available throughout the year. Planning your marriage at City Hall will take you a lot less time compared to a typical wedding, but there are still a number of things you will have to do ahead of time. The article below will help you efficiently plan your nuptials at SF City Hall. We have also provided you with the City Hall's Civil Ceremony general information site which shows you how to book your ceremony time/date and your marriage license appointment. If you are interested, you can also take advantage of our free wedding planning service for city hall engaged couples. This service is available to you whether or not you book us to photograph your wedding. Please email us for your free planning advice and pointers.
SF City Hall Wedding Planning Tips - 6 Easy Steps
Step 1: Marriage License Appointment - You can obtain your Marriage License reservations by clicking San Francisco County Clerk. If your ceremony is on the same day of the license appointment, be sure to book the time at least 30 minutes prior to the ceremony (County Clerk recommendation). You can even process your license the day before your wedding to make your big day less stressful. We personally suggest you book the marriage license appointment 1 full hour or more before your San Francisco City Hall ceremony if doing it on the same day. This allows a little more time in case things are running late and just makes your special day more relaxed and fun. You do not need a professional wedding photographer to cover the marriage license meeting. In fact, the County Clerk has recently decided to not allow any kind of photography or video during this appointment. This includes cell phone photography by your witnesses or yourself. There is honestly not that much to photograph anyway because you are mostly just completing paperwork at this meeting. Contrary to popular belief, your witness does NOT have to be at this meeting. The marriage license is not signed by your witness until your ceremony. Only the 2 of you need to be present to obtain your marriage license and of course, that would be the bride and the groom.

Step 2: Book your SF Courthouse Ceremony - The same link from above will enable you to choose your wedding ceremony date and time. City Hall will not accept reservations unless your chosen preferred marriage date is 90 days or less from the time you want to reserve it. Early and late ceremony times tend to be less crowded and better for wedding photography. If there is a particular wedding date that you must have, I suggest getting on the city hall reservation site that evening at midnight before the 90th day. The exception to the 90 day rule is for those couples that are interested in booking either the Mayor's Balcony or 4th Floor for the 1 hour reserved ceremony. Reserved weddings can be booked a year in advance, see below for more details on booking a large wedding at city hall. This is also true for Saturday weddings which allow much more notice, but are much higher in cost. Prices start at $5,000 for Saturday City Hall weddings. This price, however, does not include quite a few essentials. Contact the SF City Hall Event Department for more information by calling 415-554-6079. They will answer any questions you may have regarding how to prepare for this all important event in your lives. I have found that the people working at the Event department are some of the most friendly and helpful staff I have encountered in the wedding planning business. That is saying a lot!

Step 3: Hire a Professional SF City Hall Wedding Photographer - If you are going to choose such an amazing venue, why not receive some great photos? There are a number of exceptional San Francisco City Hall photographers available. Some of the best wedding photographers in the Bay Area love to shoot at SF City Hall, this is your chance to book them for bargain prices. Many of these photographers normally charge much more for a full wedding ($3,000 or higher) and you can usually book them for your civil ceremony for under $1,000. In most cases, you will probably receive more photos from a city hall photography session than a large wedding due to the time constraints built into big events. If you hire an experienced professional, they will also help walk you through much of this process.

Step 4: Invite Guests - This is the tricky part. The rule at City Hall is no more than 6 guests and until recently, it was not enforced. Due to some disruptions that occurred on the Mayor's Balcony in May of 2019, The County Clerk's office is now forced to restrict each wedding to only 6 guests. If you want to invite more than 6 people, it might be best to reserve the Mayor's Balcony which is designed to handle more guests. The beautiful 4th floor balcony is another location you can reserve and invite extra guests. Both of these reserved areas cost $1,000 to rent for 1 hour. They rope off the area to give your wedding party privacy. Tourists and other people will not be able to walk through your ceremony while it is occurring! Saturday weddings at city hall can accommodate even more people, but at a much greater cost. Pricing for Saturday weddings start at $5,000 and that does not include Security and other extras. With the pandemic still looming, city hall has become more stringent about following the 6 guest limit.

Step 5: Choose your Ceremony Location - Both the Rotunda and the private room are available for the bargain price of $93 (as of the year 2021). Some Deputy Marriage Commissioners will perform your nuptials at the Mayor's Balcony or on the 4th floor if you ask, but we see this wish being granted less frequently these days. If it is the Holiday season, you can request an alternative location to the Christmas tree in the background. Otherwise, those locations cost money to reserve (see above), but allow for more guests. Remember to bring your unexpired ID's and your marriage license on your wedding day! Make sure your Identification documents are current and not expired. You can use a drivers license, passport or other legal picture identification. Please Note: If you come to San Francisco city hall with more than 6 guests, you will NOT have a choice on where to have your ceremony. Starting in May of 2019, all couples with over 6 guests will be married in the Private Room. This was not enforced in the past, but now is.
Step 6: You did it, you're married! - If you hired professional city hall wedding photographers they will take you around the building and maybe even destinations in other parts of San Francisco to capture some great photos and wonderful memories! If you didn't hire a photographer, you should have! To read more About us click the link to see how important it is to hire a professional and not use your uncle! The risks are too great to ignore for this very important event in your lives.
Helpful Hints For Your SF City Hall Wedding Day
Don't Be Late For Your Own Wedding! San Francisco City Hall is notorious for making people late. Whether it's the traffic, a special event or an unexpected closed parking garage, the engaged couple faces some challenges making it to their own ceremony on schedule. The simple solution is to allow extra time. As your professional wedding photographers, we know we can't be late so we always plan our Breakfast, Lunch or Coffee at Philz nearby. This puts us at SF city hall much earlier than necessary to photograph the wedding, but also gives us cushion time. If things run late, we only miss our breakfast and not the wedding! We suggest you do the same! This advice is especially important if you happen to have a 3:30 pm ceremony time. Couples that miss this time will not be able to have their marriage at city hall that day. The County Clerk's office closes at 4:00 pm and the marriage commissioners go home after their 3:30 ceremonies. I have heard others give advice that they didn't need to worry if they miss their scheduled ceremony time because they could always catch the next time slot. Not so for 3:30 weddings! if you miss it, that's it! You are most likely not getting married on that particular day. So why not arrive early and take the extra time to enjoy and learn about some of the history of SF City Hall or get some coffee.


Remember to Bring Snacks and Water. Wedding ceremonies at San Francisco city hall seldom occur on time and can be up to 30 minutes late on busy days like Thursday and Friday. It's important to stay hydrated on this stressful day and to also have a small protein bar handy if needed. Bring some sort of small container that can be used to carry these items and can double as a place to store your paperwork as well. We also try to provide our clients with some of these helpful things, but you may prefer to bring your own food especially if you have dietary restrictions. Protein bars are suggested or anything you like to snack on. A standard size folder will work to keep your souvenir marriage license unwrinkled. We will supply you with a nice folder if you do not have one, just ask!


Take Care of the Marriage License Before your Big Day. The County Clerk's office will allow you to obtain your marriage License and have your ceremony on the same day. We think this is not the best idea. If for some reason you experience technical problems, or documentation issues with your marriage license you will not have enough time to fix them before your ceremony. If possible, come in the day before and take care of the paperwork, it will cause less stress on your wedding day and it's one less thing to worry about! You do not need your witness when you process your marriage license. Of course, we understand that many of you are not able to do that, especially travelers. Just make sure you have unexpired Identification!


Guests Don't Need to Check-in. Before every standard San Francisco city hall wedding the couple is required to check-in at the County Clerk's office prior to the ceremony. Try to check-in about 10 minutes before your ceremony time. This is when you will meet your marriage commissioner and get the marriage license signed by your witnesses. So of course your witness DOES need to be there with you when you check-in. Guests do not need to be there and are not allowed in the office anyway. So when you bring your whole wedding party, it can be disruptive to others and often causes the bride and groom stress. Ask your guests to wait by the Grand Staircase or in the Rotunda area but retain your witnesses. It will make life easier for everyone and they won't miss a thing! Note: City Hall is now enforcing the 6 guest maximum rule!


Brides Bring your Walking Shoes! Brides almost always wear new shoes on their wedding day and of course they hurt! Once your ceremony is over, we will take you throughout this beautiful building photographing you at various locations. We are happy to allow you the time to change back and forth between comfortable shoes and your "photo shoes". You will be very glad that you did because there is going to be quite a bit of walking to get from location to location in SF City Hall!
Bring a "Wedding Survival Kit". You never know what you will need on a wedding day. Wedding coordinators have created clever kits that contain many of the things that might be needed when small things go wrong on your special day. Examples of potential contents include: Sewing kits, hair pins, scissors, safety pins, cough drops, pain relievers, bandages, duct tape, and other miscellaneous items.
Keep your Guest Count close to 6. Unless you booked a reserved City Hall ceremony, the County Clerk will no longer allow large wedding parties to have their marriage ceremony in the Rotunda. All couples with large guest counts (over 6 guests) may be sent to alternative locations. It seems pointless to get married in the gorgeous building and be stuck in a small stuffy room. Keep the guest list low and then have a big party right after at a nearby San Francisco restaurant and invite everyone! If you want, we can cover that event for you too! We photograph many Wedding Receptions in San Francisco.


Allow Extra Time for Post Wedding Celebrations. As mentioned previously, San Francisco city hall weddings rarely occur on time. In addition, there are other factors like traffic and parking to contend with. We counsel all of our brides and grooms to allow cushion time if they are planning an after wedding lunch or dinner reception. This is especially important to us, because if things run late and the couple needs to leave early, the wedding photography session is adversely affected. Thus, one of the first questions we ask our couples when we meet them is if they have a lunch or dinner planned and what time. The amount of times we have had to cut our photography session short because the couple had to leave for their celebration would surprise you. Avoid this problem and schedule your party at least 1 hour later then you think you need to.


Have Fun!


Wedding Photography Hint of the Month
The Month of May 2023 - Spring is finally here and SF City Hall is warming up and also receiving more natural light for longer periods of the day. This allows us to take better advantage of the natural light all day at San Francisco city hall. In the winter months it can get a little dark in the late afternoon. The other thing that starts in May is a few more weddings each day. Make sure you booked your wedding with city hall as early as possible because dates start to really book up fast in the spring. Click this link to go to the City Hall Reservation page. Also new for May is our "Maternity Wedding Package". This package combines our standard wedding photography coverage at San Francisco city hall, but also adds a maternity shoot. The price is $795 for 2 hours of coverage. This gives us enough time for your wedding pictures, family photos and your Maternity photo session. It is really 2 packages in 1!
Same-Sex LGBTQ Wedding Photography at SF City Hall
We have been photographing Same-Sex weddings at City Hall since they were first made legal back in 2013. We were one of the first wedding photographers to focus on helping couples from the LGBTQ community celebrate their long term commitments to each other (and make it legal). Many of our couples early on had been together for over 30 years and were just now getting the chance to receive the benefits that other married couples enjoyed. We had a pretty amazing 2 years of backlogged same-sex marriages and it was a great experience to be involved in their legal unions. Obviously, Gay and Lesbian marriages have slowed down a bit now, but we still are actively involved in assisting this community with their City Hall celebrations. We have a section available on Same-Sex marriage photos if you are interested in learning more.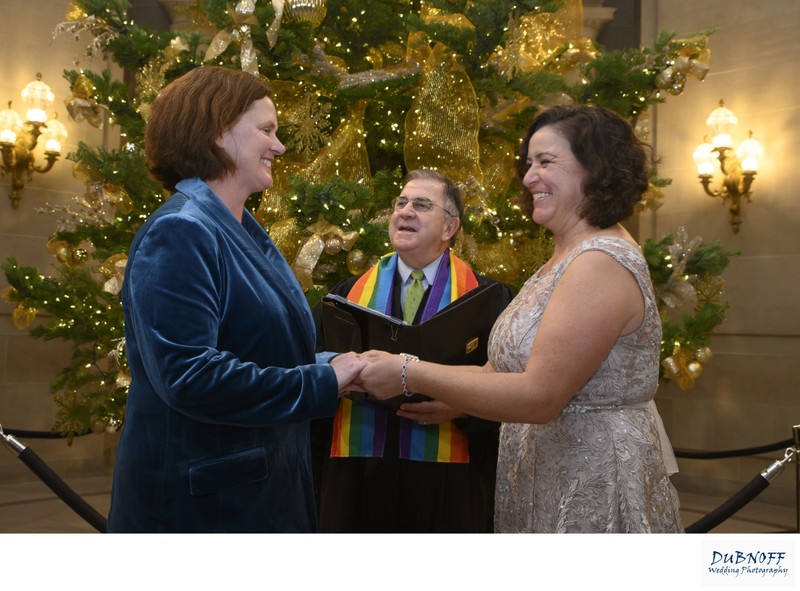 How to Save Money by Getting Married at City Hall!
How can you have your wedding at one of the most beautiful venues on the West Coast for right around $100 ? (It costs just over $200 if you also obtain your marriage license here). You guessed it, get married at San Francisco City Hall! Yes, it's a public building, but still an incredible value for so many reasons. The gorgeous architecture and amazing history are just 2 factors to consider when contemplating the decision to have your nuptials here. San Francisco is loaded with some other great wedding venues, but most cost a fortune and don't offer the amenities present at city hall. For example, you can't even touch the Palace of Fine Arts as a full wedding venue for less than $5,000.
At City Hall, you don't even need to pay for your wedding officiant because the County Clerk's Office supplies one as part of your wedding package for free! This saves you up to $200 or more. They even wear fancy robes and look like judges! However, if you prefer to bring in your own minister, feel free. You can actually have your ceremony anywhere you want in San Francisco City Hall assuming there are no large events occurring at the time. We have a few wonderful officiants we can recommend with affordable prices. A few of them even wear the judges robes mentioned above. Besides, once you get married here you will forever be compared to Marilyn Monroe and Joe DiMaggio. Definitely the most famous celebrity couple to tie the knot at city hall. Their marriage is still talked about today in San Francisco.
There is nothing stopping you from putting together a small group of your friends and relatives and hiring your own officiant. Your ceremony may not be completely private, but you will be getting married for next to nothing at a spectacular venue. We can help you find a great spot in the building with decent privacy! The ultimate way to keep your wedding costs low. If you need an affordable professional city hall wedding photographer, check out our pricing above.
The Best SF City Hall Wedding Photographers at a Discount
However, if you do want a private civil ceremony you can rent out the Mayor's Balcony or 4th Floor North Gallery for $1,000. In these reserved locations, you have the option of paying for your own officiant or the County Clerk's office will supply one for you at no additional cost. Yes, you pay more for a private ceremony, but try to match that price anywhere in the city. It's not possible! To find out more about reserving private ceremonies locations, you can check out the
City Hall Events Office. Because of the compressed schedule for civil marriages, you can hire some of the best San Francisco city hall wedding photographers in the Bay Area for 1/4 of what they normally charge for full-day weekend coverage. You receive the same great quality from these top photographers at a fraction of the expense. Not only are you paying less for these wedding photographers, but you probably will receive a lot more photographs than you would if you were doing a full day wedding celebration. So many things occur at a big wedding that it is difficult to have the time to devote to wedding photography. Not so with City Hall weddings! Planning a big reception after your ceremony? There are a number of great places at reasonable prices that are walking distance away including Absinthe and Patxi's Pizza. Since you are walking to your reception, there is no need for the high cost of renting a limo. Significant savings for the bride and groom in the "City by the Bay"!

Return to Top of San Francisco City Hall Weddings

Visit our San Francisco City Hall Sitemap!
San Francisco City Hall Wedding Photographers
Dubnoff Photography
1142 Sutter Street
San Francisco, CA 94109