San Francisco City Hall Wedding Photographers
We specialize in San Francisco City Hall wedding photography. The City Hall prices and packages seen below are some of our most popular, but can be customized to fit your needs. Please CLICK HERE for our Wedding Photography Gallery. We are one of the leading San Francisco City Hall wedding photographers currently shooting weddings at this amazing yet affordable venue. We have photographed over 600 weddings at city hall over the past 12 years and loved every minute of it. Our "San Francisco Tour" Packages include a photo tour around the city with photos at some of our most famous SF landmarks and includes up to 4 hours of coverage. If you are looking for something that takes less time and a lower price, you can choose our "Elopement" Package. This collection includes amazing wedding photos of both of you inside and outside of the building and it takes about 1 hour for the inexpensive cost of only $595.
All of our San Francisco City Hall photography packages include high resolution, fully edited digital files of ALL of the photos we take and legal reproduction rights. See below for details of our packages and pricing. To answer any questions you might have about our friendly professional service, please check out our City Hall FAQ page.
Experienced San Francisco City Hall Photographers
As a native San Franciscan with over 20 years of experience as a professional wedding photographer, Mike Dubnoff and his team are uniquely qualified to cover your City Hall nuptials. No matter what options you select, we will make your wedding day fun and memorable. We pride ourselves in offering one of the widest varieties of packages and options available. Most of our clients choose our smaller packages that include San Francisco City Hall coverage only, but we can take you throughout "The City" and visit some of San Francisco's romantic and famous landmarks if you prefer! Just choose one of our Photo Tour packages and enjoy the ride! We know the best times of the day to photograph you at several of SF famous destinations such as The Golden Gate Bridge, The Palace of Fine Arts, North Beach, The Legion of Honor, Pier 7, Coit Tower, the SF Cable Cars, and Sutro Baths to name just a few. To view a picture slide show video of one complete City Hall marriage CLICK HERE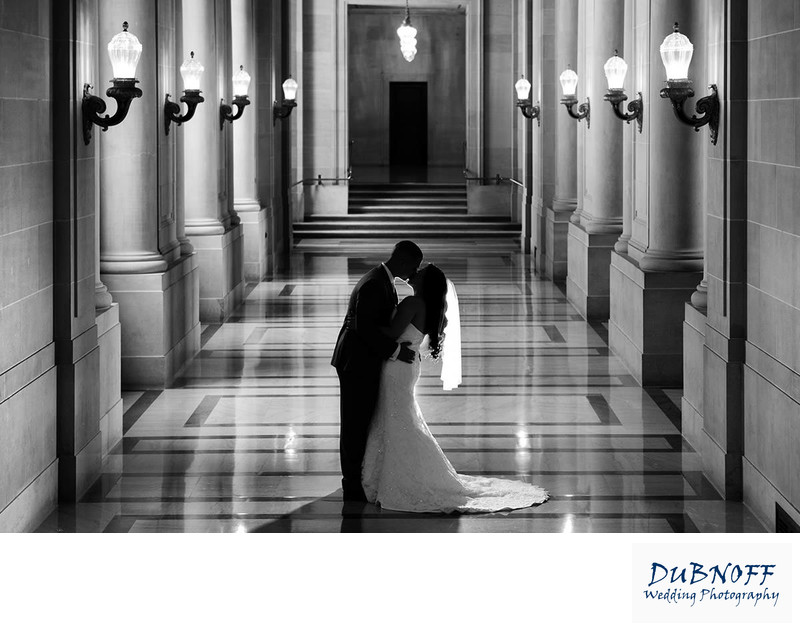 Packages and Prices For Every Budget
We are one of the top rated SF City Hall wedding photographers and shoot weddings here around 8 times per month. We offer special pricing that provides different levels of photographic coverage depending on how many San Francisco landmarks you want to visit after completing your city hall ceremony. You can also choose different lengths of coverage time for your city hall photo tour. If you want to visit all 4 floors, then the "Preferred" package is the best choice for you at a cost of $695 and includes 1.5 hours of photographic coverage. This premium package also allows plenty of time to photograph family and friend pictures on your special day. We can do any size group you want from couples shots to full family portraits. Wedding Reception coverage can also be included, just let us know how many hours of coverage you require and we can quote you a price and create a custom package just for you.
Extend Your SF City Hall Coverage
Reception coverage generally adds another hour to the coverage, but might cost more depending upon your plans. We pride ourselves in being incredibly flexible with our pricing and packages. If you need a professional wedding photographer for the full day on a weekend or weekday, we can provide that too. Weekend rates are slightly higher than what you see here but always includes 2 wedding photographers, all of the digital images, full reproduction rights (copyright release), and online viewing and downloading. Please contact us for details on any of the above pricing questions by emailing: mike@dubnoffphoto.com. We also provide you the option to make prints through our high end photographic printing service. Feel free to compare our photo packages to other city hall wedding photographers, but make sure that they are providing you with all of the digital images taken at your event and the full rights! We provide both! No Watermarks or other limitations on your proofs. We are committed to ensure that you receive the best San Francisco wedding photography experience at reasonable prices.
How Our City Hall Photography Packages Work
Our 7 most popular wedding packages are listed below with pricing included. Custom San Francisco full wedding photography packages are also available, just ask! We can provide you with a custom individualized quote that includes the exact hours of photographic coverage you would prefer including 2 hours or 3 hours since those particular coverage lengths are not included in the pricing below. You do not need to limit yourself to our listed standard wedding photography packages and we love it when our clients tell us exactly what they want. Also please understand that the coverage times below are approximate. We will never cut your wedding coverage off based upon timing if we are still completing your photo session. In addition, we never charge our clients overtime. Even if your City Hall ceremony is running late we make sure you receive all that you paid for. We also offer military discounts for our service veterans or active members. Certain other discounts may be available on a seasonal basis including Cash, just ask! Our affordable San Francisco city hall wedding photography packages are listed below:
"Elopement"
1 Hour of Photographic Coverage
SF City Hall Interior and Exterior Photos
Edited Full Resolution Jpeg Images
Reproduction Rights of ALL Image Files
Designed for couples with no guests
Private Website for Viewing and Downloading Images
24 Hour "Sneak Peek" Photos upon request
Click here for PACKAGE DETAILS
$595

"Preferred"
1.5 Hours of Photographic Coverage
City Hall Interior and Exterior Photos
Edited Full Resolution Jpeg Images
Reproduction Rights of ALL Image files
Time for Family and Friend Photos
Private Website for Viewing and Downloading Images
24 Hour "Sneak Peek" Photos upon request
Click here for PACKAGE DETAILS
$695

"San Francisco Tour 1"
2.5 Hours of Photographic Coverage
City Hall Interior and Exterior Photos
1 Additional San Francisco Location
Edited Full Resolution Jpeg Images
Full Reproduction Rights of ALL Image Files
Private Website for Viewing and Downloading Images
24 Hour "Sneak Peek" Photos upon request
Click here for PACKAGE DETAILS
$895

"San Francisco Tour 2"
3.25 Hours of Photographic Coverage
City Hall Interior and Exterior Photos
2 Additional San Francisco Locations
Edited Full Resolution Jpeg Images
Reproduction Rights of ALL Image Files
Private Website for Viewing and Downloading Images
24 Hour "Sneak Peek" Photos upon request
Click here for PACKAGE DETAILS
$1,095

"San Francisco Tour 3"
4 Hours of Photographic Coverage
SF City Hall Interior and Exterior Photos
3 Additional San Francisco Locations
Edited Full Resolution Jpeg Images
Reproduction Rights of ALL Image Files
Private Website for Viewing and Downloading Images
24 Hour "Sneak Peek" Photos upon request
Click here for PACKAGE DETAILS
$1,295

"Romance Wedding Album"
Flush Mount Wedding Album with 42 images
4 hours of Photographic Coverage
11X14 Mounted Wall Portrait
SF City Hall Interior and Exterior Photos
3 Additional San Francisco Locations
Edited Full Resolution Jpeg Images
Reproduction Rights of ALL Image Files
Private Website for Viewing and Downloading Images
24 Hour "Sneak Peek" Photos upon request
Click here for PACKAGE DETAILS
$1,695

"Full-Day Ultimate Package"
30 Page Flush Mount Wedding Album with 50 images
Full Day Coverage (8 hours max)
11X14 Mounted Wall Portrait
SF City Hall Interior and Exterior Photos
Unlimited San Francisco Locations if Time Allows
Edited Full Resolution Jpeg Images
Reproduction Rights of ALL Image Files
Private Website for Viewing and Downloading Images
24 hour Sneak Peek upon request
See Below for Details (scroll to next section)
$2,695 or $2,295 with No Album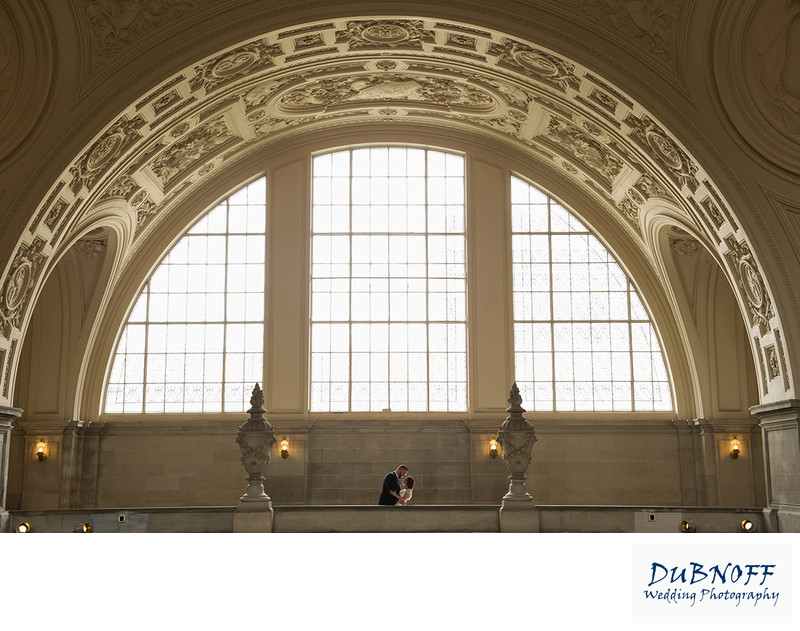 San Francisco Wedding Photography Options
We also offer full-day affordable wedding photography coverage for your San Francisco City Hall wedding. Ask us about our weekend rates and full-day packages. Our "Full-Day Ultimate" package provides you with up to 8 hours of photographic coverage after (and maybe before with bridal prep coverage if you prefer) your San Francisco Courthouse wedding ceremony for the price of $2,695 as seen above. If you do NOT want a wedding album, but still want the full-day coverage, the price comes down to $2,295 including digital images and full reproduction rights. We will join you at any of the fantastic and highly rated picture locations in San Francisco and provide you with a multitude of creative bridal images. We will happily escort you to places like Russian Hill, the Japanese Tea Gardens, Legion of Honor, Coit Tower, Twin Peaks, Crissy Fields or SF Downtown to just name a few of our favorites. You can also ask that we start in the morning allowing us to provide you with fun Bridal Prep photos. We can begin our coverage in your home or hotel room and will take natural and mostly candid photos of the bride getting ready for her big day! These candid documentary style photos will be created with beautiful natural light to make the images more dramatic. At the same time, we promise not to take up too much of your valuable time during this busy part of your day. After we cover your wedding and take you around San Francisco, we can then capture great moments at your reception in the city or other nearby location. Reception coverage offers the best opportunities to obtain candid images that reveal the special moments at your celebration. These kinds of candid images are more difficult to obtain without guests present and social interaction. Thus, reception pictures will provide you with enhanced documentary moments that every couple craves. Hugging, laughing, dancing, all of these wonderful emotional moments captured forever. NOTE: For the time being, we are unable to escort our couples to the other San Francisco locations, but we can meet you at each one! This is due to Covid-19 concerns and to protect both you and us.
Golden Gate Bridge Photography
Photos with the Golden Gate Bridge in the background are almost a must if you book the "Full-Day Ultimate" Package (fog permitting)! There are a number of different approaches to capturing wonderful shots of the bridge and we can discuss them in detail with you before your San Francisco City Hall nuptials. We love the Baker Beach angle, but also enjoy taking GG bridge shots from Fort Point or the Land's End Trail head. The weather and fog on your wedding day can also impact this choice. If the fog is rolling in from the ocean then it is better to shoot from the Bay side of the bridge. If it is late in the afternoon and clear, we love to shoot from the ocean side from Baker Beach or Lands End. This gives the Golden Gate bridge a nice soft golden color from the sun setting over the Pacific ocean. It's actually important what angle and time of the day it is for the best possible Golden Gate bridge pictures. Our years of professional wedding photography experience in San Francisco has provided us with many great ideas like this to make your photos the best they can be. Note: If you decide on the Golden Gate bridge as your location and it is completely fogged in, we are happy to take you to an alternative location. We are flexible and accommodating, but most of all want to make sure you have the best possible photo shoot. You might also consider still doing a Bridge picture despite the fog. It will look very San Francisco like as long as you can see at least a small piece of the bridge. We can shoot from the Bay side of the bridge to help enhance this effect. This angle often results in a very romantic and dramatic image that shows the Golden Gate bridge, but also helps you to visualize the fog rolling in from the ocean. For planning purposes, just keep in mind that the most foggy times of the year in San Francisco are from middle of May until Mid August. It is very unpredictable, but you know it is coming eventually.
Full Day Plus Wedding Reception Coverage
After taking you around the city, we can photographically cover your wedding reception or dinner party celebration. Coverage of your dinner or lunch party is one of our more popular options. Check out the SOMA area in San Francisco for great wedding reception locations with exceptional pricing to match! There are also a few nice places in Hayes Valley which are walking distance from San Francisco city hall. The Full-Day Ultimate package is for the couple that wants every aspect of their marriage recorded for long lasting detailed memories. From Bridal Prep to the end of the Reception! So many things occur at a wedding reception and we want to capture it all for you. Cutting the cake, First Dance, Toasts, Father-Daughter dance and throwing the bouquet, we cover each event! Do you like candid wedding photography? Lunch or dinner Reception coverage allows us to capture all of the memorable moments from laughter to tears and everything in between. The professional wedding album that comes with this package is of exceptional quality and our clients love it! If you are one of those many engaged couples that love candid images, then reception coverage is the way to go. Just be certain not to schedule us to only be there for a dinner celebration if that is all that you are doing. It is very difficult to obtain award winning images of your guests eating dinner.
No Limit SF City Hall Wedding Photography
We never limit the amount of photos taken at your wedding. All image files accurately captured will be delivered to our Newlyweds. You receive all the image files and we never stop shooting! Be sure to check with other professional wedding photographers before booking to make sure they do not hold back some of your precious images. Clients frequently ask us how many images will be included with each package including with our Ultimate Package. Every wedding is different and so it is difficult to provide an exact number. We promise that we will cover everything that occurs throughout the day and provide every magical moment to you by giving you great images. We also promise not to dominate your special day with wedding photography. Yes, it is our job to make sure you receive wonderful memories, but it is also important that you have a fun time on your special day. We understand that your marriage day is not just about wedding photography. It is vitally important that your day also be enjoyable and memorable for both of you! We will be actively involved in making sure you obtain amazing photos, but will do it in an unobtrusive manner. We also are happy to listen to your suggestions about the type of wedding photography styles you prefer. Please let us know if there are specific areas in San Francisco city hall you want us not to miss! We have no problem involving you preeminently in the process. Feel free to work with us to make this the best experience possible!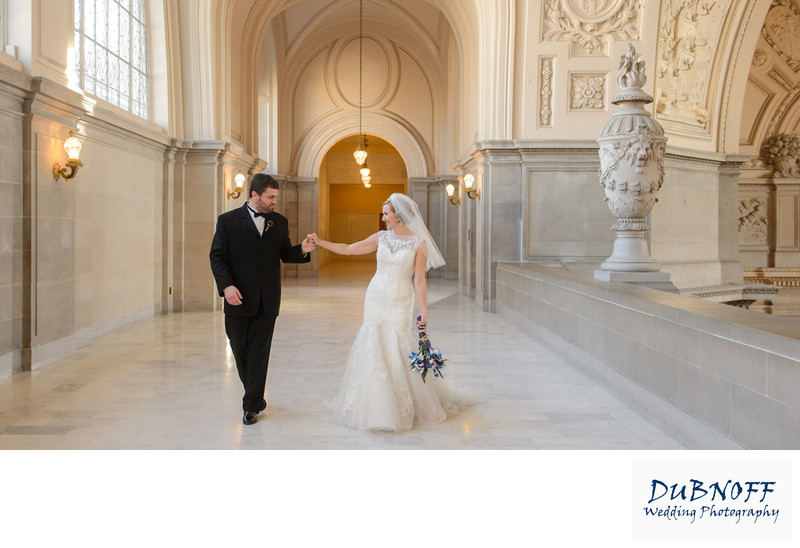 "San Francisco Wedding Experience"
One of our more popular options is the "San Francisco Tour 3" Package. A more descriptive name for this package is the "San Francisco Wedding Experience." It IS a great experience and a fun way to spend the day of your marriage. For the discounted price of $1,295 you will receive a complete wedding package that will provide you with incredible memories of your special day in the "City by the Bay". Our brides and grooms that come from other parts of the world often take advantage of this incredible City Hall San Francisco Photo Tour. It's not only a great way to receive fantastic pictures, but also doubles as a wonderful vacation/tourist experience. We will meet you at your favorite SF iconic destinations and give you time to explore and learn the history of this great city. You can choose the destinations yourself or we are happy to help you decide. We provide you with visits of up to 3 San Francisco beautiful locations and 4 hours of professional wedding photography coverage. If we go over on time a little it is no big deal and overtime is never charged! Your "Wedding Experience" includes incredible pictures of the following:
City Hall ceremony coverage from start to finish including the ring exchange.
Family and Friend formal photos after the ceremony.
Photo tour of the entire city hall building with the Newlyweds.
Emphasis on City Hall building architecture (as always).
Photo tour of 3 SF Locations after City Hall (Cable Cars, Golden Gate Bridge, Etc)
Optional Wedding Reception Coverage (instead of the SF locations photo tour above)
4 total hours of professional wedding photographic coverage
Extra time to stop and "Smell the Roses!"
You keep ALL of the images we photograph on your special day.
Marriage license signing by your witness
The other two San Francisco Tour packages (The Tour 1 and Tour 2) provide you with all of the same features above, but with fewer locations and a little less coverage time. See above for details of the other tour packages or please feel free to make your own custom photography package and ask us for a price quote. We are very flexible with our pricing and packages and understand that whatever option you select needs to work with your plans for a civil union! In addition, your selected package needs to include provisions for whatever you have planned that day for your post wedding celebration. You want 4 San Francisco destinations? Just let us know and we will create a custom package to fit that desire. We know you will want to spend substantial time with friends and family. To see a nice summary of all of our San Francisco Tour Packages available to you, click the link. We have provided additional information including a complete list of our favored SF destinations. The Tour 1 and Tour 2 packages also include comfortable transportation to the locations (provided by us!). Check out this Video to see a good example of this very popular wedding photography package.
Optional City Hall Wedding Photography Services
Portrait Photography
We are also delighted to photograph your pre-wedding shoot, engagement session, or bridal portraits at the San Francisco Courthouse. Please email us for details and pricing. We have even completed family portrait sessions in the interior of the building. We occasionally photography models at city hall as well and use the beautiful architecture in the backgrounds of the photos. Consider the SF courthouse as an ideal background for many of your photography needs! The nice thing is that the venue itself doesn't cost you a dime!
Professional Wedding Albums
If you are interested in wedding albums we have a full line of professional books that can be custom built to your specifications. The cost for the basic book is $425, but we have endless options and styles at different prices. You can go higher or lower with how much you pay and what you want as a final product. Set up a meeting and we can discuss the details of your wedding and show you our high quality portfolio albums. We also have very good samples of the albums available to view online. You will have the pleasure of selecting the wedding images that will be placed in your book. Our most popular wedding album for city hall is a 8X11 book with 40 photos! We offer this book with each of our packages as a post wedding option. This gorgeous album is reasonably priced and a must-have memory of your marriage. We also We can even provide large leather professional albums for those who want it all! These albums are extremely well liked when received by our clients. We hear so much positive feedback from our newlyweds once they show their album to friends! Don't let your memories reside on some forgotten hard drive never to be seen! There is nothing better than being able to display your beautiful wedding album on your coffee table for your house guests to pick up and look at.
Printing and Wall Portraits
Also consider our printing service. Yes, you pay a little more for us to make prints for you, but there are many advantages. One of the biggest advantages is the fact that all print requests, no matter if they are 4X6 or 20X24 receive another round of free Photoshop editing. This includes removing tourists and exit signs from the backgrounds at San Francisco city hall. We will also do personal enhancement retouching for those who request it on album images or prints. Best of all, you get to keep the edited image file! Original Prints that are 11X14 or larger will be mounted on Foam Board and Mat Sprayed for protection.
Free San Francisco Wedding Consulting
We offer our brides and grooms free wedding consulting to help put your marriage celebration together in a timely and detailed fashion. Many of our out-of-town clients ask us to help with choosing other wedding vendors and reception sites in the San Francisco area. We are happy to help! For some international marriages, we are asked to become totally involved in planning and helping choose vendors and making arrangements. This includes where to find bridal gowns, florists, officiants, DJs and other important wedding vendors. We can recommend professional musicians, videographers, and Disc Jockeys and wedding photographers if we are not available. Our many years photographing weddings here has put us in touch with some of the best photographers in the area. In addition, our own 2 associate wedding photographers are frequently available for your wedding on an individual basis. There is no charge for this consulting service and we are happy to help you plan for your big day! Even if you do not intend on booking us for your city hall wedding! We want to keep your city hall wedding experience affordable and fun.
Community Wedding Service
We pride ourselves on being a culturally diverse, gay / lesbian / same-sex friendly service. We have been serving the LGBTQ community from the very beginning of legal same-sex marriages. To check our availability or to receive more information please click HERE or call us at 925-323-5397 email us at mike@dubnoffphoto.com. We have photographed over 1,600 weddings in 20 years of SF Bay Area photography plus over 600 marriages at City Hall! We would love to photograph yours. Our wedding packages are inexpensive and easy to understand with no hidden fees or charges. Please be sure when you book a city hall wedding photographer that they will provide you with ALL of the images and not just a few handpicked best ones. click on the link to learn more about the importance of professional wedding photography. You will not be disappointed that you hired a professional!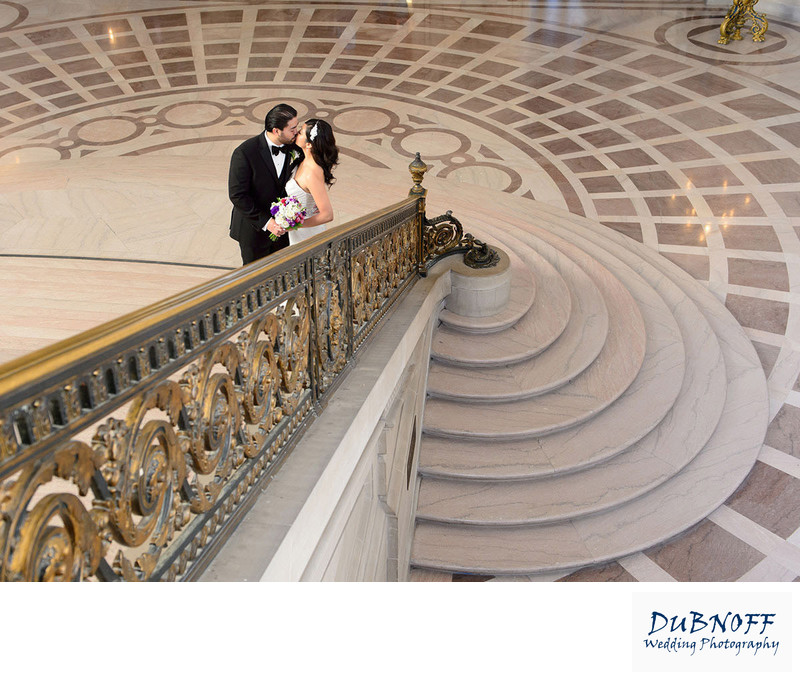 Which Photography Package is Best for You?
"Elopement Package" - This package provides you with approximately 1 hour of photographic coverage inside and outside of the building. The Elopement Package is best when the couple only needs photos of themselves with no guests attending. We meet with you just before the ceremony to assist you with your County Clerk's office check-in and then follow you up to the Rotunda for your nuptials. We are happy to be your witness if needed at no extra charge. Then we take you on a picture tour of the building, stopping at the most beautiful spots in SF City Hall. We end the shoot by taking you out in front of the building and shooting a few quick photographs in front of the main doorway with the "City Hall" sign in the background. If time allows, we will take you across the street to get some nice exterior photos of the city hall building. The fee is only $595 for this very popular package. As with all of our packages, you receive ALL of the digital files, not a limited number. You are also provided with a very convenient viewing site which allows you to directly download your full resolution image files. Please note, we do not keep a stopwatch during your wedding coverage. There will be many instances where the County Clerk's office is running behind and all of us will have to do some waiting. We will not abandon you no matter how late they run. We are committed to providing you the best possible professional wedding photography service. Again, we never charge overtime and never will! The Elopement package is discounted and thus designed for couples with no guests. We can usually fit in one additional attendant however if needed.
"Preferred Package" - Bringing family and friends? This is the wedding photography package choice for you. With the "Preferred" package you receive everything that the Elopement package offers plus an additional 30 minutes to photograph your Check-in, license signing, and your family and friends group pictures. We also recommend this package for couples who are really interested in full wedding photography coverage. The extra 1/2 hour allows us to take you on all 4 floors to make sure you obtain your favorite shots at San Francisco city hall. 1.5 hours of total photographic coverage is included for the economical price of $695. As with all of our packages, you receive every image we shoot at your wedding in jpeg format with full resolution. You can receive the image files by Direct Download from our site or we can Dropbox them to you. We also offer convenient full resolution Direct Downloads from your private website. Also included in all of these listed packages are full reproduction rights, allowing you to print or post any of the images files we provide you with. This is an important aspect of your wedding package, be sure you are being offered this by other professional wedding photographers at city hall. Our Preferred Package is by far our most popular wedding photography package. We strongly recommend this package for couples who have more than 1 guest or witnesses at their city hall wedding. We complete your photographic coverage by taking the bride and groom outside to take a few nice photos in front of the famous city hall sign.
"San Francisco Tour 1 Package" - This package is for those couples who want a little more. In addition to all that is offered in the "Preferred" collection, we also let you choose one other San Francisco outside location. The Golden Gate Bridge, Palace of Fine Arts, Coit Tower and The Legion of Honor in San Francisco are just a few of the locations available to photograph the happy couple. We also provide comfortable transportation at no extra cost. 2.5 hours of total photographic coverage is included for the inexpensive fee of $895. The notable thing about the Tour Packages is that you will still have plenty of time to take photos of your family and friends (like the Preferred Package). As with all packages, you receive all of the images we shoot at your wedding in jpeg format. We can send you a Dropbox file share or you can download the full resolution images yourself. Also included in all of these listed packages are full reproduction rights, allowing you to print or post to Social Media any of the images files we provide you with. Use our contract to show other professional photo labs that you have these rights. This will allow you to have them print the images for you with no worry of Copyright issues. We can also do your printing if you prefer and when we do, we provide you with free retouching and Photoshop editing of your selected images. In addition, you actually receive the enhanced image files with full reproduction rights.

"San Francisco Tour 2 Package" - This package includes everything that the "Tour 1" provides (above) but with 2 locations and 3.25 hours of total coverage. It has become one of our packages for the value-minded, because it seems to fit most of our client's time constraints. We are always willing to work with you to make sure our packages fits your needs in every way. The cost of this package is $1,095 and like the other tour packages, includes comfortable transportation to each San Francisco destination. As is the case with all of our packages, we provide some preview images for those couples that request it. We can normally email you these previews within a couple of days after your event.

"San Francisco Tour 3 Package" - This package includes everything that the "Tour 2" provides (see above) plus a multi-location photo tour of San Francisco. We will take you to 3 of your favorite iconic SF landmarks and take beautiful pictures of you at each location. The 4 hours of coverage also includes comfortable transportation. We do not charge you anything for the transportation, it is part of the package! This is definitely one of our most popular City Hall wedding packages! The Japanese Tea Gardens, The Presidio, Russian Hill, North Beach and so many more iconic San Francisco landmarks can be included in your romantic SF Photo Tour. Offered at the inexpensive price of $1,295 and this includes everything! Check for hidden charges with some wedding photographers, make sure your package includes all of things you need.
"Romance Album Package" - Everything included in the "San Francisco Tour 3" Collection above plus a beautiful custom made professional Wedding Album. You also receive an 11X14 Wall Portrait chosen by you to display on your wall. Don't hide your memories away on some forgotten computer hard drive. Display your images with this gorgeous pro-grade wedding album. You choose your favorite 42 photos and we will do the rest. It normally takes us only 3 weeks after the wedding to send you a proof of our album design for your approval and then your album is shipped directly to you. Our clients absolutely love this album and we always receive lots of positive reviews. So many brides and grooms display their pictures only on Facebook and Instagram and never do anything else with them. Don't let this be you! This is one of the ultimate packages offered by your San Francisco city hall wedding photographers. Click the link for a cost summary of all of our low priced City Hall Packages and some additional details. One of the other amazing advantages of this wedding album is that we provide you with extra Photoshop work and retouching on your selected images. Then we send you the fixed digital image files for you to use or print on your own! You can also share these retouched images on Social Medial also including Twitter.
We provide all of our clients the option to request "sneak peak" photos within 24 hours after the wedding date. These full resolution image files will be emailed directly to you, but must be requested because we photograph so many weddings and it is hard to keep track. This option is available for all of the above packages at no additional charge. Check out this YouTube Video of a couple who booked our Romance Album Package.
How do I Plan my San Francisco City Hall Wedding?
San Francisco City Hall is a beautiful destination for planning your wedding ceremony. It's affordable, convenient, and available throughout the year. Planning your marriage at City Hall will take you a lot less time compared to a typical wedding, but there are still a number of things you will have to do ahead of time. The article below will help you efficiently plan your nuptials at SF City Hall. We have also provided you with the City Hall's Civil Ceremony general information site which shows you how to book your ceremony time/date and your marriage license appointment. If you are interested, you can also take advantage of our free wedding planning service for city hall engaged couples. This service is available to you whether or not you book us to photograph your wedding. Please email us for your free planning advice and pointers.
City Hall Wedding Planning Tips - 6 Easy Steps
Step 1: Marriage License Appointment - You can obtain your Marriage License reservations by clicking HERE. If your ceremony is on the same day of the license appointment, be sure to book the time at least 30 minutes prior to the ceremony (County Clerk recommendation). You can even process your license the day before your wedding to make your day less stressful. We personally suggest you book the marriage license appointment 1 full hour or more before your San Francisco City Hall ceremony if doing it on the same day. This allows a little more time in case things are running late and just makes your special day more relaxed and fun. You do not need a professional wedding photographer to cover the marriage license meeting. In fact, the County Clerk has recently decided to not allow any kind of photography or video during this appointment. This includes cell phone photography by your witnesses or yourself. There is honestly not that much to photograph anyway because you are mostly just completing paperwork at this meeting. Contrary to popular belief, your witness does NOT have to be at this meeting. The marriage license is not signed by your witness until your ceremony. Only the 2 of you need to be present to obtain your marriage license and of course, that would be the bride and the groom.

Step 2: Book your SF Courthouse Ceremony - The same link from above will enable you to choose your wedding ceremony date and time. City Hall will not accept reservations unless your chosen preferred marriage date is 90 days or less from the time you want to reserve it. Early and late ceremony times tend to be less crowded and better for wedding photography. If there is a particular wedding date that you must have, I suggest getting on the city hall reservation site that evening at midnight before the 90th day. The exception to the 90 day rule is for those couples that are interested in booking either the Mayor's Balcony or 4th Floor for the 1 hour reserved ceremony. Reserved weddings can be booked a year in advance, see below for more details on booking a large wedding at city hall. This is also true for Saturday weddings which allow much more notice, but are much higher in cost. Prices start at $5,000 for Saturday City Hall weddings. This price, however, does not include quite a few essentials. Contact the SF City Hall Event Department for more information by calling 415-554-6079. They will answer any questions you may have regarding how to prepare for this all important event in your lives. I have found that the people working at the Event department are some of the most friendly and helpful staff I have encountered in the wedding planning business. That is saying a lot!

Step 3: Hire a Professional SF City Hall Wedding Photographer - If you are going to choose such an amazing venue, why not receive some great photos? There are a number of exceptional San Francisco City Hall photographers available. Some of the best wedding photographers in the Bay Area love to shoot at SF City Hall, this is your chance to book them for bargain prices. Many of these photographers normally charge much more for a full wedding and you can usually book them for your civil ceremony for under $1,000. In most cases, you will probably receive more photos from a city hall photography session than a large wedding due to the time constraints built into big events. If you hire an experienced professional, they will also help walk you through much of this process.

Step 4: Invite Guests - This is the tricky part. The rule at City Hall is no more than 6 guests and until recently, it was not enforced. Due to some disruptions that occurred on the Mayor's Balcony in May of 2019, The County Clerk's office is now forced to restrict each wedding to only 6 guests. If you want to invite more than 6 people, it might be best to reserve the Mayor's Balcony which is designed to handle more guests. The beautiful 4th floor balcony is another location you can reserve and invite extra guests. Both of these reserved areas cost $1,000 to rent for 1 hour. They rope off the area to give your wedding party privacy. Tourists and other people will not be able to walk through your ceremony while it is occurring! Saturday weddings at city hall can accommodate even more people, but at a much greater cost. Pricing for Saturday weddings start at $5,000 and that does not include Security and other extras. Note: Because of Covid-19 concerns, further restrictions of guest limits may be coming soon. We will be listening and reporting back once we hear anything.

Step 5: Choose your Ceremony Location - Both the Rotunda and the private room are available for the bargain price of $93 (as of the year 2021). Some Deputy Marriage Commissioners will perform your nuptials at the Mayor's Balcony or on the 4th floor if you ask, but we see this wish being granted less frequently these days. Otherwise, those locations cost money to reserve (see above), but allow for more guests. Remember to bring your unexpired ID's and your marriage license on your wedding day! Make sure your Identification documents are current and not expired. You can use a drivers license, passport or other legal picture identification. Please Note: If you come to San Francisco city hall with more than 6 guests, you will NOT have a choice on where to have your ceremony. Starting in May of 2019, all couples with over 6 guests will be married in the Private Room. This was not enforced in the past, but now is.
Step 6: You did it, you're married! - If you hired professional city hall wedding photographers they will take you around the building and maybe even destinations in other parts of San Francisco to capture some great photos and wonderful memories! If you didn't hire a photographer, you should have! To read more About us click the link to see how important it is to hire a professional and not use your uncle! The risks are too great to ignore for this very important event in your lives.
Helpful Hints For Your Wedding Day
Don't Be Late For Your Own Wedding! San Francisco City Hall is notorious for making people late. Whether it's the traffic, a special event or an unexpected closed parking garage, the engaged couple faces some challenges making it to their own ceremony on schedule. The simple solution is to allow extra time. As your professional wedding photographers, we know we can't be late so we always plan our Breakfast, Lunch or Coffee at Philz nearby. This puts us at SF city hall much earlier than necessary to photograph the wedding, but also gives us cushion time. If things run late, we only miss our breakfast and not the wedding! We suggest you do the same! This advice is especially important if you happen to have a 1:00 pm ceremony time. Couples that miss this time will not be able to have their marriage at city hall that day. The County Clerk's office closes at 1:00 pm and the marriage commissioners go home after their 1:00 ceremonies. I have heard others give advice that they didn't need to worry if they miss their scheduled ceremony time because they could always catch the next time slot. Not so for 1:00 weddings! if you miss it, that's it! You are most likely not getting married on that particular day. So why not arrive early and take the extra time to enjoy and learn about some of the history of SF City Hall or get some coffee.
Remember to Bring Snacks and Water. Wedding ceremonies at San Francisco city hall seldom occur on time and can be up to 30 minutes late on busy days like Thursday and Friday. It's important to stay hydrated on this stressful day and to also have a small protein bar handy if needed. Bring some sort of small container that can be used to carry these items and can double as a place to store your paperwork as well. We also try to provide our clients with some of these helpful things, but you may prefer to bring your own food especially if you have dietary restrictions. Protein bars are suggested or anything you like to snack on. A standard size folder will work to keep your souvenir marriage license unwrinkled. We will supply you with a nice folder if you do not have one, just ask!
Take Care of the Marriage License Before your Big Day. The County Clerk's office will allow you to obtain your marriage License and have your ceremony on the same day. We think this is not the best idea. If for some reason you experience technical problems, or documentation issues with your marriage license you will not have enough time to fix them before your ceremony. If possible, come in the day before and take care of the paperwork, it will cause less stress on your wedding day and it's one less thing to worry about! You do not need your witness when you process your marriage license. Of course, we understand that many of you are not able to do that, especially travelers. Just make sure you have unexpired Identification!
Guests Don't Need to Check-in. Before every standard San Francisco city hall wedding the couple is required to check-in at the County Clerk's office prior to the ceremony. Try to check-in about 10 minutes before your ceremony time. This is when you will meet your marriage commissioner and get the marriage license signed by your witnesses. Guests do not need to be there and are not allowed in the office anyway. So when you bring your whole wedding party, it can be disruptive to others and often causes the bride and groom stress. Ask your guests to wait by the Grand Staircase or in the Rotunda area but retain your witnesses. It will make life easier for everyone and they won't miss a thing! Please wait for your city hall wedding photographer before checking in! Note: City Hall is now enforcing the 6 guest maximum rule!
Brides Bring your Walking Shoes! Brides almost always wear new shoes on their wedding day and of course they hurt! Once your ceremony is over, we will take you throughout this beautiful building photographing you at various locations. We are more than happy to allow you the time to change back and forth between comfortable shoes and your "photo shoes". You will be very glad that you did because there is going to be quite a bit of walking to get from location to location in SF City Hall!
Bring a "Wedding Survival Kit". You never know what you will need on a wedding day. Wedding coordinators have created clever kits that contain many of the things that might be needed when small things go wrong on your special day. Examples of potential contents include: Sewing kits, hair pins, scissors, safety pins, cough drops, pain relievers, bandages, duct tape, and other miscellaneous items.
Keep your Guest Count at 6 or under. Unless you booked a reserved City Hall ceremony, the County Clerk will no longer allow large wedding parties to have their marriage ceremony in the Rotunda. All couples with large guest counts (over 6 guests) are relegated to the private room. It seems pointless to get married in the gorgeous building and be stuck in a small stuffy room. Keep the guest list low and then have a big party right after at a nearby San Francisco restaurant and invite everyone!
Allow Extra Time for Post Wedding Celebrations. As mentioned previously, San Francisco city hall weddings rarely occur on time. In addition, there are other factors like traffic and parking to contend with. We counsel all of our brides and grooms to allow cushion time if they are planning an after wedding lunch or dinner reception. This is especially important to us, because if things run late and the couple needs to leave early, the wedding photography session is adversely affected. Thus, one of the first questions we ask our couples when we meet them is if they have a lunch or dinner planned and what time. The amount of times we have had to cut our photography session short because the couple had to leave for their celebration would shock you. Avoid this problem and schedule your party at least 1 hour later then you think you need to.
Have Fun!
Wedding Photography Hint of the Month
The Month of September, 2021 - City Hall has now been open for weddings for almost 3 months and things are almost starting to feel like normal again. The only difference is masks, they must be worn at all times throughout the building. Most officiants are allowing the couple to not have masks during the ceremony and we do the same during our photo session. We just ask that you wear your masks as we walk around the building. They are strictly enforcing the 6 guest rule with the idea of keeping city hall safe and less crowded post-pandemic. As mentioned previously, if you have more than 6 guests, you can opt for a Reserved Ceremony.
Same-Sex LGBTQ Wedding Photography
We have been photographing Same-Sex weddings at City Hall since they were first made legal back in 2013. We were one of the first wedding photographers to focus on helping couples from the LGBTQ community celebrate their long term commitments to each other (and make it legal). Many of our couples in the beginning had been together for over 30 years and were just now getting the chance to receive the benefits that other married couples enjoyed. We had a pretty amazing 2 years of backlogged same-sex marriages and it was a great experience to be involved in their legal unions. Obviously, Gay and Lesbian marriages have slowed down a bit now, but we still are actively involved in assisting this community with their City Hall celebrations. To view a gallery of LGBTQ marriages please click Same-Sex Weddings.
Save Money by Getting Married at City Hall!
How can you have your wedding at one of the most beautiful venues on the West Coast for right around $100 ? (It costs just over $200 if you also obtain your marriage license here). You guessed it, get married at San Francisco City Hall! Yes, it's a public building, but still an incredible value for so many reasons. The gorgeous architecture and amazing history are just 2 factors to consider when contemplating the decision to have your nuptials here. San Francisco is loaded with some other great wedding venues, but most cost a fortune and don't offer the amenities present at city hall. For example, you can't even touch the Palace of Fine Arts as a full wedding venue for less than $5,000. At City Hall, you don't even need to pay for your wedding officiant because the County Clerk's Office supplies one as part of your wedding package for free! This saves you up to $200 or more. They even wear fancy robes and look like judges! However, if you prefer to bring in your own minister, feel free. You can actually have your ceremony anywhere you want in San Francisco City Hall assuming there are no large events occurring at the time. We have a few wonderful officiants we can recommend with affordable prices. A few of them even where the judges robes mentioned above. Besides, once you get married here you will forever be compared to Marilyn Monroe and Joe DiMaggio. Definitely the most famous celebrity couple to tie the knot at city hall. Their marriage is still talked about today in San Francisco. There is nothing stopping you from putting together a small group of your friends and relatives and hiring your own officiant. Your ceremony may not be completely private, but you will be getting married for next to nothing at a spectacular venue. We can help you find a great spot in the building with decent privacy! The ultimate way to keep your wedding costs low. If you need an affordable professional city hall wedding photographer, check out our pricing above.
The Best SF Wedding Photographers at a Discount
However, if you do want a private civil ceremony you can rent out the Mayor's Balcony or 4th Floor North Gallery for $1,000. In these reserved locations, you have the option of paying for your own officiant or the County Clerk's office will supply one for you at no additional cost. Yes, you pay more for a private ceremony, but try to match that price anywhere in the city. It's not possible! To find out more about reserving private ceremonies locations, you can check out the
City Hall Events Office. Because of the compressed schedule for civil marriages, you can hire some of the best San Francisco city hall wedding photographers in the Bay Area for 1/4 of what they normally charge for full-day weekend coverage. You receive the same great quality from these top photographers at a fraction of the expense. Not only are you paying less for these wedding photographers, but you probably will receive a lot more photographs than you would if you were doing a full day wedding celebration. So many things occur at a big wedding that it is difficult to have the time to devote to wedding photography. Not so with City Hall weddings! Planning a big reception after your ceremony? There are a number of great places at reasonable prices that are walking distance away including Absinthe and Soluna Cafe to name just a few. For more casual dining, consider one of our favorites, Patxi's Pizza. Since you are walking to your reception, there is no need for the high cost of renting a limo. Significant savings for the bride and groom in the "City by the Bay"!

Return to Top of San Francisco City Hall Weddings

Visit our San Francisco City Hall Sitemap!
SF City Hall Wedding Photographers
Dubnoff Photography
1142 Sutter Street
San Francisco, CA 94109