Marin Wedding in The San Francisco Bay Area
Please enjoy this recent Marin County wedding with this beautiful couple. We enjoyed this venue for many reasons, including it's very nice Bridal prep room. For those of you not familiar with Northern California, Marin County is located just north of San Francisco, home of one of our favorite wedding venues, SF City Hall. The Marin Art and Garden center had so many great wedding photography spots making it easy to create some great wedding pictures. We covered this wedding from beginning to end including bridal prep and the last dance. As you can see from the photos above, we even captured some nice evening images with the colored lights they had set up. Our couple requested that we provide them with many documentary style wedding photography and we were happy to oblige. As San Francisco Wedding Photographers we pride ourselves in being adaptable and flexible. We ask our brides and grooms the type of style they want for their wedding photography and do our best to provide it. The San Francisco area offers many different wedding photographers all with different styles and attributes. We try to adapt our style to fit your needs and give you what you desire in wedding images!
Have your San Francisco Bay Area Wedding in one Location
Any of us who live in the San Francisco Bay Area understand how difficult it is to get around because of traffic congestion, bridges, etc. I have been a San Francisco wedding photographer for many years and can remember back when Saturday weddings did not present traffic issues. All of the congestion occurred during the week and so it was relatively easy to get around during non-commute times. Unfortunately, with the tremendous growth we have experienced in the Bay Area all of this has changed. Now we have our engaged couples planning their wedding day around potential traffic issues. Making sure, for example, that the reception location is not in a traffic zone in relation to the ceremony. Back in the old days, it was not uncommon for us to have 4 separate locations on a typical wedding Saturday. This would often include the following:
Bridal Prep Location - Hotel or Bride's home.
Ceremony Location - Church or other ceremony venue.
Separate outdoor wedding photography location.
Reception Location.
We are still occasionally asked to do this type of coverage, but now the timeline has to include more cushion to allow for commuting and traffic. More and more people are searching out wedding venues where all of the above can be done in one place. This is definitely the trend in today's Bay Area society.
The Marin Art and Garden Center
The wedding displayed above included one of these types of venues in Marin County. It is called the Marin Art and Garden Center and it definitely provides everything needed for a wedding. It is so much less stressful, especially for the bride to know that once she arrives at the venue, she never has to climb into a car again until the reception is over. So based upon this information, we are going to go out on a limb and recommend that any of you reading this right now consider doing the same. Honestly, it's not so much for us though it does make our lives easier as well. But we are paid to give you our entire day, so whether we are driving or capturing beautiful wedding images, we still need to be there. There are 2 major reasons to have your whole wedding day hosted at one location:
Reason 1 - Less Stress: Your wedding day should be a fun filled day focused on the celebration of your marriage. It should not be a stressful race from one location to another worried about traffic and accidents, etc. There are so many things to worry about on your wedding date, being on time should not be one of them. We definitely notice a difference in the stress level experienced by family members and the bride and groom when they choose a single location wedding venue. It takes a lot of wedding planning in advance, but once the event begins, you can leave everything up to the coordinators.
Reason 2 - More Time: The amount of time spent driving in a car in a typical 3 or 4 location wedding could be better spent with other activities. Obviously, as your wedding photographer, we would love to trade some of the driving time into picture time. You will find at a large wedding that there are so many events and timeline issues that wedding photography can become almost an afterthought. We have experienced many a couple being so tired with all of the movement and deadlines that they feel like skipping the formal shots all together. We recently had one couple who was so tired after travelling to the ceremony site, performing the ceremony, and then posing for family pictures basically tell us that they were done. Besides wedding photography, there is the issue of rest. When the wedding is at one location, the bride and groom can actually have some rest time during the day. This is a nice thing to be able to do and can have a recharging effect for both of them. This is seldom possible with multi-location weddings.
Church Weddings and Other Considerations
We certainly understand that there are certain circumstances that make a single location wedding impossible in San Francisco or anywhere else in the Bay Area. For example, church weddings by definition need to be multi-location. However, I would suggest minimizing the other locations and possibly doing the bridal prep at the church instead of the home. There are many options to consider! As your San Francisco bay area wedding photographers we are more than willing to assist you with your planning and answer any potential questions you may have. Above all, we will provide you with affordable wedding photography coverage and make it fun.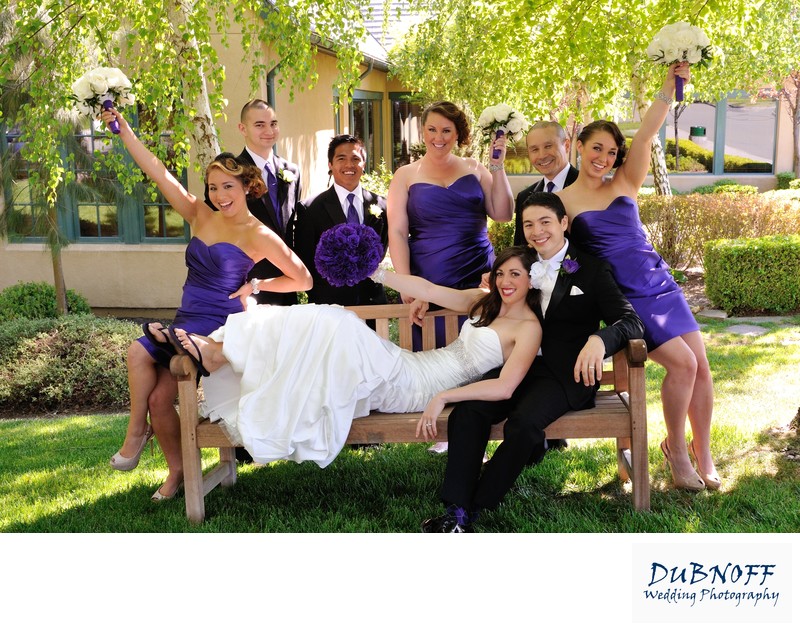 Check out our San Francisco City Hall Wedding Photography page for a different and less expensive Bay Area venue option. We offer many inexpensive packages to fit your needs.