San Francisco Wedding Photographer
Thank you for visiting our San Francisco Wedding Photography page. Dubnoff Wedding Photography is a San Francisco wedding photographer with over 20 years of experience. Whether you are from the SF area or planning a destination wedding to this beautiful city, we have the perfect package to fit your budget and needs. Please view the slide show above to see a recent wedding in San Francisco. Dubnoff Wedding Photography has photographed over 1,600 weddings with many of them being right here in this city. In addition to the large weddings we photograph locally, we also specialize in City Hall wedding photography. City Hall offers small civil ceremonies, but in this beautiful building. This provides us with even more experience working at some of the best and most beautiful SF locations since we do it on a weekly basis. For more information about our SF City Hall specialty, please go to our San Francisco City Hall page. To see more samples of our work click the Wedding Photography Gallery. After our City Hall weddings we take our brides and grooms to many of the places you see below for additional wedding pictures. So these are not just San Francisco venues, they are also great places for city hall wedding photography.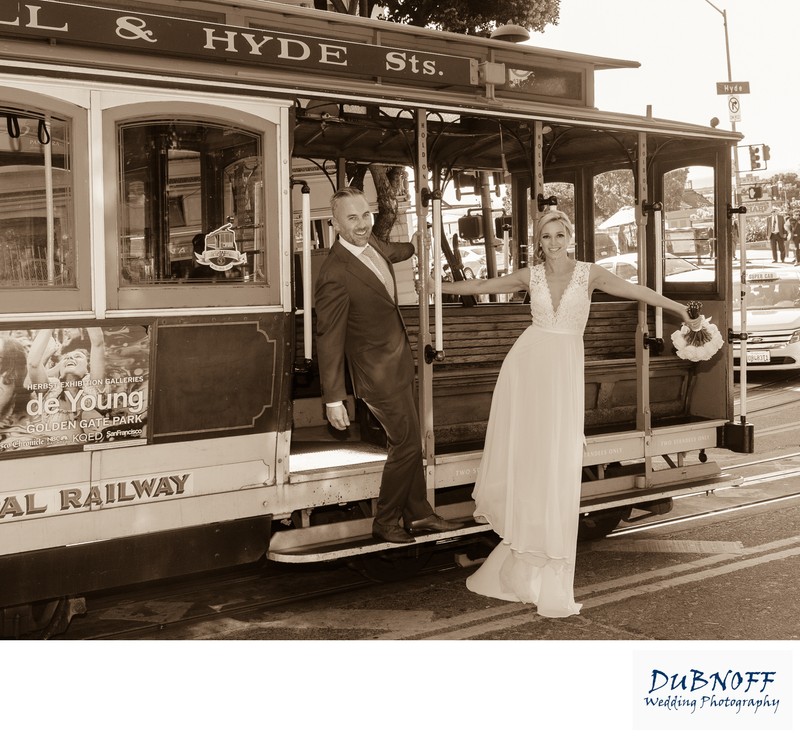 Favorite San Francisco Wedding Venues
Where do I start? There are so many great wedding venues in San Francisco, they are too numerous to mention all of them. Suffice it to say that San Francisco is a wonderful place to have your nuptials. Here is a partial list of some of our favorite wedding venues in San Francisco:
Palace Of Fine Arts - One of the most famous San Francisco venues attracting people from all over the world. It never fails that our international brides and grooms want to go to the Palace of Fine Arts in the Marina District. Also a favorite destination after a city hall civil ceremony.
City Club of San Francisco - A very elegant wedding venue up high in a building with amazing views. Some of the doors open to the outside into very small but spectacular Balconies that over look the city. If you are afraid of heights, stay away from these mini balconies!
The Log Cabin - I love this Venue in the San Francisco Presidio. Not exactly the kind of thing you would expect in a major city. Fantastic views and a very rustic cabin make this an amazingly unique place to get married. Views of the Golden Gate bridge a short walk away.
Presidio Chapel - We might as well stay in the Presidio as we present the Famous Chapel. The setting of this ceremony spot is so surreal, you can barely understand that you are in San Francisco. Very cute and very small! Also close to the bridge for some spectacular wedding photography.
Westin Saint Francis - This is a an old time and very traditional San Francisco wedding venue with all of the elegance of San Francisco. I would definitely label the Saint Francis as Upscale.
University Club of San Francisco - Another great venue in the heart of the city. The interior rooms are filled with wood grain and elegance. Your guests will be impressed with your choice!
SF Italian Athletic Club - Located in historic North Beach the Italian Athletic Club has been around for over 50 years. I love this place and I hat to mention it because my mother got married here over 60 years ago. In the heart of Little Italy of San Francisco.
Absinthe Private Dining - Not truly a full wedding venue, but certainly an amazingly popular San Francisco Reception destination. Especially great for SF City Hall weddings because it is walking distance away. They have a dedicated section just for small intimate wedding receptions.
North Beach Restaurant - Located in the Heart of North Beach, this restaurant has many options for gatherings down below the main dining area. They have rooms for a fairly large gathering or even something small like you would need after a San Francisco city hall wedding.
Foreign Cinema - This wedding venue is a unique type of place to celebrate your Bay Area wedding and definitely represents something different. Only in San Francisco would you find a great place like Foreign Cinema. Definitely in a exciting part of town with lots of night life nearby.
The San Francisco Mint - This is a converted historic building and really ends up making a wonderful place to celebrate your nuptials. If you book your wedding at the San Francisco Mint, it is decorated in a very elegant fashion and will certainly impress your guests.
Cliff House - Another historic San Francisco wedding venue and very popular among Bay Area destinations. We have photographed a few weddings that Cliff House and have loved doing it. They give you the option of having a ceremony in the room or out on the back porch facing the ocean.
Fort Mason Center - Beautiful views of the Bay and the Golden Gate bridge! Fort Mason has a very large facility and can accommodate high guest counts with ease. Fort Mason is a very popular San Francisco wedding venue. I have photographed weddings here multiple times.
Legion of Honor Museum - This happens to be one of our favorite places to take our San Francisco city hall wedding couples for photography. In addition, you can actually get married at the Legion of Honor. Highly recommended! Great views of the Golden Gate bridge just a short walk away.
Conservatory of Flowers - Beautiful flowers and trees line the gardens of the amazing Conservatory of Flowers located in Golden Gate Park. Both outside and inside areas make this a fantastic San Francisco wedding venue.
San Francisco City Hall - Yes you probably figured I would get this in here. We are one of the leading San Francisco city hall wedding photographers for a reason. We shoot here all of the time and we make sure your images are amazing!
San Francisco Wedding Photography for over 20 years
Reading the list above of our favorite San Francisco wedding venues reminds me of just how long we have been photographing weddings in this great city. In fact, we have photographed weddings at every single venue above with the exception of the San Francisco Mint. The Mint is such a great and popular venue I wanted to mention it anyway. Having grown up in the Haight Ashbury district of SF I have a unique prospective of what it is like to live and work here. I feel that this angle helps me be even more effective when dealing with the challenges of wedding photography in a big city. We will definitely know where to take you to help minimize traffic and maximize shooting time. Knowing the lighting at various San Francisco Icons is also quite helpful. For example, some of the best shots of the Golden Gate bridge take place in the late afternoon. However, you have to be coming in from the ocean side to catch that golden light. Baker Beach is one perfect place to do this from. As the sun sets, the light on the bridge becomes even more spectacular and warm. If you are on the Bay Side of the Golden Gate bridge in the afternoon, you will get more of silhouette type of look and more muddy colors. Early morning provides perfect light on the bridge from the Bay side so you just need to know what times to be there and the best angles. We try to mention these types of things, especially to our City Hall weddings couples. The Palace of Fine Arts also varies depending upon when you shoot there. Early morning photography at the Palace in the Marina district can yield incredible results. By the time Noon rolls around the sun does not shine on the building anymore and this does adversely affect the final images in terms of lighting and contrast. As the sun falls behind the Palace of Fine Arts, we see more muddy colors and a grayer looking sky. However, this is a great time to walk around in the back of the Palace and take advantage of the afternoon sun. Hey, it's not always foggy in San Francisco!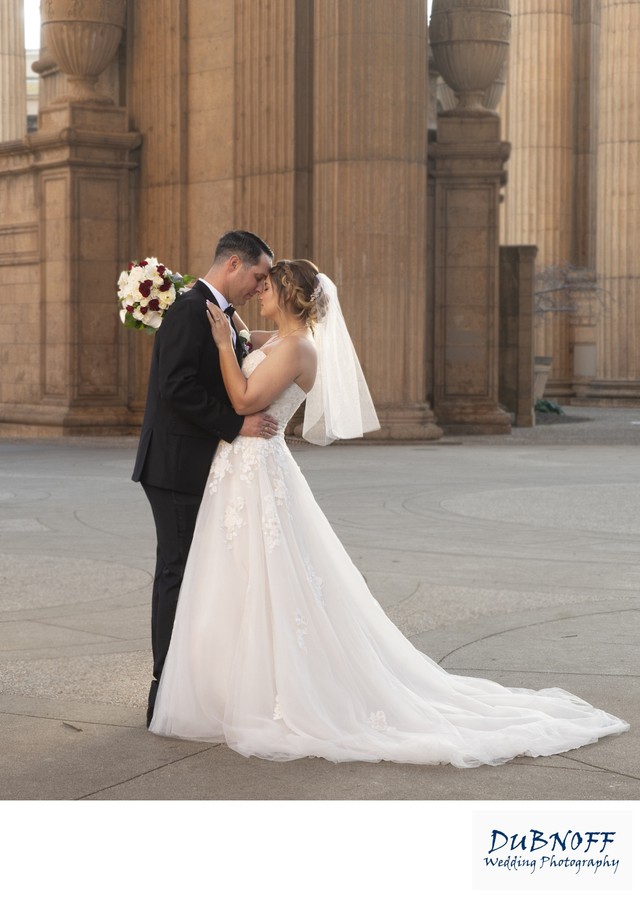 North Beach Italian Wedding
Definitely one of our favorite weddings ever photographed (pictured above) in San Francisco because we just loved working with the couple so much. This marriage celebration was a very typical Italian wedding in North Beach. The Catholic ceremony was at Saint Peter and Paul's church right off of Washington Square and this was followed by a fun reception with great Italian food in North Beach. The couple has a soft spot for a famous local bar called Gino and Carlo, so we took photos all around the building and in front of the sign. Most of the formal photos of the bride and groom were done in San Francisco's Washington Square park. it can be difficult to get clear shots in this park because of the large amount of tourists and locals present, but we managed to pull it off! Unless you go somewhere after the church ceremony, Washington Square Park is the best wedding photography option in the local area. There are trees, some bushes and plenty of grass. Of course being in San Francisco provides so many additional options to take your couple for wedding pictures. Nearby North Beach is the Palace of Fine Arts, Crissy Field and the Golden Gate Bridge. So if the newlyweds can set a little extra time aside, a short trip can be made to one of these locations or others! Another option for a North Beach wedding is Russian Hill. Head up to the top of Vallejo street and magnificent views can be seen up there even on a foggy day at times. We love pictures from Russian Hill and the time it takes to get there is well worth it. Parking can be an issue, but we have ways to work around this.
SF City Hall Wedding Photographer (Reopened!)
If you live you in the San Francisco Bay Area and are engaged to be married, we suggest you consider San Francisco city hall as a potential wedding venue. For the low price of $1,000 you can reserve a small space on the Mayor's Balcony and the Event's Department will set up a very nice ceremony site for you in this beautiful spot. They will also seal the edges of the space to keep unwanted people out including tourists. Let the City Hall Event's department know how many guests you are inviting to your big day and they will set up the appropriate number of chairs for your family and friends. We are on of the leading San Francisco city hall wedding photographers and would be happy to help you with the planning and photography of your wedding. Many people will have their ceremony at city hall and then have their reception at one of the many great reception venues located in San Francisco. Many of them are listed above for your convenience, but there are so many more. We like suggesting places like Absinthe because they are walking distance away from City Hall. The Bay Area has so many wonderful places to get married, but I really love San Francisco because of its diversity of choices and small town charm. Some of the best places for wedding photography can be found here in the City by the Bay.