Blackhawk Auto Museum Wedding
What a beautiful setting for a wedding, especially if you like vintage automobiles! Certainly a perfect location for some great wedding photography with all the props everywhere! This is one of the nicest auto museums in the San Francisco bay area and a wonderful place to have a wedding. Amanda and Dennis chose this Danville venue because they loved the elegance and backgrounds associated with these antique autos.
Professional Lighting Equipment
Photos taken at the museum can be very dramatic, but it makes lighting difficult. There is no way you can shoot a wedding here effectively with a single on-camera flash. Toni and I used quite a bit of off-camera lighting to make these photos as beautiful as they are. We wanted to provide enough light to make sure that the autos in the background showed up nicely, without blasting the couple with unflattering on-camera flash. We used 3 radio slave controlled lights with umbrellas mounted when needed. The lights were strategically placed throughout the ceremony to light the areas we needed, but not actually be seen in the photos. Not an easy task, but necessary at this venue if you want to get professional level wedding photography. I would encourage anyone looking for a Blackhawk Auto Museum wedding photographer to make sure they have the proper lighting equipment. If you are unsure, just ask the photographer about their lighting equipment. They should be able to tell you all the details about how they will handle this dark setting combined with black walls! Just another hint, when asking this question of your Danville wedding photographer, do not give them any hints. For example, you should not ask them if they use off camera lighting. Obviously, the answer will most likely be, "yes we do!" Instead, just ask an open ended question. I would just point out to the wedding photographer that the Blackhawk Auto Museum is quite dark and then ask them how they would handle it!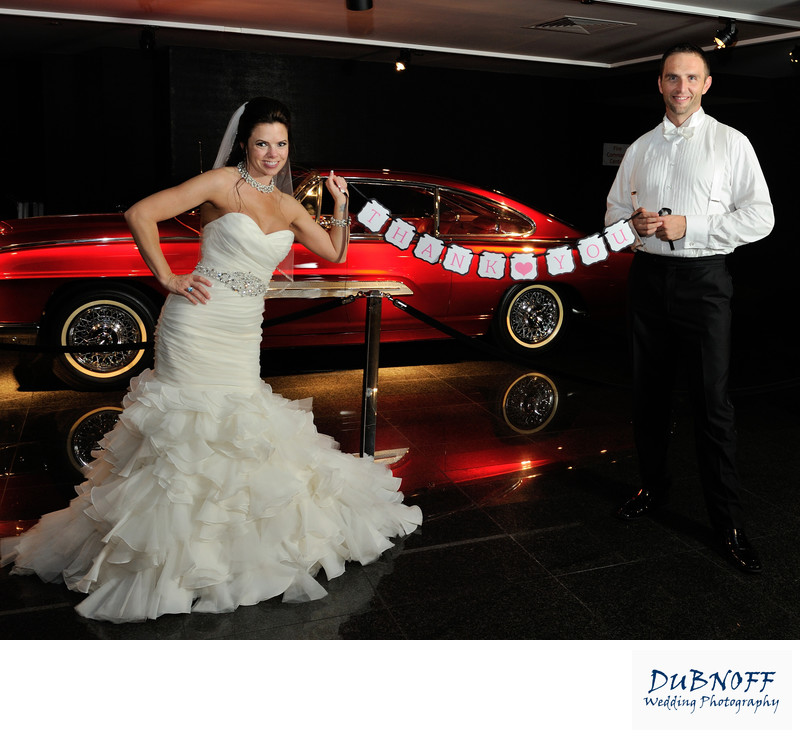 Fun Wedding Reception in Danville
We handled the wedding reception the same way, placing lights around the dance floor and used them when needed. Fortunately, the autos also have their own lights shining on them from above which helped make them stand out in the backgrounds. The Auto Museum's own lights were subtle enough to not distract from the photo. We took the bride and groom on a tour of some of their favorite autos later on during the reception and got some truly classic shots! Of course, I couldn't help but ask them if they wouldn't mind posing in front of one of my favorites too! The photo above provides a nice idea for newlyweds to send a clever and fun thank you card for their gifts. Posing in front of one of their favorite cars at the Blackhawk Auto Museum made it even better! Their wedding reception was so much fun and they definitely incorporated the cars into the party.
San Francisco Bay Area Venues
Blackhawk Auto Museum is one of many venues we have photographed in the San Francisco area. We are blessed to be in the middle of some of the best reception and wedding halls in California. This one stands out in our minds and we love to come here whenever we can. We have photographed and attended many events at this venue and really love it despite the lighting challenges. The food is also amazing (supplied by Scotts Seafood) and the parking plentiful! Important factors to consider when choosing a wedding venue. Definitely one of our favorite Danville wedding venues and we hope to be back here soon!