Berkeley City Club Wedding Photographer
Such a great wedding at the Berkeley City Club. Amanda and Andrew actually had their ceremony at the nearby Catholic church, Saint Mary Magdalen. The couple got ready for their big day at the Double Tree Hotel in Berkeley. A fantastic San Francisco bay area wedding at some beautiful spots.
The Guys at the Double Tree Hotel in Berkeley
My shooting partner, Toni went to the Double Tree Hotel at the Berkeley Marina to get some shots of the Groom and his Groomsman before the ceremony. She took them to various places around the Hotel and captured some very fun pictures on the the guys. As you can see from the gallery, some of these shots included the guys on Skateboards and also jumping shots around the Limo. Some of the best types of wedding pictures of groomsman involve them having fun and goofing around. These guys especially were wanting to make it very fun. Definitely was a memorable shoot for all involved. Such amazing views of San Francisco from the Berkeley Marina, not to be missed!
Bridal Prep at Berkeley City Club
Our day started with Amanda at the Berkeley City Club. A beautiful spot with nice sized, elegant rooms. The vintage look and décor of the inside of the rooms complimented Amanda's very classic looking dress. A nice surprise for us was her very little daughter who we quickly incorporated into our wedding pictures. What made this even more fun was capturing images of the bride helping her daughter get ready for the wedding. Usually our bridal prep pictures mostly involve everyone attending to the bride, but this was a chance to show the bride helping her own daughter and their special bond. As you can see from the photos above, we were able to record some precious memories between mother and daughter. As we later learned from Amanda, these pictures were some of her most treasured from this part of our wedding photography coverage. We feel like they were some of our best wedding pictures of the day also. You never know what you are going to be faced with when you photograph a wedding, sometimes the unexpected becomes the best part of the session.
Wedding Ceremony at Saint Mary Magdalen Church
I was happily surprised to arrive at the church and see that my favorite Pastor, Father Mangini, had come from Clayton to officiate and perform their wedding ceremony. There were 2 nice things about this: 1. I am friends with this pastor having worked with him in the past and also with his involvement at our local catholic school. 2. I had also photographed weddings with him in the past and so I knew his rules for the ceremony. The ceremony was amazing and they incorporated their daughter in a wonderful way making the service even more special. Both bride and groom were very attentive to their little daughter and we captured this interaction through our wedding pictures. Wedding Photography in San Francisco Bay Area churches can be challenging because many of them are old and not well lighted. This particular day was sunny and so it definitely helped with the natural light within this iconic church in Berkeley, California.
Wedding Reception at the Historic Berkeley City Club
The City Club is an amazing old venue with many great indoor wedding photography backgrounds. It's been around for a hundred years and was originally a women's sports club (one of the first for women apparently). The arches throughout the building create fantastic and elegant backdrops for indoor wedding photography. We enjoyed exploring this building and finding unique places to photograph the couple. The outside area also provides a few nice places, but what really sets this venue apart is places like the old Library the staircase and the main hallway. The best Berkeley City Club wedding photographers all understand that you have to capture a beautiful image of the bride and groom in the main hallway. You can see that we took great advantage of these areas in our City Club wedding photography tour that occurred right after the ceremony. One of my favorite pictures from this evening was also one of our last. The couple let us know that their daughter loved to be picked up by her arms and swung. This was somewhat of an early family tradition for them and they definitely wanted it captured in their wedding pictures. The results speak for themselves! We have returned to the Berkeley City Club and it remains one of our favorite wedding venues. We have also heard that is is affordable given the facilities offered to you.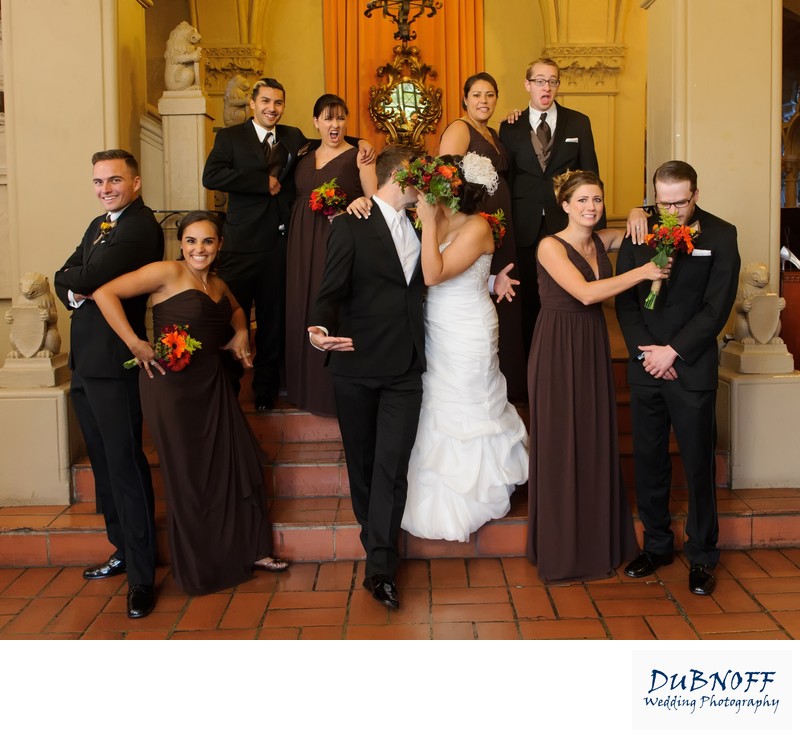 We are still in touch with Amanda and Andrew and have enjoyed watching their growing family. One of the benefits of being in the San Francisco Wedding Photography business is the impact you can have on people's lives. We have made many great friends over the years doing what we love, San Francisco bay area wedding photography. We also specialize in San Francisco city hall wedding photography.