Listing of Favorite Livermore Wine Country Wedding Venues
I have compiled a list of our favorite venues in the Livermore Valley and Pleasanton from a wedding photography standpoint. There are also a number of other Livermore Valley wineries that offer wedding events at affordable prices. Please feel free to email us if you feel we have missed something important! We truly feel that the Livermore wine country is one of the preeminent wedding and event locations in the Bay Area. Many of them are more event venue then Winery, but the wines are still decent. One thing that these wineries all have in common is that we have worked at all of them sometime in the past. In some cases, multiple times like The Palm Event Center and Wente Vineyards. All of the below venues we have photographed at least twice.
Palm Event Center - A beautiful SF Bay Area venue with MANY of options for wedding photography. We always love venues that offer nice picture taking opportunities both inside and out and Palm has this in spades! There is the fantastic cellar room for wine enthusiasts and of course the grape vineyards out in front. In addition, there are lovely pathways around the building and then the palm trees that line the main road leading into the event center. The Palm Event Center is a long time favorite of ours and we have always found it easy to work with the wedding coordinators there. We have photographed dozens of weddings at the Palm Event Center which is actually located in Pleasanton close to the border of Livermore. Many think of the Palm Event Center as a Livermore Wine Country Winery which is why we have listed it here.


Wente Vineyards - We enjoy the outdoor picture taking spots better than the indoor options at Wente. However, you can ask to go into their cellar room and they will often let you. This is a real treat with many awesome backgrounds and lighting opportunities. There is a large grassy area at Wente with a path that goes clear around it. This makes for a very convenient post-ceremony photo shoot area to take our Brides and Grooms! What makes it so fantastic is how compressed all of the good picture taking spots are. By this I mean that we can walk around this very large circle and create dozens of different looking images. This can all be completed in less than 30 minutes which makes it great for those couples who have a limited time at the venue and want to get the most for their money. This becomes an important factor as many San Francisco Bay Area wedding venues are more spread out and require a lot more time to cover all of the nice locations. Plus you don't have to leave the property which is a huge plus! At certain times of the year, there is also a nice Rose Garden to use as a backdrop out by the parking lot. Wente Vineyards in Livermore has been hosting weddings and events for decades and this experience shows! We have photographed close to 10 weddings at Wente. The wine is fantastic here and they have something for everyone!



Garre Vineyards - Another favorite of ours, especially since they remodeled the whole event center. Garre used to be a winery that offers weddings, now they are largely an event venue with a great facility. From a photography standpoint Garre is definitely above average. Lots of nice little places to use for backgrounds and quite a bit of shade. My only problem is that the entire outdoor ceremony area is surrounded by parking lots so it's almost impossible to shoot a wedding there without cars in the background. If you decide to have your wedding ceremony at Wente, be sure and discuss these factors with your wedding photographer. There are things that can be done to minimize the parked cars in the background. I would even suggest that brides and grooms consider facing their ceremony in a different direction if possible. I realize this would be a radical departure from the norm at Garre because they are usually set up a particular way. Even with this one small issue, I would still rank Garre Vineyards very high as a bay area wedding venue. The indoor facilities are beyond compare and completely modern. Plenty of space for even the largest of weddings. My most recent wedding here had over 250 guests and there was more than enough room! We have photographed 6 weddings at Garre Vineyards in Livermore. Only one of these has been since they remodeled.



Casa Real at Ruby Hill Winery - We have photographed 4 weddings here and our results have been fantastic! Another venue that really seems to cater to their vendors. We have 2 favorite wedding photography spots here: The light in front of the building in the little hallway area is amazing at certain times of the day and can be a great place to take the bride and groom. If you face your subjects the right way, you can obtain something that resembling professional studio lighting. Once you have completed the wedding photography here we can venture out to the back are behind the reception room where the vineyard is. If possible, save this photographic area for Sunset time. Casa Real also offers very easy access to some very nice looking grape vineyards. They have a strict policy here that prevents wedding couples from going over to the tasting room! This also means that we cannot due wedding photography in the tasting room, but there is so much else here that is great for taking pictures so it is not a problem. We really love Casa Real at Ruby Hill for so many reasons and would be happy to discuss your wedding plans at this venue in more detail.



Murrieta's Well -

This very romantic Livermore Wine Country location is tucked away on a hillside with an amazing cellar room that opens up with 2 giant doors. The picture taking options in this area alone are spectacular. In addition, the hillside offers beautiful flowers and landscaping. If you are willing to climb up to the top of the hill, there are some nice grape vineyards available for wedding photography. We love shooting weddings at Murrieta's Well and have been here about 5 times. They were closed for remodeling for quite some time, but are open now and doing great! Highly recommended as a top Bay Area Venue. For those that dont know it, Murrieta's Well is run and owned by Wente Vineyards.



Poppy Ridge at Livermore -

Located in Livermore, Poppy Ridge offers incredible views and acres of vineyard land to look at. The inside reception area is fantastic. The only issue at certain times of the year is the lack of shade. It can get hot! The lack of shade is a result of the fact that Poppy Ridge is a relatively new wedding venue and the trees have not had a chance to grow up. The ceremony site is beautiful and over looks the golf course, but you will see that it is pretty wide open which can make things hot during the summer months. We love this Livermore Valley wedding venue but would suggest you book it in the spring or late Fall. Try to avoid the hot summer months if you can. To discover more about this great

Livermore wedding photography venue

, click the link.



Elliston Vineyards -

It's actually been a few years since I photographed an event at Elliston. Located in nearby Sunol, this venue offers a nice rear patio and a beautiful ceremony site. They no longer allow you access to certain parts of the mansion, which is too bad because it was was a lovely spot for wedding photography. There are still plenty of nice places to photograph the couple at Elliston Vineyards including the deck area and out in front by the vineyards. Another great winery that seems to be more about events then wine, but this is okay if you are an engaged couple looking for that perfect venue. I honestly should not comment on the wine here because it has been years since I sample it. I just know that I have not heard much about Elliston Vineyard wines. They may actually be fantastic so I would suggest Brides and Grooms check it out for themselves. They are open for tasting throughout the year and are located in Sunol right next to Livermore. A beautiful location out of the way and very private.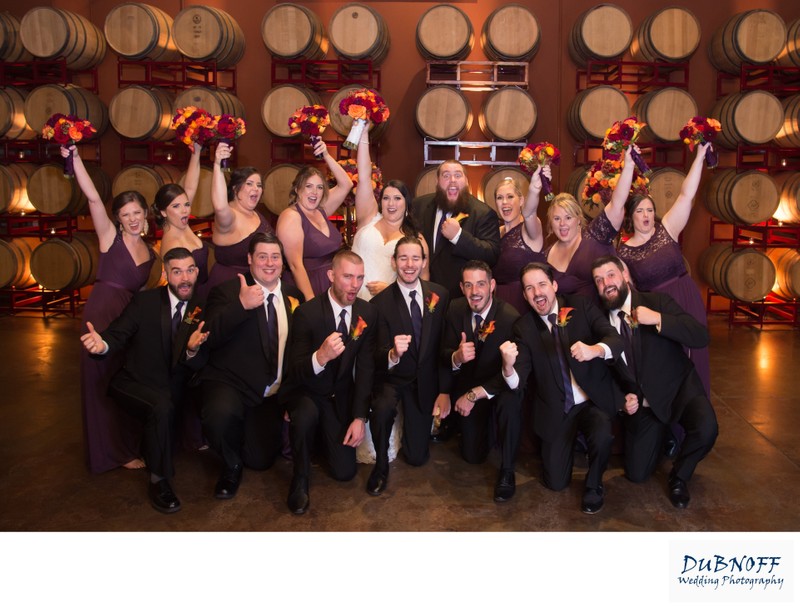 Improved Livermore Wedding Photography
We bring up the issue about vendor treatment for a number of reasons. As I just mentioned, Livermore wineries seem to treat their vendors with more respect and work with them to make sure the bride and groom get the best service. Here is one example of what I am referring to: It has been our experience over the years that many venues choose to feed the wedding vendors last. They do this because it may seem logical to prioritize the wedding party and the guests over the hired help. While this may seem to make sense on the surface, it actually causes problems. The best time for the vendors to be eating is when the bride and groom eat. Why? Once the couple is done eating they start to wander around and greet their guests. The wedding photographer, the videographer and the DJ need to be back in the room when that is happening. So if you actually want the vendors to eat, it is not in the couple's best interest to wait to feed them at the very end. To be honest, when we are faced with this decision, we will just NOT eat. As wedding vendors, we are not brought to the event to eat, we are there to do a job.
If you are reading this, you might say, who cares if the wedding photographers eat dinner. I agree, but my point is that sometimes we are sent away to grab a bite and next thing you know, we are missing important things occurring. The main point here is that these newer venues like Casa Real and the Palm Event Center are a little more forward thinking and definitely try to work things out in a logical fashion and this benefits everyone! Just so you know, if you are planning on booking a Livermore wedding and want to hire us as your professional wedding photographers, we promise that under no circumstances will we allow our eating a meal to affect the quality of our work. We only bring up this point to focus on our feeling that Livermore venues seem to be more attune to working with their vendors than other San Francisco Bay Area establishments.
Event Centers and Wine Quality
One of things I always question when I photograph a wedding at a winery is the quality of the wine versus the suitability of the venue for large events. I believe a lot hinges on what the venue was originally developed for. I would argue that many Event centers in the Livermore Valley and Pleasanton are largely centered around hosting events. For our purposes along with the couple, I obviously think this is an advantage. Just don't assume the wine will be excellent also. Many are, but not all! Again, I only bring this up as service to our potential brides and grooms. We have heard on numerous occasions that the couple was disappointed regarding the wine served at their Livermore wedding reception. Please understand that this is not a negative comment on the overall wine quality in the Livermore Wine Country. Not at all, in fact Livermore Valley is responsible for making some of the best wines in California and beyond.
We only mention this to make our couples understand that they should not trust that just because they are having their wedding reception at a winery, that there is some sort of guarantee of great wine being served. Be sure to test the wine being served and bring a few friends to help you sample the wines the venue plans on pouring. I would suggest a minimum of 4 people to take part in a wine tasting with the vineyard. You will find that Livermore wineries deliver some of the finest wine values in the San Francisco Bay Area. Great pricing with exception quality.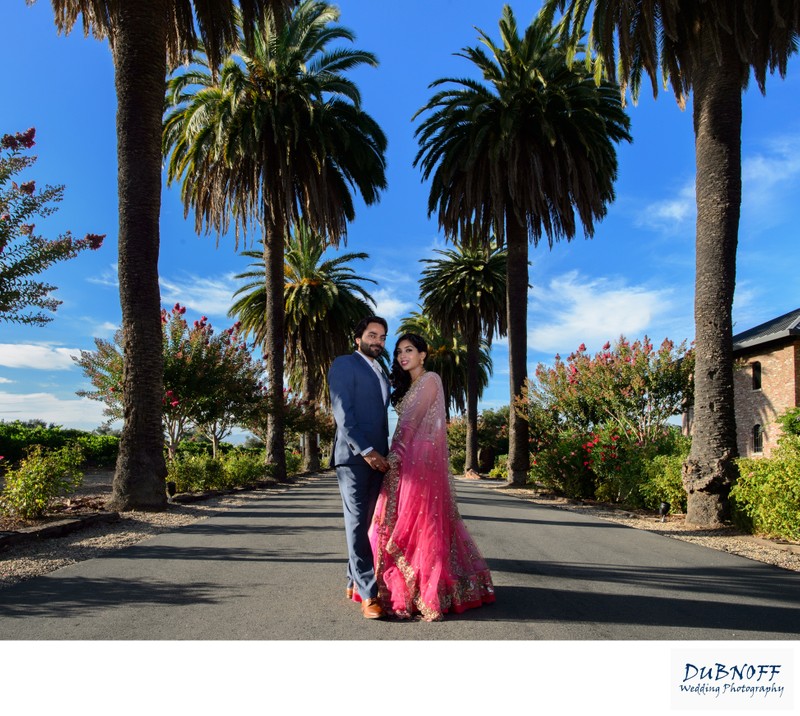 Wedding Photography Experience Counts!
Dubnoff Wedding Photography has been a wedding photographer in the San Francisco Bay Area for over 20 years. Our images combine an ideal blend of photojournalism and traditional wedding photography. This means that your wedding will be photographed in a Documentary style, but we will still be actively involved in making sure you get all of the photos you need. We know how to set up your family photos and do your formal wedding photography posing. Our experience will help us create photos that are professionally lit using both Natural light and flash.
If you have chosen the scenic Livermore Valley area as a place to have your wedding, you owe it to yourself to chose a wedding photographer you can trust. We have photographed over 1,400 weddings in Northern California creating lasting memories for our couples . Once the wedding is over, all you have left is the photographs, why not choose a wedding photographer who has experience at your venue and knows where to take you for the best pictures possible. At Dubnoff Wedding Photography all of our packages include at least 2 wedding photographers present at your event. We have affordable packages for every budget and coverage time.
To check our availability for your wedding day, please use our Contact page. We will send you a response within 12 hours letting you know if your date is available and answer any questions you may have. Mike Dubnoff has been a wedding photographer in the San Francisco Bay Area since 1995. Serving from San Francisco to Stockton and San Jose to Northern Sonoma and all areas in between. Call Dubnoff Wedding Photography today! Please check out our San Francisco City Hall Pricing page for photos of recent weddings and the latest news. We also specialize in City Hall Wedding Photography, if you are interested in learning more, please click San Francisco wedding photography. For San Francisco City Hall Yelp Reviews click the link.
Why Have Your Wedding at a Winery
Major Vineyards are sure to have top notch accommodations nearby. If you are like most people, chances are you will be inviting out of town guests to your Livermore wine country wedding. Choosing a vineyard type wedding venue ensures that there will be superior hotel accommodations nearby. This makes it very convenient for your guests and provides them with the opportunity to turn your wedding event into their own abbreviated Wine country vacation getaway. Plus the hotels nearby are accustomed to catering to wedding parties which is helpful.
The booze will be brilliant. You don't have to worry about the bar when you have a wedding at a Livermore winery. You will be able to serve great wine and other related alcoholic beverages. You can even arrange for a special wine tasting party for the wedding group through the winery. This is a very popular before the wedding thing to do these days. Lots of fun and also helps some of the wedding party participants bond that don't know each other. Bonding over wine is relatively easy!
The Wedding Photography will be incredible. Livermore wineries (and others) offer many options for a wedding photographer to drool over. Why? The main reason has something to do with the fact that virtually every winery offers nice indoor AND outdoor places to take wedding pictures of the bride and groom. Most wineries have big cellar doors and also a barrel room for great indoor photo opportunities. On the outside you will have beautiful building architecture and combine that with shots out in the vineyard itself. One of my favorites things to do when photographing a couple is to take them down a few vineyard rows for great depth and beauty in the shot. It can really make for a spectacular image and obviously is well suited to the theme of the wedding.
Have your wedding indoors and outdoors or both! The facilities at most wineries offer many alternatives for your ceremony and reception. Venues such as the Palm Event Center have a gorgeous and spacious barrel room for an indoor ceremony. Out in the backyard, you will find a large lawn area which has lots of room for partying. Your guests can even wander out into the romantic vineyard and check things out.
Stuff to do in the immediate vicinity. Because the California wine country draws lots of tourists from all over the world, other areas of interest tent to pop up. Whether it be car museums, fancy hotels, or rock concerts, there always seems to be a multitude of things for people to do in the area. This is great when you are inviting guests to your wedding from other part of the country. They will be able to keep themselves entertained before and after the wedding. The Livermore area is growing and is hosting more and more events. Wente Vineyards has been doing these types of events for years!


Livermore Wedding Photography with a Smile
We are more than thrilled to be chosen to photograph so many Livermore Valley weddings. We enjoy the winery setting so much and are wine lovers ourselves so it's a perfect fit for us. We promise that you will receive the most friendly service possible from your Livermore wedding photographers. We pride ourselves on making sure we always keep a friendly demeanor even during the most demanding weddings. Our couples deserve the best photography service and we deliver it! We enjoy what we do and it shows. We definitely want to be your best option for quality and creative Livermore wedding photography.
How to Search for the Best Wedding Photographers
Where do you start? Any married couple would love to have the best wedding photographer possible for their Livermore winery wedding, but how do you find someone amazing? What are the best steps? I will attempt to go over some of the best ways to search for and select the best Livermore wedding photographer.
Searching on Google or other search engines - This is a good way to generate a list of quality and well established wedding photographers. Chances are that most of the search results appearing on the first page will be companies that have been around for a while. Google gives some priority to websites with some domain age. In other words, they have been in business for many years. Is this the only factor? Not even close, but it is a factor. In general, however, the top ranking Google sites have nothing to do with picture quality. It has more to do with how adept the wedding photographer's website professionals are with SEO (Search Engine Optimization). So feel free to search for wedding photographers on Google, but don't think that because you search for "best wedding photographer" you will actually find the best. Take your resulting list and do some additional research. Call each photographer and see how quickly they respond and of course, check out their work. It has to match your own personal taste and style.
Search on Yelp for Local Wedding Photographers - You can either take your list for wedding photographers from the Google search results and check them out on Yelp or just search on Yelp itself. Once you have found some Livermore wedding photographers that look good, check out their Yelp Rating, but more importantly read the actual reviews. I feel like you learn a lot more about the quality and style of a wedding photography by reading the details and not just going by scores! Keep in mind that many of the Reviews appearing on Yelp were requested by the wedding photography company because they were aware that the particular couple was happy. So while this is still a good thing, I highly recommend reading the details to find out WHY they loved this Livermore Valley photographer.
Talk to Your Wedding Venue - This one is a little tricky because many Wedding Venues now have built in approved wedding photographers. This is not necessarily a bad thing, but I am not sure how accurate the recommendations are. That being said, it is definitely worthwhile to at least ask. I strongly recommend asking follow up questions once the suggestion is made. A simple question is "Why them?" Make the venue coordinator tell you why they are recommending this wedding photographer. Ask for specifics and make sure the answers they provide you match the style and quality you are looking for. A major advantage of hiring a professional wedding photographer that has been suggested by the venue is that they have experience shooting there. This is very important and will definitely have an impact on the quality of your final photos. You want a wedding photographer who knows where to take you on the property and has done it before. You don't want them to miss a thing!
Talk to recently married friends and relatives - This one is obvious and should be one of the best ways to ensure you find a great Livermore wedding photographer. However, even this solution has potential problems. To be safe, don't just take your friend's word for it. Ask them to show you photos from their wedding. If the style and quality you see matches your needs, then go for it! But not before you have spoken with the photographer and feel comfortable. Even with a wedding photographer referral from a friend, I would still go through the other steps listed here. Why not?
Things to avoid: The most important thing to understand is that you can pretty much completely ignore Wedding Vendor referrals unless you know the vendor personally. Why? Because many wedding vendors simply trade referrals with other vendors. I have had multiple wedding vendors offer to refer me to their clients if I would agree to refer them mine. How does this help the bride and groom? it doesn't! At the very best, the wedding vendors referring each other might have worked together at an event. But can a DJ or Cake person really make a recommendation of a wedding photographer if they have not even seen the work? Not likely. I know a DJ who very nicely recommends me to his clients which I truly appreciate, but he really has never seen much of my work. We work well together and that is a good thing!
Family Heritage in San Francisco Art
It started with my mother who is an accomplished San Francisco Artist. For many years, she has been painting San Francisco scenes including Victorian houses and other iconic destinations. As a young boy, I wanted to emulate her and find my artistic outlet, but I was not much of a drawer or sketch artist. Finally, my dad gave me his Nikon camera and I was hooked on photography! I spent an incredible amount of time taking pictures of everything including my friends. As time went on, I even used my girlfriends for practice models. But my love of San Francisco comes from being a native and having a mother who loved painting scenes from the city. Despite not inheriting my mothers painting skills, I feel like I was blessed with some of her artistic ability, but it came in a different way. My mother's other love was painting vineyard scenes so it always strikes me that 2 of my specialties within wedding photography are San Francisco weddings and Livermore winery weddings. I believe that wine love runs in the family!
About Your Livermore Wedding Photographers
Mike and Toni team up to provide you with the ultimate Livermore Valley wedding experience. Their combined 40 years of wedding photography experience will ensure that you receive amazing wedding photography but also friendly service. One of the reasons we decided to create this website specializing in Wine Country wedding photography is because we both have successfully completed so many weddings in this area that we have become experts. We know where to take our couples after the ceremony is over depending upon the time of the day or season.
Each Livermore venue has its own unique qualities and it is important to hire wedding photographers who can recognize these attributes and deliver them to the bride and groom. Familiarity with each particular wedding venue really helps with photo quality. It also prevents you from missing something important at your carefully chosen location. We like to think of us providing personalized service to each of our couples for their Livermore wedding. We do this by getting to know what you are looking in terms of style and romanticism and then custom tailor our photography coverage to you. We also offer all of our couples affordable wedding photography packages to choose from.
Photography Equipment
Both Toni and Mike use Nikon cameras for their Livermore wedding photography assignments. We currently have a Nikon D780, Nikon Mirrorless D6II and a Nikon D800. We use some of the sharpest prime lenses available on the market including a 35mm 1.4, 85mm 1.4, and a 20mm 2.8. In addition to these prime lenses we use a number of high quality Nikkor zoom lenses including the very popular 24-70mm 2.8 and 16-35mm 4.0. We also sometimes deploy the legendary Nikkor 180mm 2.8. This is one of the sharpest lenses I have ever used! Despite all of this great equipment, we firmly believe that the most important part of all of this are the photographers themselves. Today's Camera equipment is so advanced that virtually any of the newer cameras will do the job at your wedding. It's the person holding the camera that matters! That being said, we definitely try to update our equipment often to make sure we have cutting edge equipment and the latest innovations in camera technology.
We Photograph all of our Livermore Weddings!
We never use outside subcontractors or temporary workers. We will not book your date if one or both of us are not available to shoot your wedding. Our second shooters have all worked for us multiple times and fully understand how we work. This type of approach ensures that our clients receive a consistent result throughout their wedding album or listed pictures. More importantly, it gives you, the client a realistic understanding of our style and how your own photo shoot will turn out. Imagine a photography studio that uses mostly outside contractors. Why even bother to look at their photos displayed on the website. Who knows who took the photos that are up on these websites? Does it provide you any real idea of how your photos will look? The obvious answer is no. On our website, ALL of our photos were taken by our own photographers so when you book us, you know what you will be getting! Toni and Mike are your primary photographers and one of us and most like both will be your wedding photographers. 95% of all the photos on this site were created by Mike and Toni.
Wedding Photography Style Choices
This is a very common question asked of us. What is your wedding photography style? Perspective clients always want to know if we take lots of candid photos. They want to mood captured of their wedding and all of the fun recorded for future memories. We cover your wedding in a documentary style which means that your final result needs to tell the story of your day. In my mind, however, this does not mean simply showing up to your wedding and snapping off 1,000 candid shots and then leaving. You need a Livermore wedding photographer who will involve themselves in your photo shoot, but remain unobtrusive. There is more to wedding photography then being a "fly on the wall" as some people like to refer to themselves as. We will be actively involved in helping the bride and groom create amazing and memorable pictures, but we also know when to back off and let things happen. We will pose the bride and groom but we will NOT over pose you. You will feel comfortable and relaxed with us throughout the photo shoot!
FAQ - Livermore Weddings
This section will hopefully answer any of the more common questions facing a Bride and Groom who are contemplating hiring a wedding photographer for their Livermore Wine Country wedding
Q. How long have you been photographing Livermore Winery Weddings?
A. We have been specializing in Wine Country wedding in the Livermore Valley for over 15 years. In addition, we have over 25 years of San Francisco Bay Area wedding photography background.
Q. What is your style of Wedding Photography?
A.We love using light to create beautiful images. We will sometimes use natural light or professional lighting equipment. The key factor is making she the images don't look flat. We do this by creative use of back lighting and rim light. We provide our wedding clients with an ideal blend of candid and traditional wedding photography.
Q. What type of Wedding Photography equipment do you use and is it important?
A. We use Nikon Equipment exclusively. Our cameras include: Nikon D4s, Nikon D750, Nikon D800, and Nikon D7200. We also have a wide variety of lenses made by Nikon including the coveted 180 mm 2.8, 85mm 1.4, 24-70 2.8 and a 16-35 4.0. Having quality wedding photography equipment is important when photographing Livermore Winery weddings, but not as important as the skill and talent of your wedding photographer. Most of the professional equipment available today is capable of taking great wedding images.
Q. How long do we have to wait for our Livermore Valley Winery wedding pictures?
A. We will have your images ready for you to view in 3 weeks. All of your images will be fully edited and this includes Cropping, color correction and exposure accuracy. You can download your full resolution images files directly from your own secure site or we can send them to you via Dropbox.
Q. We are on a tight budget and none of your packages seems to fit our needs, what can we do?
A. Easy, we will build a package around your budget. We offer custom packages for our Livermore wedding clients. Just let us know what your budget is and we will present you with a package that works for you. Perhaps you may have to compromise slightly on your coverage time, but the point is, we want to make it work!
Q.There are so many great Venues in the Livermore wine country, how can we choose the best one?
A. There are many factors to consider as you might guess. If wedding photography is important to you, I would first say to check out galleries featuring various venues and see which ones you like the best. The next step would be to check out Yelp or another Review site to see what others are saying. Lastly, tour the facility and then ask if you could visit when a live wedding is going there. This can often be the best way!
Q.What she would do to prepare for our wedding photography session with you?
A. This is a pretty easy question to answer and one that we are asked frequently. There really is practically nothing you need to do and some of the things we hear are incorrect. For example, we often hear that the bride's make-up should be put on heavier for pictures. This is a myth that I believe came out of the movies. Film actors and actresses are asked to put on more make-up but this is to compensate for the heavy lighting they will experience during shooting. Most photographers will not subject you to heavy lighting. I would only suggest that you bring a few props that are important to you. For example, if you are wine drinkers, bring a couple of glasses of wine!