Helpful Hints for your San Francisco City Hall Wedding
We have been photographing weddings at San Francisco city hall for over 12 years and have learned quite a bit in that time. We thought we would share some of our insights and ideas for helping make your city hall wedding go as smoothly as possible.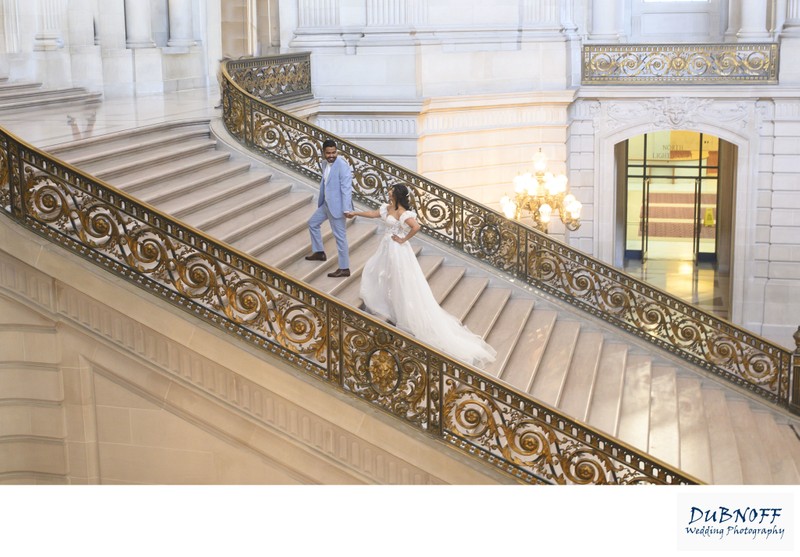 Best Time to Book your Wedding at San Francisco City Hall
Yes, this is a common question and one that is not easily answered. After all, this is San Francisco, the weather and thus the light can change in an instant because of incoming fog and other reasons. We shy away from making specific recommendations because of the variability in not only the outside weather, but also the crowd flow. Assuming that there is no fog, the morning light can be quite riveting. It tends to be soft and mellow with useful spots coming in through the south facing windows. Of course, this too is widely variable based upon the time of the year. In the morning during the early spring, the sunrise comes through the front doors and bathes the Grant Staircase in natural light. Mid-day offers slightly harsher light with a more neutral color. We will make good use of our off camera professional lighting no matter what time of the day it is, but we especially like to use it around noon. As it gets later in the afternoon, the light becomes warmer and very controllable with some beautiful photo opportunities using the North facing windows. There are almost too many variables to choose the best time to do wedding pictures at San Francisco city hall, but one thing is for sure, there is always an amazing place to go! This is one of the reasons that I let my future wedding clients know that they do not need to worry so much about the time from a photography standpoint. I always let them know that they should book a time that is most convenient for them and their family. They can leave the wedding photography to us.
Crowd Timing At San Francisco City Hall for Photography
We also need to consider the best times of the day to avoid the crowds at SF City Hall. Before 10:00 am there tends to be less tourists wandering around, though weddings have already started by this time. On a typical summer day, the tourist and wedding traffic begins to diminish after 3:30 pm. Of course later afternoon also brings the possibility of Special Events occurring at San Francisco city hall so this can sometimes close down certain parts of the building for wedding photography. Not to worry, our professional experience at this historic building helps us navigate these challenges and we will always find wonderful spots to take you for your pictures. Of course the time of the day is not the only factor affecting the level of people at City Hall. The day of the week also plays an important part in this decision of when to have your wedding. Tuesdays and Wednesdays tend to be the most quiet with Fridays being the most busy. Here again, I would not worry too much about crowd at City Hall. We seem to always be able to find quiet places to take your wedding pictures no matter what time of the day or day of the week you choose.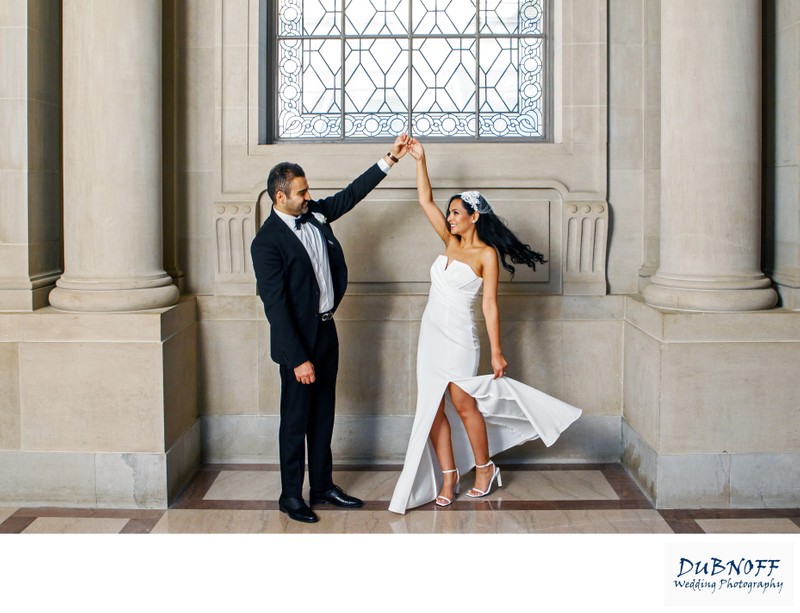 External Factors Affecting City Hall Wedding Photography
As mentioned, all of these lighting nuances change with the fog. As it rolls in our lighting changes with it and we have to adjust. You may walk into San Francisco city hall on an early morning foggy day and it seems so dark in the building you wonder if it's day time. This rapidly changes as the day wears on, but it is important to understand why you will benefit from hiring a professional city hall wedding photographer to deal with these challenges. During the winter creative lighting opportunities emerge because of the low sun position. In December through February the low angled sun shines directly into the city hall windows and patterns on opposite walls are created. This allows to place our couple right in the light spots and can make for very unique portrait images. I have included an example below since we are currently in this season. Please check it out!
Consider a Reserved Wedding at SF City Hall
Reserved weddings take place in either the Mayor's Balcony or the 4th Floor North Gallery. When booking either of these locations, you receive the added advantage of privacy and security. The Events Department ropes off the entire area for 1 hour and they set up chairs for the comfort of your wedding guests. San Francisco City Hall is a public building so paying the extra money and reserving one of these areas may be the best choice for you, especially if you have a large crowd of guests. The cost is $1,000 which is substantially more money then the standard civil ceremony booked in the Rotunda area. However, if you compare this price to other San Francisco venues it is an incredible bargain. Try to get married at any comparable locale in the greater San Francisco area for even 10 times that price. You can't do it! You could also make the argument that SF City Hall is prettier than any of them. It certainly is VERY photogenic! One thing to also remember with a reserved wedding is that you are responsible for hiring your own officiant. We can provide you with multiple referrals of amazing and experienced City Hall wedding officiants. These same officiants can also be used if you decide to do a private city hall wedding ceremony. Generally speaking, experienced City Hall wedding officiants range from $150 to $300.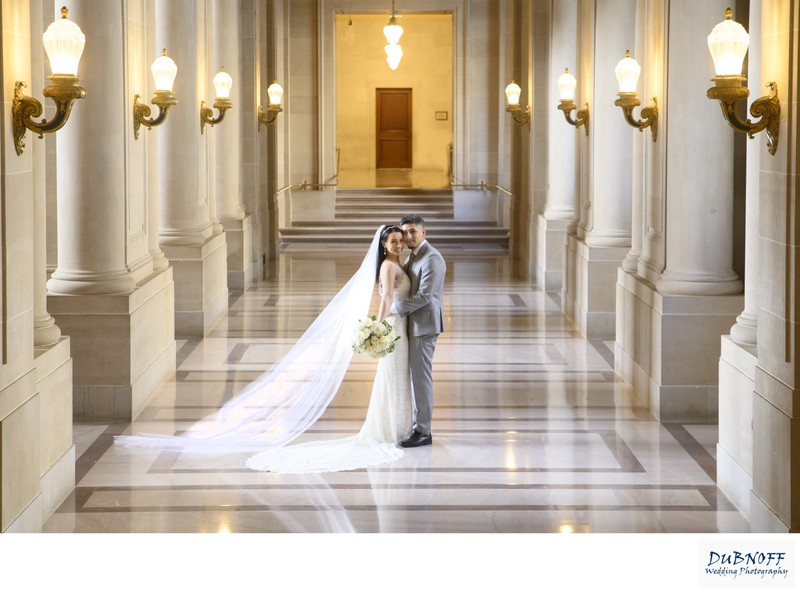 Marriage Commissioners at City Hall
I wanted to take a moment to discuss these amazing people wearing robes who are officiating the civil ceremonies at San Francisco City Hall. Who are they? Are they judges? Do they work at city hall? How much are they paid to do this job? You might be surprised to learn that they are definitely not judges despite the fact that they may look like it. These great people are deputized marriage commissioners that volunteer on a weekly basis to enhance your marriage experience at this Town Hall. Some of them have been doing this for close to 20 years, but many have just started recently. They all have one thing in common, however... They want to help make your wedding day special. Otherwise, why would they be doing this for free? The County Clerk's office provides each Marriage Commissioner a script to read from while they perform your marriage ceremony. Some stick very close to the script, but many others add their own little nuances to the proceedings. Why do they do this you might ask? I have had the occasion to query many of them on this exact question and the answers vary, but there is a common theme. They all seem to want to be around happy people while performing a vital community service. Many of them are retired and just want to have some fun activities in their lives. As a San Francisco city hall marriage commissioner, you have the pleasure of meeting people of all cultures and nationalities. People come from all over the Earth to have their nuptials at SF city hall. It is nice to make each wedding ceremony unique and special and not always follow a script. We have also seen some officiants who are willing to allow city hall wedding couples the opportunity to say their own vows. If this is something you would like to do, my suggestion is to keep the vows short and tell the officiant about it ahead of time. If you do both of these things you have a good chance of being allowed to say personally written vows to each other.