Photography Packages - City Hall
"Elopement"
1 Hour of Photographic Coverage
SF City Hall Interior and Exterior Photos
Fully Edited High Resolution Jpeg Images
Full Reproduction Rights of ALL Image Files
Private Website for Viewing and Ordering Images
$595

"Preferred"
1.5 Hours of Photographic Coverage
City Hall Interior and Exterior Photos
Fully Edited High Resolution Jpeg Images
Full Reproduction Rights of ALL Image files
Time for Family and Friend Photos
Private Website for Viewing and Ordering Images
$695

"San Francisco Tour 1"
2.5 Hours of Photographic Coverage
City Hall Interior and Exterior Photos
1 Additional San Francisco Location
Fully Edited High Resolution Jpeg Images
Full Reproduction Rights of ALL Image Files
Private Website for Viewing and Ordering Images
$895
We Offer Longer Coverage City Hall Packages - CLICK HERE FOR DETAILS
Flexible San Francisco City Hall Pricing

We have listed our standard City Hall packages, but you can also modify them in some way to fit your specific needs. Please click this link to request a custom quote and design your own package. It's important to us to make sure your package fits your needs so just tell us what you want! ALL of our packages INCLUDE the digital image files at full resolution with full reproduction rights. In addition, we always provide you with ALL of the image files taken at your wedding and not a limited amount. There are no watermarks or Proof marks on your images. These are highly usable images for any of your needs. The images you receive can all be printed in sizes up to 20X24 with a few exceptions (highly cropped images). Digital files can be delivered by Dropbox file transfer or Direct Download. We also offer USB Drives, but in some cases Sales Tax will have to be added. California does not charge Sales Tax if you receive your image files by electronic transfer. Also, if the wedding album or USB drive are shipped out of state, we don't need to charge sales tax. We can discuss these details with you at the signing of the contract and make any adjustments needed.
City Hall Discounts and Coverage

Military personnel receive a 5% discount on all packages. Off-season discounts are also available for standard weddings (not city hall). All packages include Black and White photography at no extra charge. Full day wedding coverage is 8 hours maximum. However, we can expand your coverage if needed with a small price adjustment. Please see listed coverage for each package above. We travel all over the Northern California region, but most of our weddings are in the San Francisco Bay Area. We will work within your budget to make sure you obtain a package that is suitable for your needs. We are asked quite often why we don't offer off-season discounts for our San Francisco city hall weddings. It's because there is no off-season at city hall. Civil marriages happen throughout the year with very few slow periods.
Delivery Deadlines
We take our deadlines seriously and promise to have your photos fully edited and ready to view within 3 weeks in most cases. Wedding Albums take 4 - 8 weeks for delivery once the album design has been approved by the couple. Wedding albums may take a bit longer if the newlyweds take a while to order their album. We encourage our clients to order their photos while the wedding activities are still fresh in their minds. We have discovered over the years that our couples that wait too long often never order or put it off for months. Please also keep in mind that we can only guarantee your package prices for so long. This is why it is important to process any orders you want promptly.
Photography Payment Options

We accept Visa, MasterCard, American Express, and Discover credit cards via PayPal We also accept cash, check, Zelle or Venmo. Our Venmo identification is @michael-dubnoff with an associated email of mike@dubnoffphoto.com. The same email can also be used for Paypal payments, but we are also happy to send you a convenient invoice. Ask us about our cash discount program (up to 5% off in most cases). For Safety reasons, all cash payments will need to be made in person.
Engagement Sessions
Many of the full wedding photography packages include a 2 hour Engagement Session and we also have a special package for City Hall weddings where a San Francisco Engagement Session is included. We can set this up for you anytime before your wedding and have the results ready for you before your city hall wedding. These fun portrait sessions can be held in many locations and can be a great addition to your overall memories of this important time in your life. San Francisco photography engagement sessions may cost a bit more, ask us for details. You can also add an engagement portrait session to any of your City Hall wedding packages and turn it into a custom package. Ask for details on this money saving idea! Engagement sessions are a great way to get to know your photographer and for us to know you too. Just ask us for details. We usually provide you with 2 San Francisco locations of your choice.
Full Wedding Coverage Prices
We continue to offer coverage for your large SF Bay Area wedding (not city hall). We have discovered over the years that pricing on these types of weddings are more accurately quoted once we determine the details and coverage needed. Prices for full weddings start at $1,995 and range up to $3,995. To receive a custom quote please click the link. In some cases we may be able to provide coverage for smaller packages at lower prices. Just let us know what you want and we can discuss.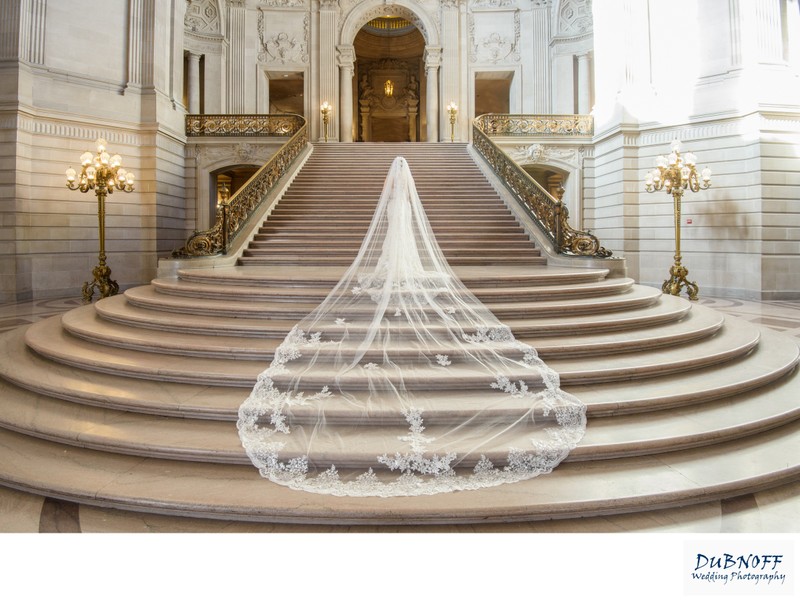 Beautiful Wedding Gown adorning the Grand Staircase at city hall