Popular San Francisco Wedding Destination
The Palace of Fine Arts easily heads the list of our most requested wedding photography destinations. We have probably been to the Palace (located in the SF Marina district) more than any of our other photography locations combined. Because of this, it can be quite crowded so it takes an experienced, professional wedding photographer to know where to take you and the best angles to shoot. Even though we are always sure to take the iconic building shot in front of the pond, there are so many other great locations to take you to. We even have a few "secret" photography spots that we won't post here to keep your Palace of Fine Arts wedding shoot truly unique. We want everyone's experience to be a bit different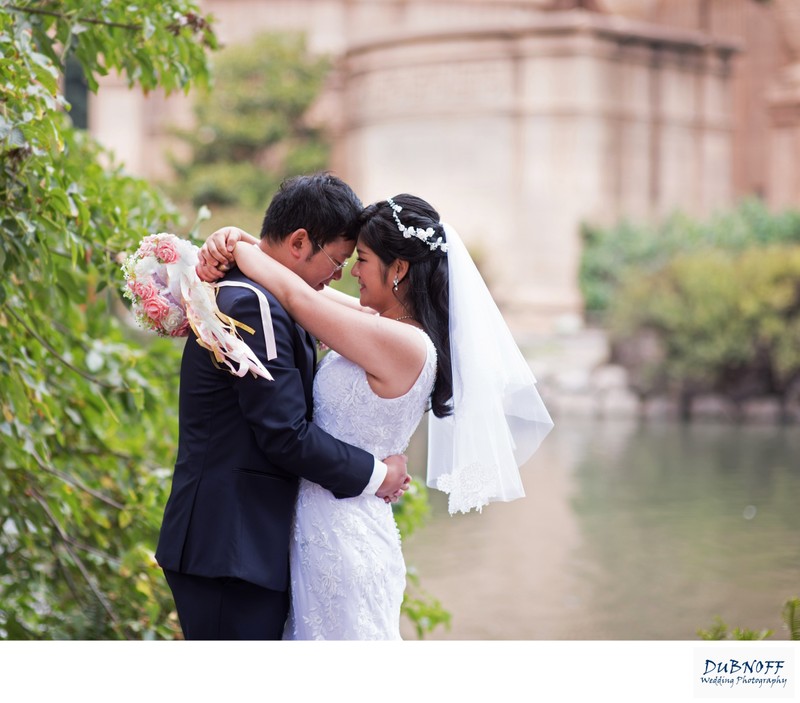 The Palace of Fine Arts
Why does everyone love the Palace of Fine Arts so much? In some ways, the Palace isn't that different from San Francisco city hall. Much of the architecture is similar as are the largely neutral colored backgrounds. Part of the allure is the historic nature of the building and the fact that it goes back to early 20th century when this whole Marina District neighborhood was redone to accommodate the World's Fair. Despite the fact that they had to tear down the majority of the buildings, what was left is amazing and compelling. It has attracted thousands of visitors over the years from all over the world and continues to be a huge tourist draw to this day. If anything, the aging of the building has made it more beautiful with the pinkish tones that have emerged over the years. Obviously, the trees and foliage have also matured over the years to create more natural beauty. It is always lovely to photograph here when there are blue skies in the background. Obviously, this also means an absence of famous San Francisco fog!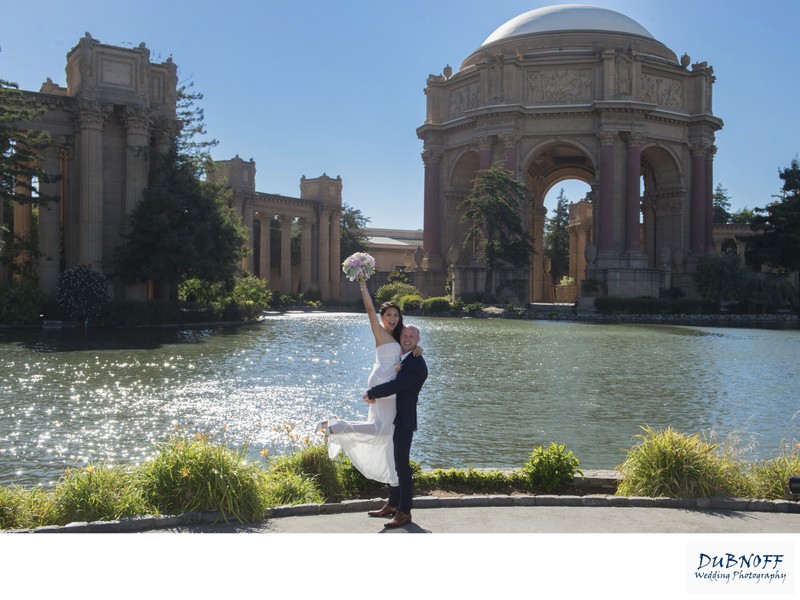 Premiere San Francisco Wedding Venue
Of course at Dubnoff Wedding Photography, our primary interest in the landmark is it's suitability for weddings and wedding photography. As mentioned previously, the building attracts people from all over the world and we constantly are asked to bring newlyweds here for wedding photography sessions. In addition, they actually do wedding ceremonies here on most days of the week. For more information on booking a wedding at The Palace of Fine Arts click the link provided. It is certainly a great place to have your wedding ceremony and we love the location to just take our newlyweds around the grounds for fantastic photos. Please enjoy this wedding portfolio of this iconic SF destination.