A Recent City Hall Wedding Gallery - Krista and Nick
Please check out one of our more recent city hall wedding photography shoots. Krista wore a full gown with a beautiful veil and bouquet. More information is provided below the photos, thanks for looking! To learn more about our city hall wedding photography services and to see additional Galleries, please click the highlighted link.
Formal Wedding at San Francisco City Hall
We love couples that go all out for their San Francisco city hall wedding. Over the years, we have experienced many different levels of weddings at city hall. They have ranged from almost ridiculously casual to incredibly formal. We had one couple show up wearing Jeans and Tee shirts for their wedding and one guy wearing shorts. However, we have also had formal couples wearing a full tux and top hat together with a high class flowing wedding gown. This is one of the things that make San Francisco city hall wedding photography so interesting and fun. You truly never know what you are going to get each day, but it all works. We even had one LGBTQ couple wear Jeans and matching orange shirts because they were San Francisco Giant's fans and were heading to the game right after their wedding. We asked them where they were going on their honeymoon and it turned out this was it! A San Francisco Giants game. As you can see from the wedding pictures on this particular gallery, this couple chose to go all out with formal attire. The groom wore a very smart tux and the bride donned a beautiful flowing wedding dress complete with veil. The floral bouquet she brought was absolutely perfect for the gray and somewhat colorless backgrounds of San Francisco city hall. We strongly recommend veils for all of our city hall wedding couples. The natural light coming through the windows really helps to highlight the veil and make it glow. Colorful floral bouquets also compliment the building backgrounds quite nicely.
Some Brides Surprised at San Francisco City Hall
To speak a little further about what couples wear at city hall for wedding attire, I wanted to also mention the often unexpected formality seen at San Francisco City Hall Weddings. It is not unusual to have our bride mention that they were surprised at how many couples they see wearing formal attire. They figured it was a civil ceremony so they assumed more casual dress would be appropriate. Frequently they are correct, as we see many of our couples wearing nice, but not so fancy clothes for their wedding. However, some of these more casual brides will often mention that they wish they would have realized before and dressed a little more formally. This comes as no surprise to us because we experienced the same surprise in our early days of photographing SF City Hall weddings. This historic building is very elegant in itself and thus attracts this type for formal wear. Some of the most high end parties in the city are help at San Francisco city hall including the grand opening of the SF Symphony. Strictly a black tie affair! Given all of these issues, we try to let our couples know beforehand that formal dress is fine and often done by others. Top it off with a beautiful bouquet and you have an amazing formal event. The nice thing about SF city hall weddings is that you can also choose to go casual and you will also still fit right in.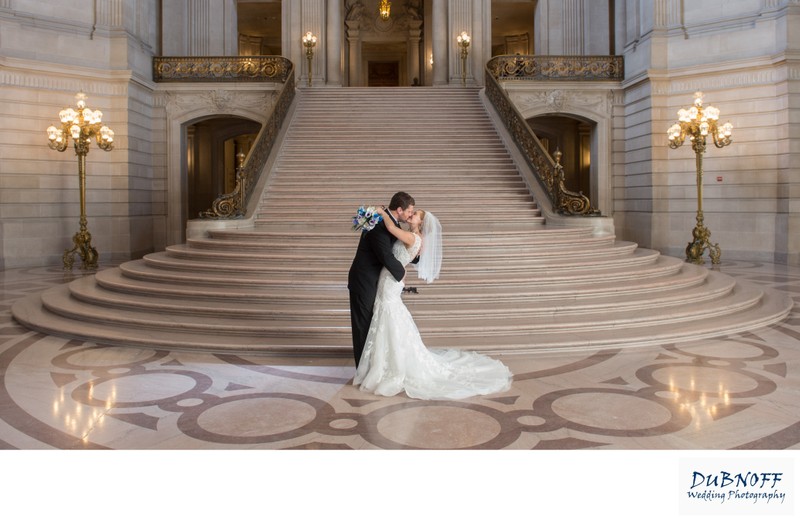 Wedding Photography for a Formal Affair
So the question is, do we approach our city hall wedding photography any differently for a more formally dressed couple? In some ways yes, but it is not better photography coverage only different. The poses we do will be more formal and elegant as we try to accentuate the beautiful lines of a long wedding dress with a train. All of these things need to be arranged carefully to make sure the gown looks it's best.
Other important factors include making sure the back of the dress is displayed and photos are taken from different angles. With a more casually dressed couple, we will focus our time on more fun poses and interactive activities. The other day, we had a bride dressed in white pants. The poses we do for brides with long dresses would not work for her. However, we still made sure to take elegant pictures using the best backgrounds City Hall has to offer. If the bride is wearing a dress, but it is more casual or short, we will pay more attention to her leg positioning. We want the wedding dress to be displayed in a way that captures it perfectly. We try to match the wedding photography to the couple's clothes and also their personality. In all cases, however, we give everyone a little bit of both.
We never want our clients to feel like they are not getting our full treatment of posing and backgrounds. When you have such gorgeous backgrounds to work with, what choice do we have? Check out this full view of the Grand Staircase below. Is it any wonder why every bride and groom wants a great wedding picture taken somewhere on this structure? No matter what angle we photograph it from, the pictures always come out perfect. Try to imagine a bride and groom placed anywhere in that background. Can't miss right?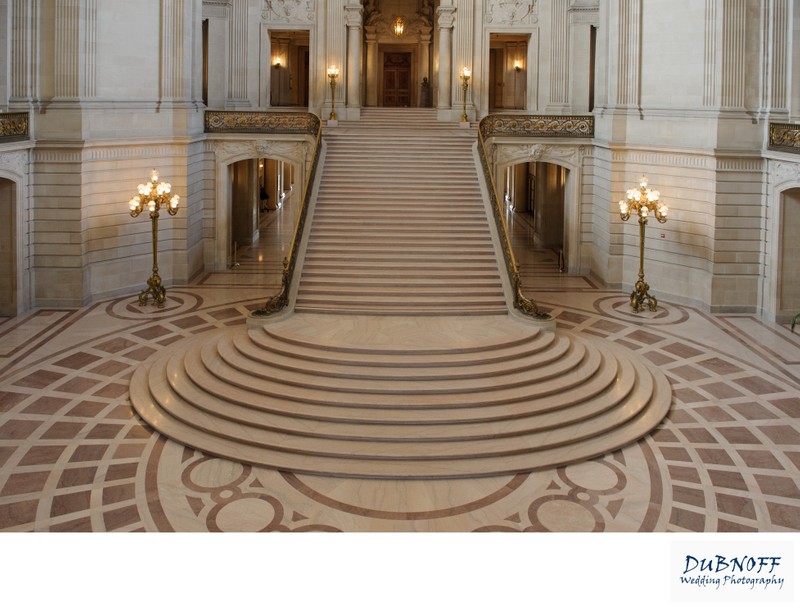 A full look at the amazing Grand Staircase at San Francisco city hall