San Francisco City Hall Wedding Photographer
We have photographed more city hall weddings then most wedding photographers out there. We discovered the beauty of this magnificent venue around 12 years ago and have not stopped since. We now know city hall like the back of our hands and can take a bride and groom throughout the building any time of the day or night. When there are special events that might close down part of the building we know where to go to enable us to still get amazing shots. Here is a list of some of our favorite locations and a few comments about each place.
Mayors Balcony - Great lighting with decent privacy. Sometimes closed off for private ceremonies.
4th Floor North Gallery - the most spectacular location for perfect light. Gorgeous photography.
Grand Staircase - Beautiful backdrop, everyone's favorite. Can get super crowded on Fridays!
Rotunda - Just OK for wedding photography, but great for city hall ceremonies.
Third Floor North - Some of the best portrait lighting ever! North facing windows!
Third Floor South - Direct sun, good for special effects and "wow" shots.
2nd Floor Hallway - Fantastic repeating lines with beautiful lamp lighting down the row.
Private Ceremony Room - Much improved due to renovation, nicely decorated now. Still stuffy.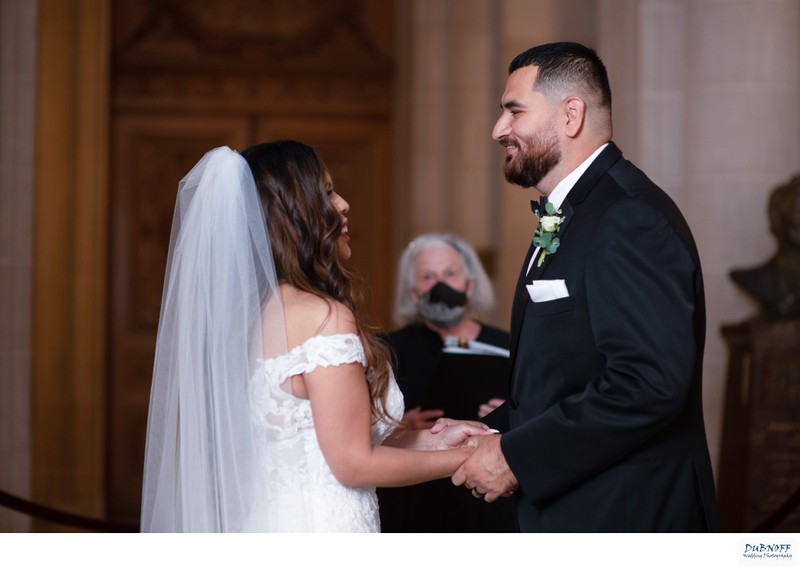 How to Prepare for your City Hall Wedding
Make sure you have made the appropriate appointments with San Francisco City Hall. You will need to book both your Marriage License appointment and the actual ceremony time. These 2 appointments can be made on consecutive days or on the same day at least an hour apart. You can make both of these appointments from the San Francisco city hall website. In addition to these types of preparations, it's also important to book a professional wedding photographer. Why get married at one of San Francisco's most beautiful venues and not have a top notch wedding photographer present. I am always surprised when I see brides and grooms at city hall and their friend is doing the photography with a cell phone! To be honest, there are some floors with this just won't work. For example, try using a cell phone on the Mayors Balcony looking towards the Rotunda with a cell phone. You could end up with Silhouettes!