Preferred Wedding Photography Package Details
Our San Francisco city hall "Preferred" wedding photography package offers you everything that the Elopement package does, but provides you an extra 30 minutes of coverage. This allows enough time to have us photograph your family and friends in addition to the ceremony and the building photo tour. This extra time will also enable us to spend more minutes photographing the bride and groom on the various floors at city hall. As with our other SF City Hall packages you also receive all of the Full Resolution digital images we capture at the wedding and a secure website to view and share them with friends and relatives.
We often receive questions from our San Francisco city hall couples on the necessity of this additional 30 minutes, especially if they only have 3 or 4 guests. Yes, it is true that it only takes a few minutes to include a few extra family shots immediately following the ceremony. However, we have found over the years that there are many other reasons that having even a few guests will impact the shoot. Obviously, the happy couple is going to want to speak with their guests before and after the ceremony. Not to mention the congratulatory hugs that are sure to occur and that we are happy to capture in pictures. When you add it all up, it usually takes about 20 more minutes plus to have guests and family attend your San Francisco city hall nuptials. Add to that, the actual time to take the family photos and you have the 30 minute addition. We highly recommend this package for couples with the full 6 guest limit. It really makes a difference and guarantees that you obtain all of the City Hall images you want for your wedding album. It also keeps the tone of the wedding photography coverage relaxed and fun.
Most Popular San Francisco City Hall Package
This collection is by far our most favored wedding photography package option. I would estimate that approximately 30% of our weddings book this low cost package. It seems to be the perfect balance of time versus price. As with the Elopement package, we will meet you at the County Clerk's office to assist you with your ceremony check-in and also obtain some nice shots of the marriage license being signed. Then we head up to the Rotunda and cover your ceremony from start to finish! After we take photos of you with your family and friends, we take you on an exciting and romantic photography tour of San Francisco City Hall. 3 weeks after the wedding, our clients have the option of receiving their full resolution jpeg files by either Dropbox or Direct Download from the secured personal viewing website. A shipped Flash drive is another option available to our clients, but we will be legally required to collect California Sales tax when our client wants this product. The exception to this is if you live out of state. Non-California residents are not charged sales tax. Ask us for more specifics!
How to Choose the Best Wedding Photography Package
I thought it would be appropriate to provide you some of our thoughts on choosing the best San Francisco city hall wedding package for you. We spend considerable time with our engaged couples helping them make this decision. We don't want you to spend more money than is necessary, but still want to make sure you have adequate coverage of this all important day in your lives. What it really comes down to is properly evaluating your needs and then finding the best package to match those needs. Our packages provide different levels of coverage for time and locations. If you are eloping and have no guests, the Elopement package provides 1 hour of coverage and a true focus on making sure the couple receives plenty of time to take photos in the building. As mentioned above, if you have guests the Preferred Package is the perfect choice with 1.5 hours of coverage. If you choose this package we promise to make sure we get as many family combinations as needed, no matter how many. For those couples who want to leave San Francisco city hall for additional pictures, we offer 3 different packages that provide you with 1, 2, or 3 San Francisco locations to pose for wedding pictures. For more details on these affordable city hall wedding packages check out our Prices Page. Our San Francisco Tour packages range in coverage time from 2.5 up to 4 hours. If Your San Francisco city hall wedding photography session is really important to you, then we suggest you book one of the tour packages.
Newlyweds Jumping for joy at Crissy Field. It looks like they are clearing the Golden Gate Bridge.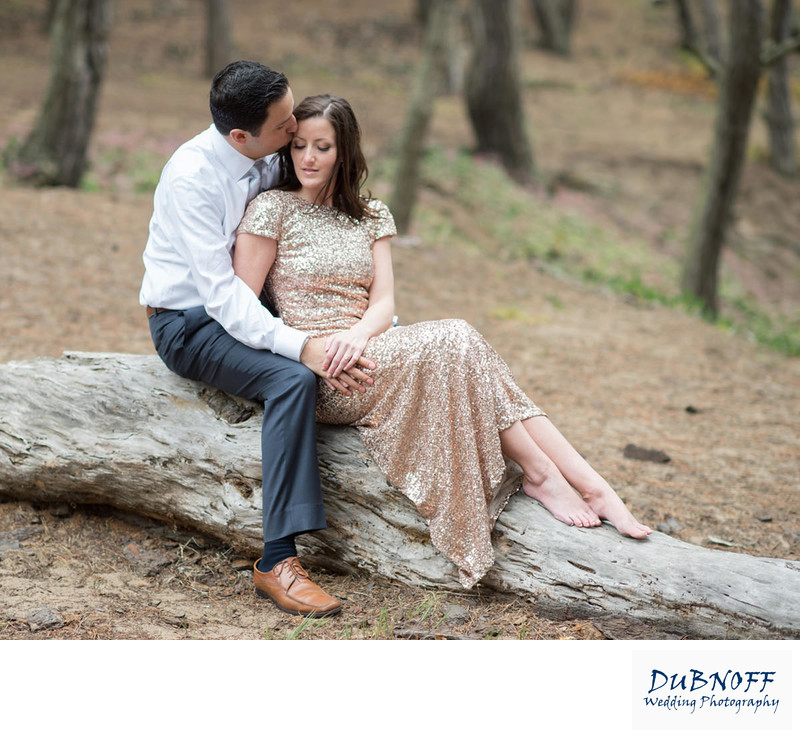 One of our secret wedding photography locations close to Baker Beach. We love Baker Beach because is provides the client with pictures of the ocean, but also has places like this to capture woodsy shots. our experience photographing weddings in the San Francisco area has helped us find places like this
Return to Dubnoff SF City Hall wedding photographer Page