Last SF City Hall Wedding of 2020 before Pandemic
This was one of our last weddings that we were able to shoot at San Francisco city hall before the Lock down took place because of Covid-19. Little did we know as we photographed this wedding what was soon to come. Most of us thought (and were being told) that city hall would be closed for 3 weeks at the most just to be safe. We were certainly wrong about that and so was everyone else. Now with the reopening of San Francisco city hall and the start of weddings, I am actively posting on the website again and thought I would put this up since it was sort of historic marker in our history as a San Francisco wedding photographer. We had never gone this long without photographing a wedding in our past 25 years in business. Just a month or so after the lock down we did photograph one city hall wedding, but we did it outside of the building. It was an eerie feeling because the whole area we were in was completely abandoned. It felt a little like a ghost town. We are very happy to be back taking city hall wedding pictures again after such a long lay off. Please enjoy reading the details of this amazing wedding from 2020.
San Francisco City Hall Wedding with "First Look"
Occasionally we work with a couple that wants to do the traditional "first look" before the wedding. For those of you that don't know, a first look is a when the Groom sees the bride in her dress for the first time. First looks came out of the new tradition to actually see each other before the wedding to take care of things like wedding photography or family pictures. When it comes to a San Francisco city hall wedding it works out perfectly because it provides some drama to an otherwise less traditional type of civil ceremony. We always offer to set up the first look with our clients and know some of the best and more private places in San Francisco city hall to do it. For this wedding, we chose one of the large columns to hide the groom behind. As you can see from the photos, the bride walked up to him from behind and tapped him on the shoulder and he turned around to see his beautiful bride. Always a great opportunity for candid photos, we love it when our clients do a First Look. You will probably need to book our City Hall "Preferred" package at minimum to include this in your wedding photography. This package provides 1.5 hours of coverage will give you plenty of time for the First Look, Ceremony and family pictures. We generally will need to start your coverage about 15 minutes early to allow sufficient time for your First Look.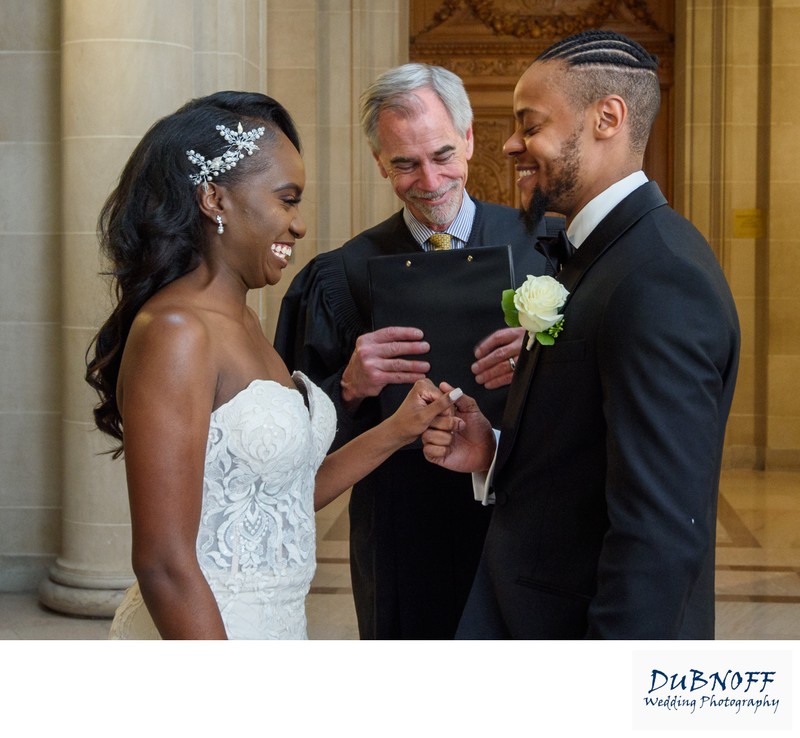 Family and Friends Photos at SF City Hall
We have mentioned this in past posts, but it bears repeating. If you are bringing family and friends to your San Francisco city hall wedding, it is a great idea to book our 1.5 hour Preferred package. This will not only give us time to take pictures of your family in various groupings, but it also provides us with the opportunity to capture candid shots. Some of the most treasured photos that our clients receive is that first hug from mom after you tie the knot. In addition, this package allows the couple more time to interact with their friends without cutting into their San Francisco city hall wedding photography time. We will still have plenty of time to tour the entire building capturing wedding memories with the bride and groom. If you are looking to book us for your wedding photography this is the best package for you!