Asian Wedding - San Francisco City Hall
You might be wondering why we felt it necessary to mention that this is an Asian wedding. The truth is, in most cases, we don't mention the race of any of our particular City Hall wedding couples. We do mention it here because we get so many requests from prospective brides and grooms who want to see if we have done certain types of weddings. These questions often come from Asian couples who understandably want to see photo galleries with other Asian couples. So by featuring one Asian wedding on our website, we make it easier for couples to search for the type of City Hall photography Gallery they want to see. To book your San Francisco city hall wedding photographer, please click the highlighted link
Fun Asian Couple at San Francisco City Hall
Cher and Chao were a fun couple that we really enjoyed photographing at San Francisco city hall. The great thing about this couple is that the longer we were with them, the less inhibited and positive they became. We met them at the County Clerk's office to assist them with their pre-wedding check-in. After meeting with their city hall marriage commissioner and having their marriage license signed, they were ready to get married. They chose the Rotunda as their ceremony location accompanied by family and friends. As is the case with many or our San Francisco couples, they were quite concerned with where their guests should stand during their nuptials. We reassured them that the best place for guests to stand is as close as possible to the proceedings. We especially encourage this at SF city hall because of the high level of the background noise always present in the Rotunda area. If you want your guests to hear what is said, then they should stand nice and close. As you can clearly see from the gallery images, they all became very cozy with the couple during the ceremony. We think this is great and still allows us to capture the city hall ceremony. The only thing we ask is that the guests do not stand directly in front of the wedding photographers. It's also not the best idea to have guests standing directly opposite the wedding photographers either. This is because the guests will end up in every single picture of the bride and groom. Often they will have their cell phones up and this can be a distracting look for the ceremony pictures. These guests didn't do either and it all worked out fantastic.
SF City Hall Wedding Photography Tour
Immediately after the ceremony, we photographed the family and friends of the newlyweds in various combinations. We allow our couple to designate any number of family and friend groupings they desire. We make sure that these photos are of very high quality because we know that this portion of the shoot can be very important to the couple. So for us, this is not something to just get through. We want to make the photos perfect. Once complete, we excuse the family and take the couple throughout the building on what we call our City Hall building photo tour. if possible, we hit all 4 floors of this historic building and take wonderful photos with the couple, both posed and not posed. Throughout this shoot, we try to make it fun and also communicate with the couple regarding their preferences and needs. We have a very strong vision of how we want the city hall photos to look, but we feel it is extremely important to obtain feedback from the newlyweds to make sure we are on the right track! Some couples prefer to not provide input and that is fine too. For those of you wondering, we do not forbid the family members to accompanying us on the city hall photo tour. If the bride and groom would like the family involved in all of their wedding pictures that is perfectly fine with us. We leave these kinds of things up to the newlyweds and adjust accordingly.
San Francisco Destination Photography
Cher and Chao smartly chose our "San Francisco" package which provides the couple with 4 hours of photography coverage with stops along many of the city's best and most popular destinations. We load the couple into our comfortable and spacious automobile and chauffeur them to the locations of their choice. This couple chose The Legion of Honor, the Palace of Fine Arts and Crissy Field for their 3 San Francisco locations. It was fun getting to know them throughout this shoot and enjoying each location for what it offers artistically and historically. This was probably the first time that we had a couple bring balloons on the shoot, also a fun and unique idea. Cher, our beautiful Asian bride decided to change her dress for the Legion of Honor. She chose the perfect type of dress for this iconic destination, one with some color. We love the Legion of Honor as a place for wedding photography, but it is largely neutral in color. Adding a splash of color through wearing a dress like this or using some nice flowers, really adds to the quality of our wedding photography. Enjoy this San Francisco city hall wedding gallery and please email us with any comments or questions you may have.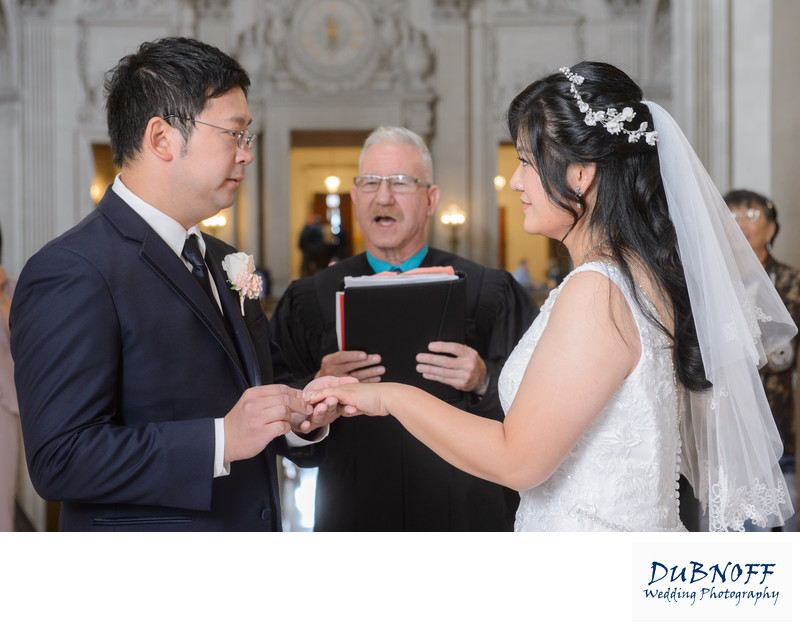 Ring Exchange during their city hall ceremony with John, one of our favorite Marriage commissioners!