SF City Hall Wedding Photography - Plus Woodline
This fantastic couple wanted us to highlight the incredible architecture at San Francisco City Hall after we recorded their civil ceremony memories. The location of this particular city hall ceremony was somewhat unusual because it actually took place right on the Grand Staircase. This Marriage Commissioner likes doing weddings there for reasons I am uncertain of. It works out fine unless its a crowded day with tourists who often hang out on the Staircase. The few times we have worked at weddings with this officiant we have had our share of people in the way. This wedding was different, we were able to get all of the shots we wanted and nobody stood in our way. Tourists and other wedding participants mostly respected our space and steered clear. Note: I believe this officiant has now retired and so at this point, none of the marriage commissioners use the Grand Staircase for ceremonies. For more information about our SF City Hall wedding photography coverage, please click the highlighted link.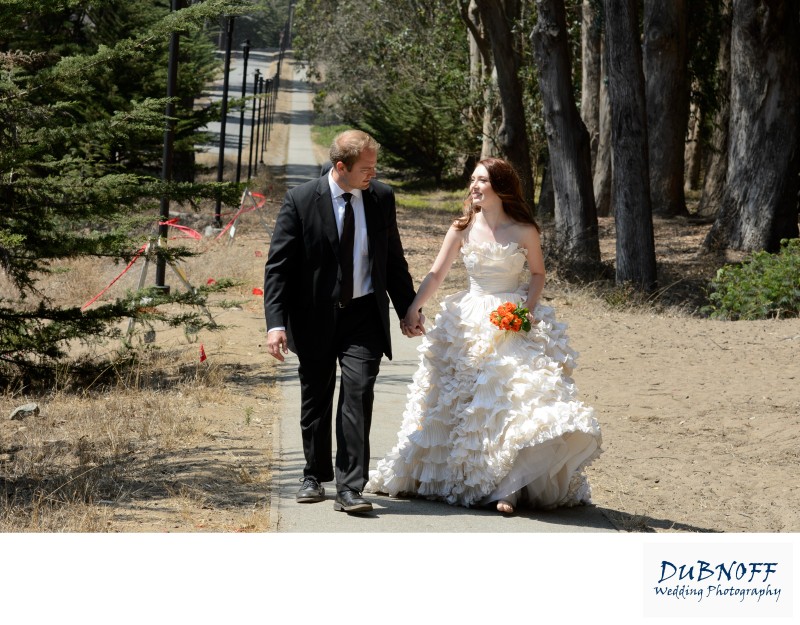 San Francisco City Hall Wedding Photography with Architecture
These newlyweds were definitely interested in obtaining some wonderful architectural images during our photo session around San Francisco city hall. We always focus on the backgrounds, but for this couple we put even more emphasis on providing them with incredible images which featured both Architecture and backgrounds. Our style of city hall wedding photography is always geared more towards showing the building. Obviously, the newlyweds need to be prominently featured as well, but I sometimes wonder when I look at other photography in this building and how they capture some of their pictures. Much of it seems to be more of the typical tight portrait shots with blurred backgrounds. Classic portrait photography involves featuring the subject and then blurring out the background to separate them and make them stand out. This is fine and effective, but it can be overdone at San Francisco City Hall. I mean, why would you want to blur out all of this beauty and history. I think a happy medium is possible by providing our clients with both. Some nice portrait image with nice bokah backgrounds and then some wide angle images where virtually everything is in focus. I know that this is what our brides and grooms want, because they have told us this countless times!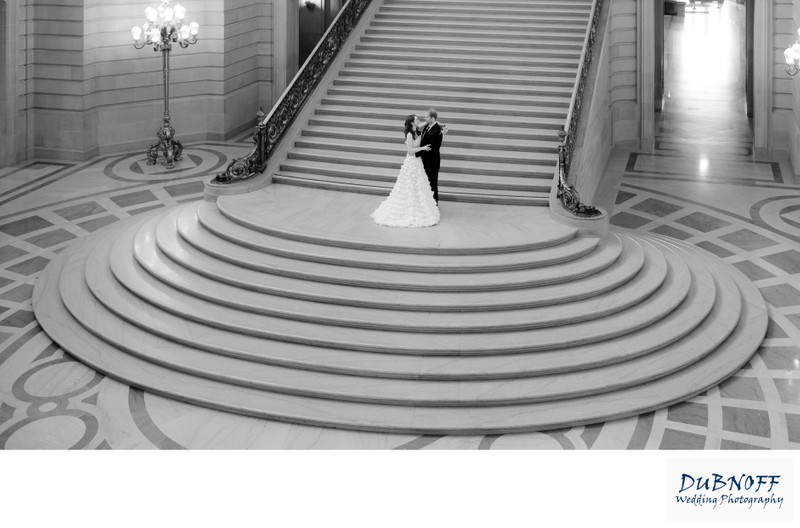 Preparing for City Hall Marriage Photos
We are often asked by our brides and grooms how they should prepare for a city hall wedding photography shoot. Though no specific preparation is really necessary, there are few things that can be done to make things go smoother. I always tell my brides to practice their smile in the mirror, not so much for me, but for them. The one complaint that you often hear from photo models is that they don't think their own smile seems natural. Sometimes during the photo session itself, the bride's mom will tell her daughter that her smile does not look natural (not helpful). This may or may not be true, but it may be worth the extra trouble to check out your own smile and make sure you like what you see. The other thing that I think is more important than any of this is just relaxing. Toni and I do the best we can to keep our photo subjects at ease. There is nothing really to be nervous about and we never ask our clients to do anything that would be uncomfortable or awkward. Having a good pre-photography discussion with the couple is also very helpful. This give the bride and groom the opportunity to let us know what they want and don't want in terms of posing and backgrounds. As always, good communication is a key factor for making the shoot successful.
Photography at the San Francisco Presidio - Woodline
After we took the happy couple around the building, we drove them to a place in the San Francisco Presidio called Woodline. It's a unique location with lots of trees and shade. We like to come here on windy days because the trees help block some of the wind and there exists a ton of privacy. The name Woodline comes from the long line of fallen trees that you see in some of the photography. Classic photography tells us that depth is a very good thing in award winning images. Well, if that is the case, then Woodline is the perfect place to take professional wedding pictures. This was just the type of photography location our couple asked for. They preferred not to do a iconic San Francisco destination. Instead, they just wanted a beautiful place with some privacy. Woodline at the Presidio fits the bill perfectly. If you are the outdoors type and not concerned about making the shoot all about San Francisco, then Woodline at the Presidio is a great option. Woodline also happens to right next to "Lovers Lane" which is also a nice spot for wedding photography. Lovers Lane runs the length of the Presidio and is also a very romantic place for San Francisco wedding photography. Check out the images above to see what we are talking about.