City Hall Wedding Followed by North Beach Reception
This great San Francisco city hall couple enjoyed a relatively large wedding in the Rotunda, followed by a reception in North Beach. We covered their ceremony and ring exchange and then captured a pretty substantial number of Family Photos. We really enjoy providing our couples with these family and friend memories. These can be the most important photos to some brides and grooms. We had planned some great places to take the newlyweds after we completed our City Hall tour and the couple was excited to start our trip. We offered to drive them in comfort and they agreed.
San Francisco Photography Tour
We boarded our car after getting a nice shot of the bride and groom with the city hall sign in front of the building. Our first stop was Ghirardelli Square. The goal at this famous San Francisco location was to capture some Cable Car images with the newlyweds. Then we wanted to just have them walk around the area to provide a nice feel of the surroundings. They didn't mind if we showed a few tourists far away in the background. I particularly like this area because the Cable Cars are easy to board while they are waiting to load passengers. This allows the couple to be by themselves on the trolley for pictures. We then went into the famous Buena Vista Cafe and had an Irish Coffee with the couple. We took a picture of them toasting by the bar with drinks in hand! After finishing up at this location we headed to North Beach for some fun wedding photography. For those of you reading this who do not know, North Beach is the "little Italy" of San Francisco. It is a great place to walk around for photography. There is a nice park in Washington Square and also nicely decorated streets and bars. We also had a fun visit to the Hat Shop! The couple had a great time trying on different hats and it made for great wedding photography.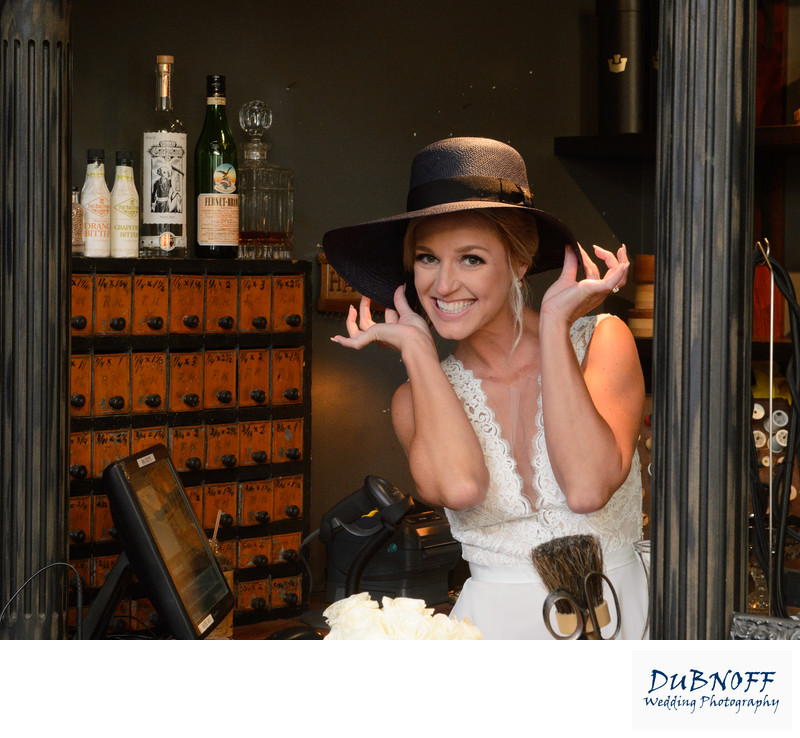 Wedding Reception in North Beach
North Beach was a great place to finish our San Francisco photo tour because this was where the couple was having their wedding celebration. They had invited all of the their city hall ceremony guests to a nice Italian Restaurant for the party! We captured some images outside of the building and then followed the bride and groom into the restaurant to take pictures of their decorations, Party favors and table set ups. Our final photo was a group shot showing all of the guests! It was a great day and fun for all of us! I am sure the couple will treasure this group table shot in the coming years even more than their ceremony photos.