Same-Sex Wedding Kiss
These beautiful LGBTQ brides chose a late ceremony time in the winter to hold their San Francisco city hall wedding. Darkness outside changes the wholes dynamic of city hall wedding pictures. We used professional off-camera lighting to make this beautiful shot on the Mayors Balcony overlooking the Rutunda and North Facing windows. It is rare that you see a photo in this building with black windows in the background. It changes the whole mood of the wedding photo. I also love how the Christmas tree design is projected on the walls. We had not really planned for that, but it really added to the photo. The Christmas tree that year had hundred of Origami Cranes hanging from it's branches. Because these decorations are made from paper, they projected onto the walls as the tree lights shone through. Pretty spectacular look for the background of some of our wedding pictures and one that you only really get in the evening. This was an added bonus for this San Francisco wedding.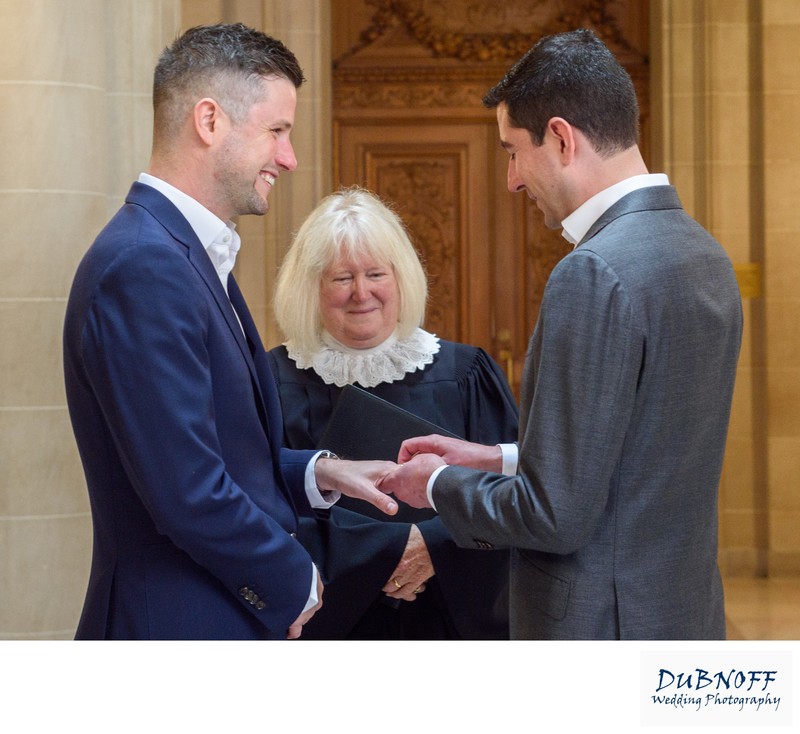 LGBTQ Wedding Photography at San Francisco City Hall
Back when Same-sex weddings were first made legal, it seemed like we were photographing them every week. Now in the 2021 after the Pandemic, they are few and far between. We actually really miss photographing them because we discovered how committed many of these couples were. A big part of this was how long many of them had to wait for all of the legal issues to be resolved. Some of our early couples had been in committed relationships for over 30 years and were now finally able to make them legal. This provided us with some great stories and reminiscing which we really enjoyed. As much as we enjoy photographing San Francisco city hall weddings, some of them are, in fact, done for legal reasons only. These early LGBTQ weddings were definitely for love.