Dramatic Wedding Photography - San Francisco
We took this photo at San Francisco city hall and created this nice silhouette to enhance the mood. By deliberately underexposing the photo and using no lighting on the camera the result seen above was made. One of the truly interesting things about this image is that it was actually taken in front of the City Hall freight elevators. Like so many places in the building, they are made to be elegant even if they are functional for something like Freight deliveries. In some ways, this is what make San Francisco city hall such a pleasure to photograph. Everywhere you go there is design and beauty. We frequently use the handicapped ramp for bride and groom wedding photography because of the amazingly colored gold railings present. They may be the most elegant safety rails I have ever witnessed.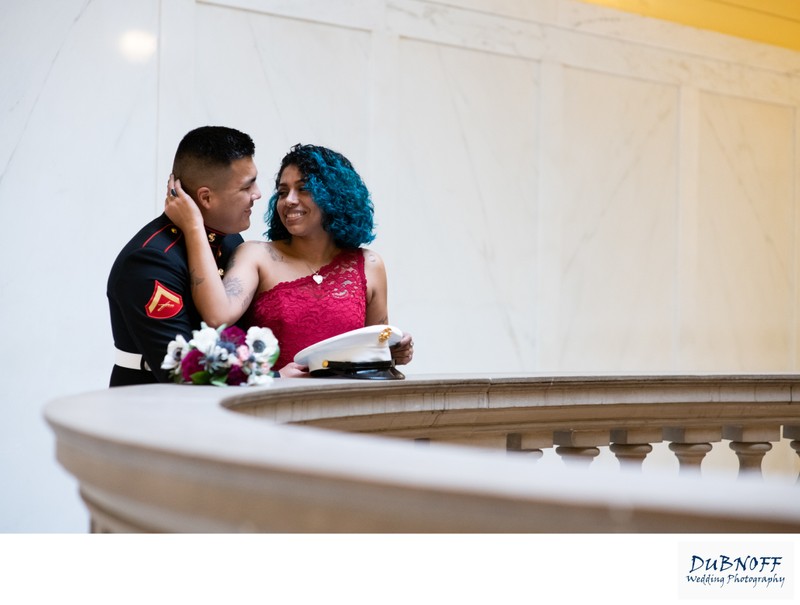 San Francisco City Hall Rules
I wanted to take the time to discuss a few of the rules for weddings at SF city hall. I think the most misunderstood one is regarding the number of wedding guests allowed. First, it is important to understand that San Francisco city hall is a public building. There is no way to enforce how many of your friends want to come into the building on your wedding day. What they ARE able to enforce is the number people viewing your ceremony and that number is 6 maximum. Yes, this number is strictly enforced and the City Hall Marriage Commissioners can refuse to do start your ceremony should you try to bring more than 6 to watch. I have seen this occur, so it is not worth embarrassment to test this. The last thing you want on your wedding day is disruption due to guest count. As mentioned, your friends are welcome to greet you later for congratulations and hugs!